How spider lifts are taking the next design step
By Euan Youdale08 May 2023
Leila Steed looks at the latest industry trends and shifting demands in the spider lift sector.
Over the past few years, the drive towards Net Zero has been top of the agenda for contractors, rental companies and equipment manufacturer's alike. But now that we have a plethora of low-emission alternative-energy access machines available to us, other industry demands are once again back in focus.
Aiming to address the trend towards taller machines, Easy Lift's RA53 tracked platform is its latest offering.
With a working height of 52.3m and a double telescopic boom that has an outreach of 20m and an up-and-over clearance of 32m, the company believes the RA53 offers an "excellent height/weight ratio".
"In fact," says Easy Lift, "despite being able to reach a considerable height, it is still light overall with a weight of only 14,500kg. This differentiates it from competing platforms of similar height which weigh much more."
The standard RA53 spider comes fitted with a 42kW diesel engine and a 380V electric motor, but is also available as a low-emissions hybrid version (RA53HY) that features a 48V, 300Ah lithium battery that can be used in indoor spaces.
Described as "very dynamic and versatile", the RA53 can also be equipped with a winch with a lifting capacity of 1,000kg, which makes it particularly well-suited as a rental product.
The manufacturer tells AI, "If equipped with a winch - one of the most recent implementations made on all high-range models starting from 24m in height, with different lifting capacities - the RA53 becomes even more performing and versatile, because it allows the platform to be used also as a crane."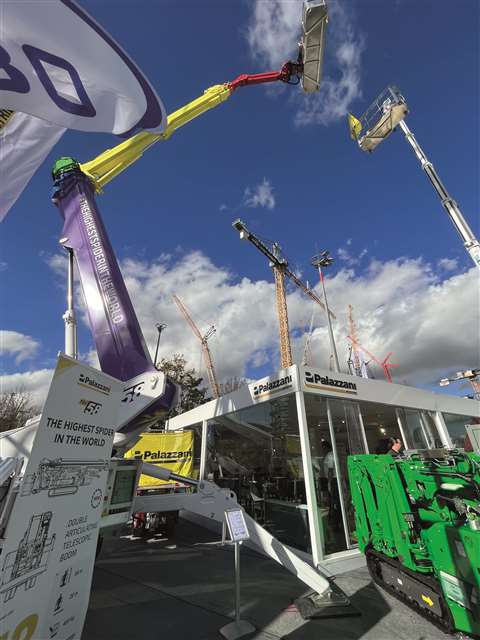 Meanwhile, Palazzani's Ragno TTZJ 58 aerial platform aims to raise equipment users even higher with a working height of 58m, courtesy of an articulated arm with a double telescopic fly jib.
"While reaching such an imposing height, this machine maintains all the necessary features of the Spider Lift and Palazzani products, such as compactness, lightness, safety, easy usability and agility," says Palazzani.
Although slightly heavier than Easy Lift's RA53, the 17,000kg TTZJ 58 model's operator basket does offer a greater basket load capacity of 400kg, compared to the 360kg of Easy Lift's RA53.
"…it is designed to be used in a wide range of applications, especially for interventions at important heights with difficult access, such as telephony, maintenance/restoration in both buildings indoor and outdoor, wind industry and rental," the company adds.
The TTZJ 58 is still in the prototype testing phase but is expected to be production ready later this year.
While its design has primarily been driven by height demands coming from the telecommunication and wind turbine sectors, Finland-based manufacturer Leguan Lifts says it is also seeing the trend for greater working heights from its customers in the arboreal, construction and maintenance sectors.
Safety at height
A manufacturer of aerial platforms in the 12 to 25-metre class, Leguan says that while its customers are "mostly looking for higher access" – which is a key area of development for the company – safety remains the number one priority.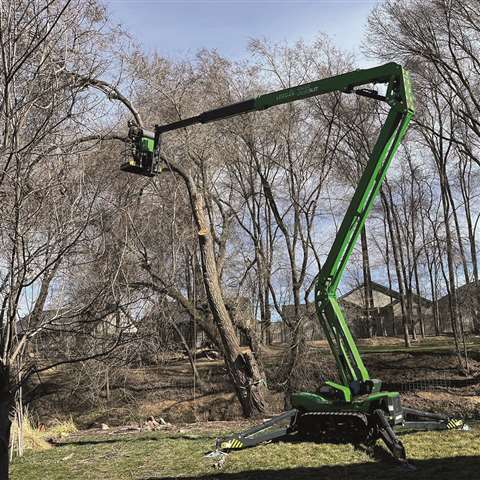 The standout safety feature of the company's latest model, the Leguan 225, is specifically designed to keep machine users safe in an emergency, such as power outages.
The model, which has a 22.5m working height and 11.2m outreach, is equipped with a new emergency lowering system that uses a battery-powered emergency pump with a gravity lowering system to bring the platform down ground level.
"Another major trend in the industry has been the integration of advanced safety features into spider lift models," Falcon Lifts tells AI.
The company's 430 Vario model – one of its latest models, is a dual-power unit fitted with a Stage V-compliant Kubota diesel engine and a rechargeable battery pack, and boasts several "advanced safety features".
Key among these is the automatic levelling system, which precisely positions the lift for optimum stability, and the collision detection system.
In fact, all of the company's newer models "now come equipped with collision detection systems, which help prevent accidents by alerting the operator when the lift is getting too close to obstacles."
In addition to optional safety features such as a slope alarm and an anemometer wind warning system, the model's maximum 43m reach is stabilized by a variable outrigger system that makes it suitable for use on uneven ground.
"This feature is especially useful in tight spaces where the operator needs to adjust the outriggers to a specific position to safely and efficiently complete a task," says Falcon.
With an outreach of 18.5 meters and a basket capacity of 200 kg, the 430 Vario is suitable for lighter tasks.
The model's tracks are also height and width adjustable, to "offer a safe and stable platform for workers to carry out tasks at height".
Leguan and Falcon aren't the only companies to offer new safety features. CTE Lifts' Traccess 270 model has a jib that features a new "rise and drive" function, that allows it move while the jib is raised.
"Thanks to the "rise & drive" function of the jib, translation can take place without any difficulty on sloping ground or on ramps, keeping the unit completely stable," says CTE.
The articulating model, which has a working height of 27m and is fitted with a 3-cylinder Kubota diesel engine, is also available with an optional anti-crushing device in the 250-kg capacity basket.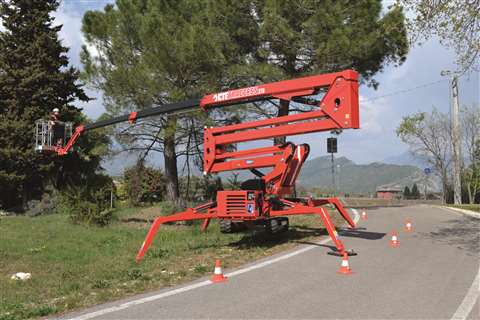 The Traccess 270 also benefits from the manufacturer's IAPA awarding-winning S3 EVO technology.
A real-time stabilization system based on CTE's previous S3 Smart Stability System, S3 EVO continually monitors the platform's boom position, load and stabilization and blocks movements that are not within the configuration's safety limits, thus providing the "maximum level of safety".
"Thanks to it, it is possible to place each individual outrigger in a different position," says CTE. "Once the outriggers have been positioned, we proceed with the automatic stabilization of the platform."
Technology Vs Easy Operation
Of course, advanced systems like this are no good to equipment users if they're not easy to use.
While the rapid development of new technology – whether it be digital or mechanical - has transformed (mostly for the better) every aspect of our lives, many of us mere mortals struggle to actually use it.
Therefore, making equipment as easy to use as possible is a key focus for OEMs both now and in the future.
Leguan says, "The new Leguan 225 is the most user-friendly spider lift in its class thanks to its intuitive joystick control and modern features such as back-to-home and back-to-work functions. Even simultaneous boom movements can be controlled easily with one hand on the joystick. "It adds, "Leguan 225's operating system has full awareness of the boom positions which allows the possibility to maximize motion speed of the booms depending on the boom position, which makes controlling the booms fast and efficient."
Similarly, CTE's Traccess 270 boasts a control panel with a wireless radio control that can be used both from the ground and in the basket.
"The single control panel for both the ground station and the basket control station allows full access to all the available functions and maneuvers," the company adds.
What does the future hold for spider lifts?
With the aerial platform industry often among the first to adopt new technologies, Falcon says that in the future "there will be a greater focus on improving the user experience, with more ergonomic designs and intuitive controls."
Looking further ahead, access equipment customers both from the contractor or rental side of things, will find the options for hybrid and electric machines expand dramatically.
Falcon and CTE expect the trend to continue - with many low-emission machines also likely to incorporate greater automation capabilities.
"In future, we expect to see more spider lifts that are more or fully autonomous, with the ability to operate with less human intervention," Falcon tells AI.
"We expect new models that can perform certain tasks automatically and adjust their position based on the task being
performed." 
Unique style
Manufacturer Teupen says its latest tracked platform, the LEO39GT Plus, is characterised by a new and unique boom design, which makes it well-suited for projects where access at the required height is particularly challenging, such as for telecommunications and powerline applications.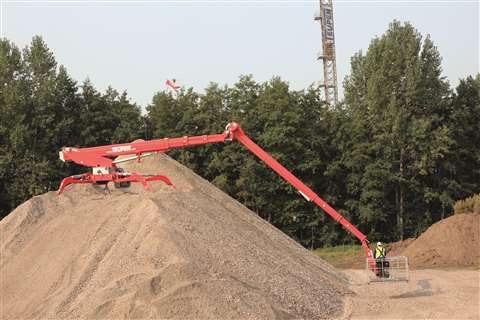 Fitted with a 400kg capacity platform that delivers 220° degrees of rotation in both directions, the articulating model offers a maximum working height of 38.6m, but also provides an at horizontal at-load outreach of 18.3m and 20.2m with a load of up to 300kg.
It can provide an up-and-over reach of 21m and a negative reach of 12.1m, and its variable outrigger system also features a one-side narrow setup option. The LEO39GT Plus also benefits from height and width adjustable crawler tracks and electrohydraulic stabilisation that incorporates an automatic levelling and ground pressure sensor system.
"The challenge for the client is often to get to the jobsite. A spider machine is always the perfect proven solution due to their compact dimensions, low dead weight, accessibility to complicated jobsites, etc," says Luis Teixeira, Head of Sales at Teupen.
The company is also in the process of designing the new successor series of its LEO21GT and LEO24GT models.
"The complete design has been modified according to the current customer requests and the machines will be the first with a completely new generation of control system from TEUPEN, called Fuzzy V."
Teixeira says, "The new models have a smaller transport width of approximately 89cm and are equipped with hydraulically adjustable crawler tracks, radio remote control and a new colour display in the basket as standard.
"The machines are very maneuverable and can be used flexibly, as the automatic setup of the stabilizers can be positioned variably."
Revealing the Raptor 
Socage Raptor, the new product range launched by Italian company Socage in 2022, made its construction trade show debut earlier this year in the United States.
Established to focus purely on tracked platforms, the company attended the 2023 ConExpo event in Las Vegas with its new double-articulating 15S and 21S aerial platform models.
With working heights of 15m and 20.1m respectively, the standard 15S and 21S are both bi-energy models that produce zero emissions and feature the double articulated boom with a hydraulic jib.
While both are also fitted with a two-person platform basket, the 21S spider boom offers a basket rotation of 60 in either direction and a turret rotation of 700 degrees. Whereas the smaller 15S turret rotation of 400º rotation.
The main advantage of the 15S spider is its compact size. It weighs just 1.9 tonnes and measures just 0.78m wide in its transport configuration, while providing an outreach of 7m.
Though still in its infancy, the Socage Raptor is aiming "to revolutionize the world of double pantograph and telescopic arm tracked aerial platforms" and will soon export products to over 50 countries, including the US.