Huisman appointed for Jumbo cranes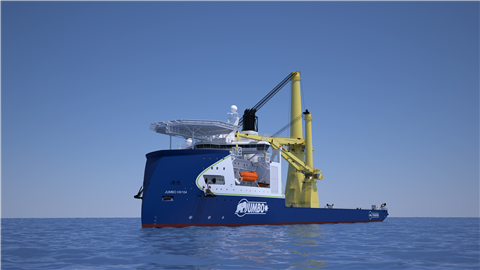 A pair of Huisman cranes, the main one of which will lift 2,500 tonnes, will be fitted to Jumbo's new DP2 Heavy Lift Crane Vessel (HLCV).
Heavy lift shipping specialist Jumbo has appointed fellow Dutch company Huisman Equipment BV to design and construct the cranes for delivery in the first quarter of 2020.
The main crane will have a triple hoist to handle complicated upending operations. It will also have a 600 tonne capacity auxiliary hoist with active heave compensation (AHC) and a depth rating of 3,000 metres.
The second crane will have capacity of 400 tonnes and AHC to 3,000 metres on the main hoist. It will be positioned to service the moon pool and there will be a man-riding whip hoist.
The new cranes will extend Jumbo's current capability. Michael Kahn, Jumbo managing director explained, "This year Jumbo is proud to celebrate 50 years in business. This also marks the continuation of our long lasting relationship with our partners in Huisman. Our new HLCV, equipped with these cutting edge cranes, enables Jumbo to further step-up, scale-up and diversify into the global offshore energy market."
The HLCV was designed together with Ulstein Design and Solutions to combine economic and technical efficiency with the highest quality and safety, Jumbo said. It will be 185 metres long and 36 m wide. Dual fuel engines with improved fuel efficiency and the ability to run on liquid natural gas help satisfy environmental considerations.