Huisman super heavy lifters enter the ring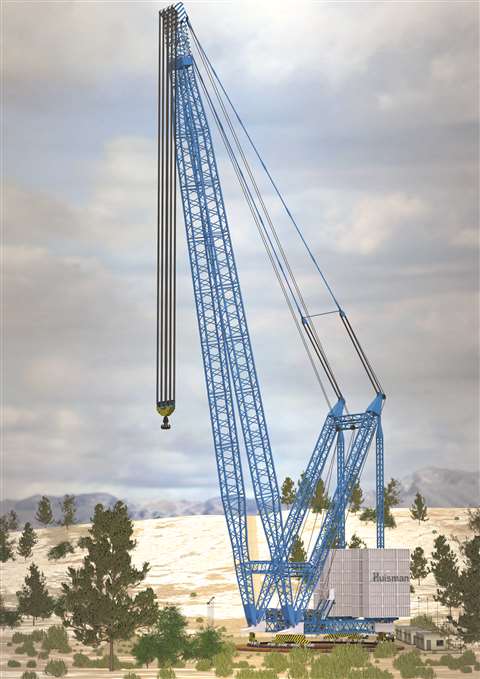 Entering the super heavy lift crane arena is a new range from Huisman and Re-Move – the Compact Ringer Crane.
Specialist in lifting, drilling and subsea solutions Huisman Equipment and fellow Dutch company Re-Move are preparing to enter the super heavy lift crane arena with a new range of ring-based units for onshore application, IC reveals exclusively.
Under an initial proposal the Compact Ringer Crane (CRC) series will be available in seven models with ratings from 50,000 to 240,000 tonne-metres and from 2,400 to 4,800 tonnes capacity. Applications will include petrochemical plant vessel installation, power plant construction and module construction for the offshore industry.
Huisman, established in 1929, has its roots in crane design and manufacturing. It is well-known for its heavy lift offshore units, widely used in the oil and gas industry, a sector for which the company also caters with pipelay systems, drill equipment and integrated vessel designs.
For Huisman's first super heavy lift foray on land, Re-Move, headed by Jan van Seumeren Junior, John Casteleijn, Bert Timmer and Peter Bon, will bring to bear their extensive experience in the onshore heavy lift sector as the worldwide dealer for CRC, David Roodenburg, Huisman senior business development manager, told IC.
Huisman has a long association with the van Seumeren family. Jan van Seumeren Junior said he forecasts a focus in demand around the CRC 150-3600 and CRC 180-4800, the 150,000/180,000 tonne-metre, 3,600/4,800 tonne capacity models in the middle of the range.
Fixed and adjustable jibs will be available. Capacity will be the same on main boom and with the fixed jib while on the adjustable jib it goes from 1,200 tonnes on the smallest model up to 2,400 tonnes on the largest.
Described as lightweight and compact, the new cranes are designed by Bert Schouten of Huisman. High tensile (960 MPa) steel will be used in the boom to save weight. The ring concept is well proven and compact for the super heavy lifting capacity. To use a conventional crawler crane would need a four times bigger footprint, van Seumeren said. A disadvantage of ring cranes – that they cannot travel with load – is rarely an issue as in 90% of cases, this feature is not required, van Seumeren said.
A primary feature of the CRC is its scalable modular design. Components, including boom and jib sections, ring parts, winches and more are transferrable from one size crane to another. Adding more of the same parts allows the larger cranes to be built. By buying the largest crane, a customer can also build the smaller cranes, with just the addition of some different radius parts for smaller diameter rings. The same winches are used for main hoist, boom and auxiliary (250 tonne capacity) hoists.
A single ring is used for the 2,400 tonne capacity units up to 100,000 tonne-metres. For the 3,600 and 4,800 tonne models there is a double ring and a total of four ring diameters are used across the whole range. Two types of spreader board are used across the range and the ground bearing pressure is typically 20 tonnes per square metre while on the largest model this can be up to 30 tonnes per square metre. The same bogies work across the range and can also be set to run in a straight line.
All of the components can be transported inside shipping containers. Boom sections can be left pinned together as monoblocks or dismantled for shipment on flat racks. The winch drums, spooled with all their wire rope, are lifted out of their frames for transport. The frames are the dimensions of a 20 foot container. It is up to the client to decide if they want to transport it by container or not.
Ballast required increases from 2,400 tonnes on the smallest models, through 3,600 tonnes in the mid-range, to 4,800 tonnes on the largest models. For the main ballast between 24 and 48 specially reinforced containers can be filled with locally sourced sand, rock, concrete blocks or steel, according to what is available.
A departure from convention on such cranes is the fact that the CRC will all be 100% electrically powered, driven by AC motors. Power can either be from the local grid or supplied by on site generators. It will avoid the emerging problem of engines on the crane being needed to run on low sulphur diesel in some markets and not others but there being no cross-market compatibility (For a comprehensive explanation of this problem see IC March 2013, page 57). Where the local mains power is insufficient, local generators will be brought in conforming to the local regulations and fuel type requirements. Greater efficiency and lower power consumption are two more claimed benefits. Others include cleaner and neater installation and operation.
Optimisation is a key feature in the design concept. An example is that the winches are incorporated as part of the structure and not just separate elements added to it with the unnecessary extra weight of additional, duplicated, structure. An analogy can be drawn with Colin Chapman's approach at Lotus Cars where the idea was to "add lightness" (i.e. reduce weight) by making each component serve as many functions as possible and then to reduce the weight of those pieces as far as practical without compromising strength.
Look out for the full story and updates on this exciting new development in the super heavy lift arena at www.khl.com and in International Cranes and Specialized Transport.