Hybrid and electric: Decisions, decisions
By Thomas Allen17 April 2020
Electric equipment offers the benefits of lower emissions, reduced noise levels, fewer vibrations, and access to emissions-regulated sites and indoor or underground spaces. However, this comes at a cost.
When asked what rental companies are saying about it, Glen Hampson, Business Development Manager for Construction at Kubota UK, tells IRN, "Demand is being driven by the need to meet emission regulations and lower noise. These are the key points that rental firms can use to justify the higher cost and sell the product to their customers."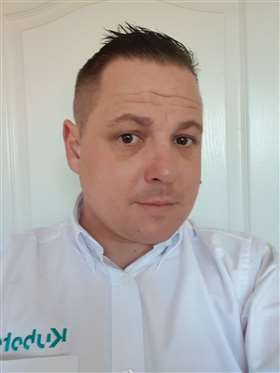 He adds, "There is currently an undeniable global shift towards electric vehicles. At Kubota, we have seen some interest from rental companies following the launch of our electric prototype excavator."
Kubota recently unveiled a prototype electric mini excavator in Japan. The company is also developing an alternative fuel model using liquefied petroleum gas (LPG), which is due to be launched this year, with commercial production scheduled for 2021. More information about this and other alternative-power mini excavator developments can be found in the Mini Excavators feature in the March issue of IRN.
This begs the question of whether Kubota is hedging its bets. In what direction does it see the industry going?
LPG is regarded as the middle ground between traditional diesel and full electrification, according to Hampson; "The benefits of gas are the initial purchase price – which is significantly lower than electric – and the ability to perform a full day's work without specialist infrastructure for charging. Operators can change the gas cylinder of the unit in less than three minutes.
"Gas machinery also emits both low noise and low vibration compared to diesel, whilst retaining engine durability due to having the same core design."
However, these machines still use a fossil fuel that will eventually become depleted.
Electric evolution
Meanwhile, Hampson says, "Electric technology is certainly evolving and, on the face of it, it's evolving fast. There has been an undeniable global shift towards electric vehicles, with demand being mainly driven by increased emissions regulations."
As mentioned, cost is a big challenge; "The machines carry a higher price tag and this won't be for everyone. It will probably have the biggest impact on adoption across the industry," Hampson says.
Another challenge is the time it takes to charge electric machines, and the operating times they are capable of.
Hampson adds, "However, given the pace of technological development, it's likely a full range of electric machines will be feasible in the future."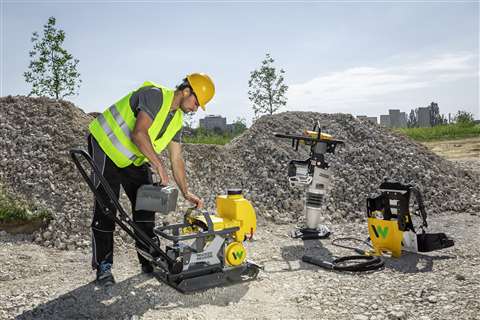 Electrification is particularly applicable to equipment at the smaller end of the scale. So, as an equipment manufacturer specialising in the production of compact equipment, Germany-based Wacker Neuson has been an early adopter of electric technology. The firm launched its zero-emissions product line in 2015 and is continuing to invest in it.
For instance, the Zero Tail EZ26e excavator – the battery-powered counterpart to Wacker Neuson's conventional EZ26 excavator – is currently under development.
In an effort to drive the adoption of battery-powered construction equipment, Wacker Neuson offers customers in Germany the option of leasing its modular lithium-ion battery at a monthly rate. In this way, customers can get regular battery updates and the risk of battery failure is minimised.
Also, the manufacturer regularly rents electric equipment to customers to test it out on site.
In addition to the challenge of encouraging acceptance in the market, there is also the issue of electric infrastructure. However, a spokesperson from the company said, "Recently, further manufacturers have been starting to offer electrically powered solutions as well. This is a positive development, as it helps develop the respective infrastructure and broadens the acceptance of such equipment with construction companies.
"The more manufacturers get involved and help to create standards in our industry, the faster there will be progress in this area."
Although there is a clear trend towards electrification, Wacker Neuson does not believe that in the medium term all products will be completely electric. It recognises that the electric drive is not the universal solution for all product groups.
"Electric machines will find their place, especially in cities and in classic indoor applications, such as demolition, tunnel or renovation work," said the company spokesperson.
Wacker Neuson predicts that a much more differentiated picture will emerge across the entire range of construction machinery, with a wide variety of alternative drive systems, hybrid drives, synthetic fuels and other innovations entering the marketplace.
For this reason, Wacker Neuson is testing alternative drive technologies and collaborating with universities and start-up companies.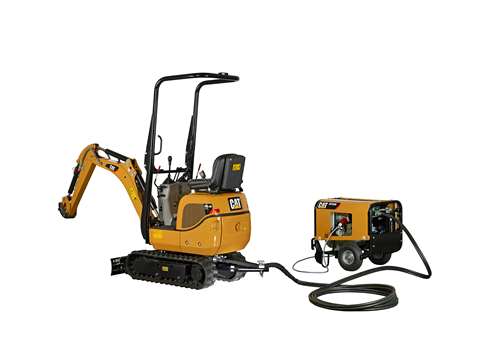 Caterpillar also acknowledges the increasing diversity in the marketplace. The company's electrification strategy involves what it describes as a 'versatile approach' that allows it to match the right product to a given application.
This means the manufacturer is developing a range of solutions from which its customers can choose.
Cat's full-electric products, featuring non-engine electric power sources, are best suited to environments where eliminating emissions is the priority, such as underground or indoors. For example, in 2017, Cat created a proof-of-concept R1300 underground loader with a battery-electric powertrain. This model is now driving the development of the company's next generation battery-powered R1700 Mining Loader.
Providing options
The diesel-electric products connect an engine to an electric generator, AC drive motor or other source of electric power. They are targeted at operations where fuel usage needs to be minimised. Examples in Cat's portfolio include the 794 AC and 795 AC electric drive trucks, as well as the D7E dozer that was first introduced in 2009.
Meanwhile, Cat's hybrid products, which combine an engine with various other power sources, such as batteries, hydraulic accumulators and high-speed flywheels, are good for reducing emissions.
Advancements in these different power systems are only possible through collaboration though, according to the company. Cat's dealers around the world are on the front line of the electrification movement, adapting existing Cat products to specific regional or jobsite requirements.
For example, Germany-based dealer Zeppelin has been working with Cat to develop a tethered, electrified material handler primarily for use indoors. It has also turned a Cat 302.7D CR mini excavator into a dual-power machine that can switch between a diesel engine and electric.
Another example is Pon Equipment, which has been building eight fully electric excavators, based on Cat's 323F model, for the Norwegian market. They will run on electric motors, controllers and heavy-duty batteries.
In terms of the development of electric and hybrid machines, Ammann has some projects already underway in light compaction, says Bernd Holz, Managing Director and Sales Director Europe West at Ammann Group, including some hybrid units.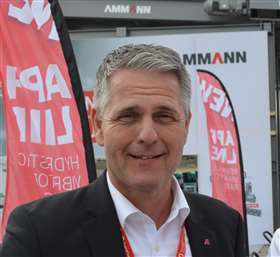 However, he acknowledges that in pure electric machines, Ammann is still watching and waiting to see how the market develops. He thinks at this relatively early stage, there are other considerations that impact on CO2 emissions, such as the production process for batteries and the source of power for recharging on sites, such as a diesel gensets. And he thinks, for example, that it might make more sense if different OEMs were using shared, interchangeable battery packs.
"We have some plans", he tells IRN, speaking on Ammann's stand at the ConExpo show. "We think we could launch electric plates or rollers in the next year or two. If customers are telling us they need and want to buy, that's a different story."
He says full testing of electric machines needs several years and requires specialist know-how to develop; "It's not so easy." He thinks that a joint venture of some kind with another company that has similar products, on a 'plug and pay' basis, might make sense.
Holz says up to 2.5 tonne asphalt rollers could go electric, but for larger machines hybrid technology will work better.
Continued growth
On the wider topic of Europe's rental scene, he is not altogether welcoming of the continued growth of the biggest rental companies; "They are getting too big and they will try to dictate price. I prefer it if we have more medium-sized players."
The use of electric technologies also has the potential to change the very shape of construction equipment in the future, due to the design possibilities it opens up. So says Ahcène Nedjimi, electrics and electronics systems lead engineer and electromobility specialist at Volvo Construction Equipment (Volvo CE).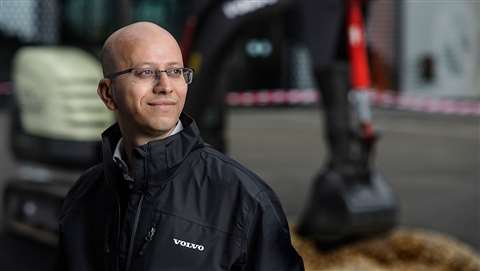 Nedjimi has been working on electric power in his role for more than a decade; he was project leader for the launch of the EX2, Volvo CE's electric compact excavator prototype, in 2017.
"Without an internal combustion engine and a fuel tank, there are new design possibilities to explore," Nedjimi says. "In most of those vehicles, there is a large engine usually located in a single place and a fuel tank that takes up space in the vehicle.
"While there is a need for battery and electric motor placement in electric vehicles, designers are not locked into this traditional framework and are able to package the batteries and motors differently."
The Sweden-based company announced last year that it has decided to shift its production of compact excavators and wheeled loaders entirely to electric models from mid-2020.
Nedjimi says, "As a specialist in electromobility, I can tell you that it's now obvious that we are standing before a shift towards electromobility. Volvo CE would like to be part of it, and to drive it."
Case Construction Equipment, part of CNH Industrial, recently introduced "Project Zeus," the 580 EV (Electric Vehicle), which the company said is the first fully electric backhoe loader.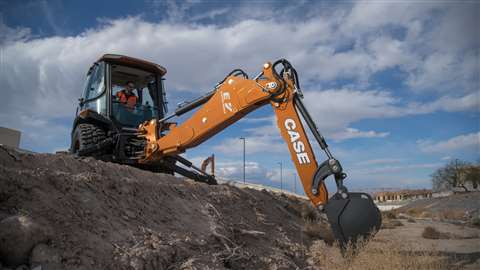 The 580 EV was said to deliver equivalent power and performance to diesel-powered equivalents in Case's portfolio, while producing no emissions and less noise, and offering lower daily operating costs.
"The 580 EV is a significant step forward in our commitment to sustainability, the evolution of earthmoving equipment and truly practical innovation that drives real savings and competitive advantages for backhoe owners," said Leandro Lecheta, head of construction equipment, North America, CNH Industrial.
The 580 EV is powered by a 480V, 90kWh lithium-ion battery pack that can be charged by any 220V/three-phase connection. It was said to last for most common eight-hour workdays on a full charge.
The battery separately powers the drivetrain and hydraulic motors, resulting in hydraulic breakout forces equal to diesel-powered machines and improved performance during simultaneous loader and drivetrain operation.
The manufacturer estimates that, in some cases, the 580 EV could save fleets as much as 90% in annual vehicle service and maintenance costs. This takes into account the reduction and even elimination of diesel, engine oil, diesel exhaust fluid, regular preventive maintenance and long-term engine maintenance – plus the associated labour costs and time savings.
Doosan is also investing in electric and hybrid technology in response to customer demand. The South Korean manufacturer has introduced its prototype DX17Z-5 Electric mini excavator, aimed at the US market.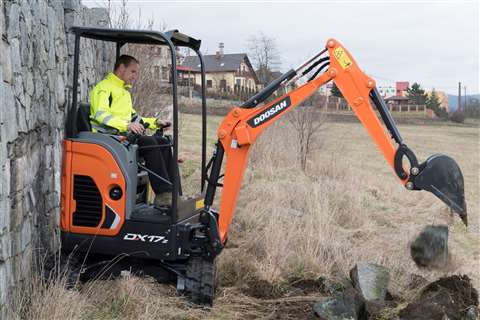 The zero tail swing model answers the call from customers who are working on jobsites where exhaust gases are restricted or even prohibited.
The 1.5 tonne size class was selected for this first model because of customer requests for a narrow mini excavator that could work in confined spaces.
Rather than a traditional diesel engine, the DX17Z-5 mini excavator is powered by a battery, located where the machine's engine and fuel tank would usually be. The battery supplies power to an electric motor that is used to operate the hydraulic system.
Doosan is aiming to make the DX17Z-5 commercially available in 2022.
Prototype hybrid
The company has also unveiled a prototype hybrid version of its standard DL200-5 loader, called the DL Hybrid, which could become available in 2023.
Aaron Kleingartner, Product and Dealer Marketing Manager, Doosan Infracore North America, said, "The electric motor and diesel engine work in tandem to provide the same level of torque and output that a larger diesel-only engine does."
The model uses a smaller diesel engine, which helps to lower the wheeled loader's fuel consumption.
Doosan suggested it may apply similar hybrid technology to wheeled loader models in the future.
Looking at other alternative power sources, Hyundai Construction Equipment (HCE) has joined forces with Hyundai Motors and Hyundai Mobis to develop hydrogen-powered medium- and large-capacity excavators and forklifts.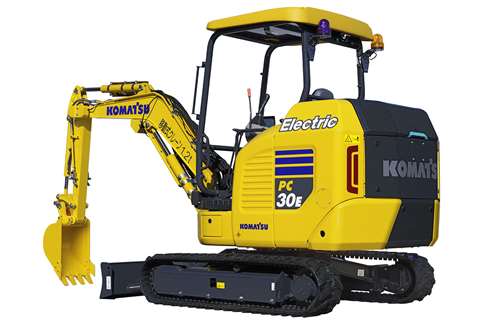 According to the Memorandum of Understanding signed by the three business units in South Korea, Hyundai Motors and Hyundai Mobis will design and manufacture hydrogen fuel cell systems, including power packs, while Hyundai Construction Equipment will design, manufacture and evaluate the performance of excavators and forklifts.
Development work will begin this year, with a target date for mass production and distribution set in 2023.
Hwang Jong-hyun, Head of the Research and Development Division for Hyundai Material Handling at HCE, said, "With this latest agreement, we've prepared a foundation upon which we can secure core technology in hydrogen-powered construction equipment ahead of our competitors.
"Hyundai Construction Equipment will do its very best to meet the challenges that lie ahead as countries around the world attempt to establish global standards in terms of certifying the performance of equipment and legislating relevant laws for the commercialisation of hydrogen-powered construction equipment, and play a leading role in the market moving forward."
Unlike conventional diesel engine-based equipment, hydrogen-based electric machines use electricity produced by a chemical reaction between hydrogen and oxygen as its power source, meaning no toxic gases are emitted.
HCE said that, compared to lithium batteries, which face structural issues limiting attempts to increase battery capacity, hydrogen fuel cells are easier to expand, making them a better choice for large forklifts or excavators.
Since the end of 2018, HCE has also been working with engine manufacturer Cummins on a 100% electric-powered excavator.
Over in Japan, Komatsu recently introduced a new electric mini excavator to the Japanese market, aimed initially at the rental sector.
The PC30E-5, based on the manufacturer's experience with developing hybrid construction equipment and electric forklift trucks, was said to offer the same level of performance as its diesel-powered equivalent. The 4.7 tonne machine has a 0.09m3 bucket capacity and measures 4.95m long, 1.74m wide and 2.58m tall.
Originally launched at Bauma Munich as a prototype in 2019, the new electric model has been tested on a number of customer jobsites. Although it is being sold to the rental sector in Japan to begin with, it will later be marketed more widely.
With standard charging, the PC30E-5 can be fully charged over night or when the machine is not being used for a long period. With the rapid charging option, the 36kWh battery can be charge to 80% of their capacity in a shorter period of time, such as during a lunch break, according to Komatsu.
The battery has been designed to be easy and safe to maintain. No electrolytic liquid needs to be added, and the routine check-up areas are separate from high-voltage areas of the machine.
Over the past few years, Netherlands-based Tobroco Giant has been focussing on the development of electric equipment by expanding its engineering department and opening a research and development centre at its factory in 2016.
The initial results of this investment were seen last year when the manufacturer launched its first electric compact loader, the G2200E. Tobroco Giant is also planning to introduce an electric version of its G2200 X-TRA model soon.
The G2200E, with a lifting height of 2.85m and capacity of 1,650kg, is powered by a 48V lithium-ion battery that fills the space traditionally used for the engine.
The use of two separate electric motors – a 6.5kW motor to drive the machine and a 11.5kW motor for the hydraulics – ensures there is always enough power to perform tasks precisely.
Customers can choose from three different battery options: 12.3kWh, 18.4kWh or 24.6 kWh, offering 4, 6 or 8 working hours, respectively.
The battery is protected by its own intelligent battery management system and can be charged whenever, without affecting the battery lifetime. This was highlighted as being of particular benefit to rental companies.
The electric loader can be equipped with either a 40 or 60A on-board charger that can be connected to a standard 230V power supply. External chargers are also available, ranging from 40 to 300A, offering the ability to charge the battery up to 50% in 30 minutes.
Intelligent charging
Dutch rental company Riwal has introduced a new charging station for electric aerial platforms that it developed together with digital technology provider ABB.
Riwal recognised a problem on some construction sites: there are a growing number of electric machines – namely aerial work platforms – which all get plugged in to charge at the end of the day, creating a large spike in demand for electricity. This can lead to some equipment not getting charged.
So Riwal and ABB worked together to develop a way of better processing that jump in demand.
Servie Huybers, Product Marketing Specialist at ABB, explained that the charging unit is equipped with a so-called load balancer; "The aerial platforms have dynamic chargers that demand a lot of power in the beginning and as time goes on it decreases.
"To better distribute the requested power among the different chargers, if the load becomes too high due to one or more chargers, the load balancer will switch it off temporarily. This intelligent system keeps the energy supply intact and ensures that all connected aerial platforms are charged during the night."