Hydraulic gantries: Load lifters
By Christian Shelton02 September 2019
According to USA-based gantry crane manufacturer J&R Engineering Co., the use of gantries has accelerated over recent years. It attributes this to the cost-effectiveness of gantries as compared to other types of lifting equipment, along with the ability of gantries to be used in confined or low headroom areas to handle heavy equipment.
"Hydraulic gantries are being used in all industries because a majority of lift projects include the aspect of removing loads from transport vehicles," explains company president Kevin Johnston. "The purchase of a gantry can be a very significant investment for a company so it is recommended that a potential buyer visit the different manufacturers to see the equipment and supporting operations first-hand. By doing this, they can meet the people behind the product to discuss the engineering involved, the overall build quality of the gantry, the ease of use, and the production process."
Customer collaboration
This approach was taken by Norwegian transport company Proven Transport which has taken delivery of a customised 1,000 tonne capacity Power Tower hydraulic gantry from USA-based lifting system manufacturer Lift Systems. Before the order was placed, Sverre Fordal of Proven Transport and Martin Schoedt, of Schoedt Trailer and Lift Systems (the independent Lift Systems' representative for Scandinavia), travelled to Lift Systems to discuss design options best suited to Proven Transport's requirements.
"Over the course of three days, we demonstrated equipment in our rigging gear sales yard, and went through every minute detail of available features to arrive at the perfect specification for Proven Transport," explains Lift Systems' vice president, Ben Forster. "Sverre Fordal knew what he wanted in a gantry, having previously worked with equipment from several manufacturers, and together we arrived at the safest, most operator friendly method to meet Proven Transport's needs. We love customer collaboration to find novel solutions to their project challenges."
The best-fit solution was a model 34PT10060WSIC Power Tower capable of lifting 1,000 tonnes to 8.38 metres and 600 tonnes to 10.67 metres. This unit includes removable boom and cylinder packs (to allow for optional lowered transport and lighter component weights for erection in confined spaces), dual power (diesel/electric) HPUs, custom lifting beams and runway track, and an advanced control system.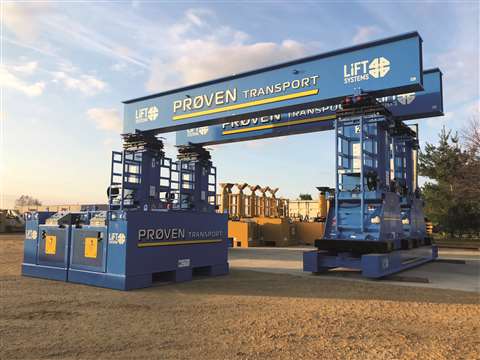 According to Lift Systems, to ensure maximum precision the unit coordinates all four towers to within 10 mm of each other in lift, travel, and side shift functions. During factory acceptance testing, however, Lift Systems says 6 mm precision was the regular observation, with 3 mm synchronisation precision in all three operational functions at half speed.
The gantry is controlled via Lift Systems' Carl control system. This includes the ability to remotely connect to the gantry through a smartphone app and Bluetooth technology, a function Lift Systems has named Connect. "Only with local operator confirmation can Lift Systems' technician communicate with the unit," explains Forster. "This feature saves time and money by allowing diagnostics and programming to be performed from our USA offices for customers worldwide in real time in lieu of requiring a technician to travel to site.
The gantry's hydraulic power units have dual power functionality. This means a unit can be operated using fossil fuel or electric power using the same HPU. "The HPU can change power options based on jobsite conditions at the flick of a switch," explains Forster. "From a profitability standpoint, there's no sense hauling or renting a generator if fuel can be used, and you're already equipped if plant power is available. It's like two HPUs in one."
The J&R Engineering Company also says that the ability to switch between the use of electric or combustion engine power is very popular with its customers, along with the popularity of equalization or automation in gantry control systems to enhance safety. It recommends, however, that this type of automated control system must a have a redundant manually-controlled system that allows the gantry to fully function in case of an electrical problem that interrupts its service.
For additional safety, J&R Engineering advises gantry users that if they are using high strength telescopic booms, these should have a secondary locking mechanism such as its cam lock system, to provide additional full load holding capability in the unlikely event of a loss of hydraulic lift cylinder pressure.
Structural strength
J&R attributes the increased use of high strength telescopic booms in gantries to the fact that many lifting projects are subject to dynamic ground conditions, which may not initially be apparent to the user. This, it says, results in the need for the added strength that a structural boom gantry provides versus a cylinder-only type gantry. "Structural boom gantries, in most configurations, have the side loading strength to allow for the lift housings to withstand instable ground conditions," Johnston states.
J&R has also developed patented Stabilizer Bars which it says increases the side loading safety factor of structural booms via the use of a flexible gusset that helps absorb forces.
Another area of development in the hydraulic gantry sector relates to the issue of space. As Pete Crisci, product line director at Netherlands-headquartered heavy lifting specialist Enerpac Heavy Lifting Technology, explains, "Customers tell us that space is critical during industrial moves."
To address this the company is now offering modular electrically-powered header beam side shift units for its telescopic gantry range from the SL60 through SBL1100. The modular side shift units allow gantry users to customise the below the hook distance to suit header beam dimensions and project requirements. It also requires less space above the header beam compared to hydraulic powered side shift units, Enerpac explains. "By reducing the space requirements above the header beam and the available lifting distance below the header beam we're equipping our customers with the lifting flexibility they are looking for," Crisci adds.
Controls for the electric side shift are integrated within the gantry base units and wireless control system. The side shifts are available with extension bars and sling guides and the whole system can be shipped in a dedicated storage frame for ease of handling. The powered side shift can also be used on other manufacturers' gantry systems and fixed beam lifting and hoist systems by using a standalone electrical panel with pendant control. "By opting for an electrically powered side shift we're able to offer other gantry users, and those companies with an in-house fixed beam hoist, the ability to easily add a compact, modular side shifting function to their lifting systems," notes Crisci.
J&R Engineering has also developed a space-related solution with its bolt-on boom extensions that add to the lifting height without having to raise the gantry track. The company has also developed a smaller, 100 tonne, and a larger 1,300 tonne versions of its Lift-N-Lock Boom Gantry (200 series and 2600 series, respectively).
Lift Systems is also currently developing a new gantry model which it plans to unveil at the 2020 ConExpo trade show (that takes place in Las Vegas, USA) but has not released details yet.
Heavy lift and transportation specialist Mammoet lifted a 454 tonne electric generator at a nuclear power facility in Minnesota, USA, using one of its gantries. The gantry lifted the generator onto 24 axle lines of SPMT which then transported it off site. According to Mammoet, the generator was one of the oldest operational generators in the United States. It was replaced with a new generator which was brought in and installed using the same method in reverse. Mammoet says this method allowed the client to continue maintenance work on the unit until just before extraction, which optimised project efficiency. The complete re-installation was finished three days ahead of schedule.