Hydraulic gantries: Standard bearer
Enerpac's Mart Hinnen explains how the company is utilising principles of standardisation to deliver a range of benefits. Christian Shelton reports
According to Netherlands-headquartered heavy lift specialist Enerpac Heavy Lifting Technology (Enerpac), hydraulic gantries are the mainstay of many heavy lifting projects where their compact dimensions and ability to handle loads up to 1,100 tonnes are needed.
The company supplies a range of telescopic hydraulic gantries, including: the SL-Series Super Lift for entry level control and capacity; the heavy-duty SBL-Series Super Boom Lift; and the MBL-Series Mega Boom Lift, which has lift capacities (with four towers) from 600 to 10,484 kN, and lift heights between 3.4 m to 14.5 m. It also claims a number of 'industry firsts'; for example, it says the SBL-Series 900 was first foldable gantry in the 8,900 kN range and, more recently, it introduced a narrower track for the SL series for ease of access during internal factory moves.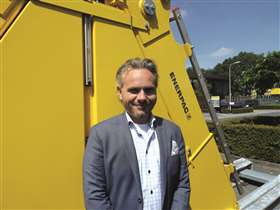 Mart Hinnen says marginal gains can add up to provide significant improvements
Enerpac's gantries are used for a wide range of applications and the company says that the notion of a 'standard' hydraulic gantry has proved elusive, until now. At its 'Demo Day' in Hengelo in May 2018, general manager, Mart Hinnen, described how Enerpac is using standardisation to deliver gantries that raise the bar for performance and ease of use, while at the same time streamline manufacture to reduce delivery times.
Evolution not revolution
For Hinnen, standardisation covers two areas: what the customer should expect and how the gantries are designed and manufactured. "Our approach to gantry standardisation recognises the inherent strengths of the basic gantry design and then seeks to apply the concept of 'marginal gains' to make small changes that are relatively easy to achieve yet add up to significant improvements in the overall safety and operation of the gantry," he explains.
Enerpac says safety is paramount in the design and operation of its heavy lift systems and that there are three safety elements that feature in all its heavy lift systems: adherence to international codes and standards for construction and safe operation; the controlled synchronous operation of the lift using wireless technology; and the construction of lifting systems that are self-contained for safer on-site deployment.
Enerpac states that its gantries comply with, and in many cases go beyond, the ASME B30.1 design code, and EC Machine Directive. "After systematically reviewing the engineering and manufacture of our entire gantry range, we have streamlined gantry manufacture by using common modules across our three ranges of gantries," Hinnen explains. "This allows quicker production, and where customisation is needed this can be done more quickly. In addition, we have developed a new common SL gantry base design that spreads the load better allowing smarter internals layout which is easier to assemble and lighter to transport.
"We've also used design improvements to achieve greater standardisation of components across the SL-Series range. This, together with investments in components stock and new machining centres, has allowed us to introduce 'just-in-time manufacture' where we're able to manufacture gantries in just a couple of weeks."
As standard, Enerpac gantries include electronic controls and the company's own Intellilift wireless control system. The control systems allow users to operate the lift locally at each leg or use the Intellilift remote control for unobstructed views of the load. "The wireless system ensures automatic synchronisation of lifting within millimetres accuracy and automatic synchronisation of travel with accuracy of 15 mm," says Hinnen. "It is a significant safety feature allowing the operator to control the gantry from a safe distance and with the ability to choose the best position to view the lift."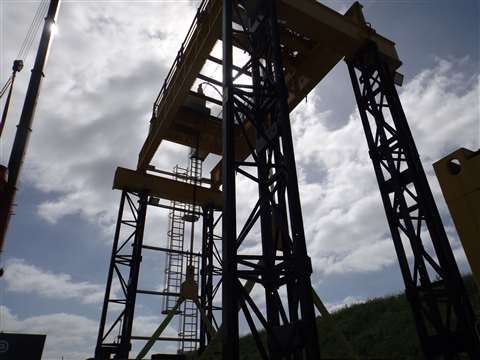 According to Hinnen, self-contained hydraulics are an Enerpac trademark. "The fact that all components are contained inside our gantries means there is less risk of failures, greater safety, and easier set-up," he asserts. "There are no hoses running from separate powerpacks. So, there's less risk of accidental cutting by machines on-site or by the gantry itself."
The gantries also contain their own propulsion systems. Enerpac is keen to point out this is not an add-on but included as standard. "Internal propulsion means less chance of external damage to the gantry and so it's safer in operation," Hinnen explains. "The gantry is tested like this, with all components contained within the machine, making the test a true reflection of the gantry's performance."
Time for testing has also been reduced, Enerpac says. The company is the first gantry manufacturer to offer Lloyds Register's (LR) remote witness testing. Overload testing is a mandatory requirement for all new equipment and is part of Enerpac's Factory Acceptance Testing procedure prior to gantry delivery. Typically, the overload-test is witnessed on-site by an independent third-party surveyor. Using a new initiative for remote inspection from LR, Enerpac is able to undertake remote witnessing via wireless real-time camera streaming by smartphone. "Remote witnessing eliminates the time and cost of surveyors visiting Hengelo and makes it easier to schedule testing more quickly," Hinnen explains. "We can also provide customers with a live video stream of the surveyor's remote witnessing."
Raising the bar
A hydraulic gantry should have sufficient capacity to handle the job, be safe and easy to operate, as well as easy to transport and maintain. Enerpac believes it has demonstrated that these qualities are compatible with a standardised manufacturing approach, which translates into gantries that raise the bar for performance and ease of use. Enerpac says it is already off to a good start compared with other manufacturers by including Intellilift wireless control and self-contained hydraulics as standard. In addition to reducing delivery times, and systematically engineering out service and maintenance requirements where possible, Enerpac reveals it is expanding its portfolio with new SL-Series gantries planned for later this year.
"With the SL-Series, we have an entry-level gantry that enjoys the same level of quality and standard features as our top of the range gantries. They are extremely popular with first-time gantry users and those looking to replace an older gantry. By standardising components we're now able to build some gantries for stock so that when a contractor has an opportunity we're able to support them with rapid delivery," concludes Hinnen.
ALE's TLG1000 update
The most recent hydraulic gantry developed by heavy lift and transportation specialist ALE is the TLG1000, which it launched at the end of 2017. The three-stage gantry has a 1,000 t capacity at all stages up to 12m high.
The gantry crane's inaugural job is in South America, where it has now arrived having been shipped over from The Netherlands. It will soon be assembled and used to install bridge sections, weighing 200 tonnes each, by lifting them and driving them into position.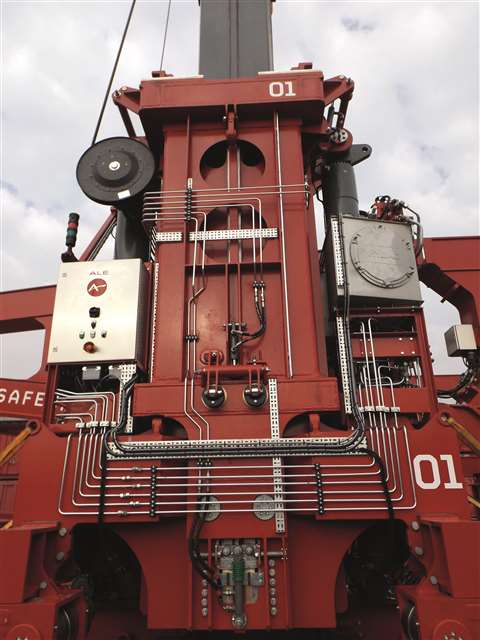 TBM move
In the UK, Hull-based global logistics provider Abnormal Load Services (ALS) was tasked with returning a client's tunnel boring machine to its premises.
ALS originally moved the TBM seven years ago from its client's premises to the Tunneling and Underground Construction Academy (TUCA) in Ilford, where it had been on display.
For the return journey the machine was transported in two sections: the cutter head, which weighed 76 tonnes; and a stationary shell, which weighed 52 tonnes. Both had diameters of 4.25 m. Due to limited space on site and the close proximity of a high voltage electricity pylon a gantry system was utilised for the load out to transport.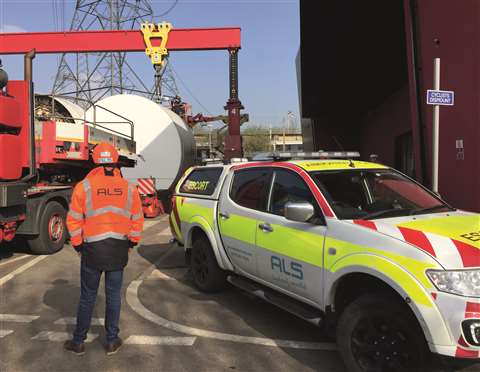 Fagioli gantry jobs around the world

Italian heavy lift and transportation specialist Fagioli has been busy using its fleet of gantries around the globe. In Italy Fagioli was contracted to lift and move a turbine and a generator, weighing 190 and 230 tonnes, respectively. Also in Italy, Fagioli relocated a tunnel boring machine weighing 480 tonnes in Turin. For this it used a gantry crane with a capacity of 1,100 tonnes, in conjunction with four L180 strand jacks and 320 SPMT axle lines.
In India, Fagioli used a combination of strand jacks and tower lifting and gantry lifting systems to move a 320 tonne generator stator in Odisha. Fagioli says the heavy item was skidded for about 22 m by the gantry lifting system and then lowered onto foundations.
It also skidded a 230 tonne generator stator 20 m in Nasik, India, using a gantry system. For the job Fagioli first installed a tower lift system. Then skidding tracks and a gantry lifting system were positioned on top of this. The stator was lifted for about 15 m in 1 hour, 45 minutes. After the lifting operation, the stator was skidded 20 m in 45 min. Remaining in India, Fagioli completed the onsite installation of a number of items of hospital equipment at the Apollo Hospital, Chennai. Each item weighed 110 tonnes.
Finally, in Poland, Fagioli was contracted to transport and install a Yankee dryer which weighed 150 tonnes and had dimensions of 9 m x 5.6 m x 6 m. The final part of the installation was conducted using a Fagioli gantry system.
Fagioli installing a 150 tonne Yankee dryer in Poland