Hydrema announces new G series ADT
By Mike Hayes19 November 2020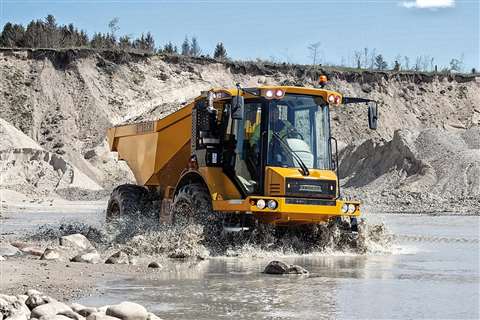 Danish construction equipment manufacturer Hydrema has announced the launch of its new G series articulated dump truck – the 912G – featuring a Cummins Stage V engine.
The new 147hp engine, which has a diesel particulate filter and adBlue, is also approved to run on 100% bio-diesel.
Hydrema says the engine's design has been simplified, with no requirement for a gas recirculation valve. The engine compartment has also been redesigned, allowing for easier servicing, with ground-level access to filters and check points.
The company highlights a number of different model options within the 912 series, including the MultiTip swivel body, which allows side dumping of loads.
The machine can also be ordered as a chassis cab, enabling the fitting of equipment such as water tanks, salt spreaders, etc.
The machine is available with a range of optional features, including all-round LED lighting for enhanced visibility, a mobile phone-operated Webasto cab heating system, an air-suspended, ventilated seat and a 3-point hitch attachment for the front, for a brush or blade attachment.
Hydrema's R&D manager, Thorkil Iversen, said, "The new Hydrema 912G-Series has been finely tuned on all fronts. It has become much more than the engine update that many manufacturers make to keep up with the Stage V emission requirements. Along with the very latest engine technology, we have made changes in areas such as safety, operator comfort and servicing."
Iversen added, "We are experiencing ever-increasing demands for low emissions, including in public tenders. This is particularly true in urban locations with projects such as sewage and district heating work along with pedestrian renovations. The 912G-Series new engine meets the requirements of contractors looking for the latest in low emission machines."