Hydro Rents NW wins SAIA Project of the Year
By Lindsey Anderson06 November 2019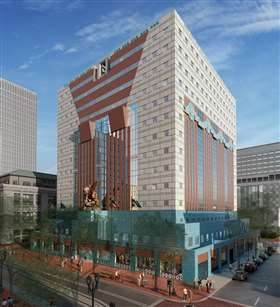 AGF Access Group's Hydro Rents NW, northwest distributor for its Hydro Mobile brand of mast climbing work platforms (MCWPs), received the 2019 Project of the Year Award from the Scaffold & Access Industry Association (SAIA) for its work on the Portland Building in Portland, OR.
The award, which was presented at the SAIA President's Gala on Oct. 1 as part of the 2019 SAIA Annual Convention & Exposition in New Orleans, honors a member company using mast-driven hoists and platforms to raise the overall level of safety on a project, contribute to its overall success, or complete a dynamic installation in a new or innovative way.
"We're incredibly proud to have received this significant honor from the SAIA," said Thierry Lachapelle, executive vice president, AGF Access Group. "Receiving this stamp of approval from an organization whose mission is so key to the safety of construction is a real testament to Hydro Mobile and Hydro Rents, and to the use of mast climbing work platforms in general. We sincerely thank the SAIA for recognizing the important and challenging work that was done on this project."
 The Portland Building was designed by Michael Graves and built in 1982 as administrative offices for the City of Portland. The 15-story municipal office building was originally constructed at a cost of $29 million and was eventually placed on the National Register of Historic Places as a building of "exceptional importance." Despite its significance, it has faced problems with its structure, exterior and operational systems.
To protect and preserve the historic landmark, the City of Portland initiated a $195-million project to reconstruct the Portland Building by the end of 2020. 
"We worked diligently to create the safest, most efficient and productive worksite so the renovation could be completed on time," said Steve Wobber, president of Hydro Rents NW. "This is a shining example of Hydro Mobile equipment in use for the greater good of a community, its citizens and the individuals performing the hard work it's taken to give this building the update it so badly needed. Thank you to the SAIA for this honor, we're very grateful."
The project involved the repair/replacement of the building exterior, as well as electric, mechanical, plumbing, and technical systems; seismic upgrades; improved accessibility for all occupants and visitors; workspace and safety improvements; LEED Gold building certification and historic preservation.
"We are very honored to have been a part of this historic project," said Wobber. "A few years ago, there was talk of demolishing this landmark building because of water infiltration and structural issues. But the building is a recognizable fixture in Portland and we're proud to have been a part of its repair and renovation, helping to preserve a piece of the local atmosphere in a city so unique to the Pacific Northwest."