Hyperloop study in India
By Thomas Allen27 November 2017
A memorandum of understanding has been signed between US-based Virgin Hyperloop One and the government of Maharashtra to conduct a preliminary study in the region.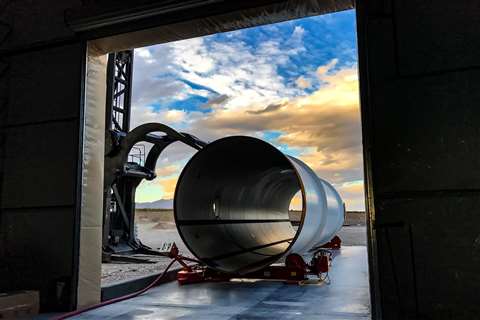 The agreement was signed with the Pune Metropolitan Region Development Authority (PMRDA), which will help Virgin Hyperloop One to navigate the regulatory requirements and support the report with data.
The aim of the study will be to consider the economic impact and technical viability of the solution, and identify potential routes based on analyses of demand and the socio-economic benefits.
Devendra Fadnavis, chief minister of Maharashtra, said, "A Hyperloop route requires high-density traffic to become viable as a means of rapid public transit.
Mumbai and Pune, the most and seventh most populous cities in India respectively, have the potential to provide an optimal route with a high density."
It currently takes up to three hours to travel between Mumbai and Pune by car, but this could be reduced to just 14 minutes.
Fadnavis said, "By reducing travel time to under 20 minutes, a hyperloop route will help intensify the connectivity between the metropolitan regions of Pune and Mumbai, transforming the two cities into India's first and largest megalopolis."
It could also streamline airport connectivity, for instance by connecting Pune's new Purandar Airport to the city center, or Navi Mumbai International Airport to Chhatrapati Shivaji International Airport.
Another possibility is that the high-speed line could look at connecting Nagpur, which is in the easternmost part of Maharashtra, with Mumbai and Pune to improve passenger and freight transportation.
Nick Earle, senior vice president of global field operations at Virgin Hyperloop One, said, "To coincide with the Digital India initiative and the pivotal role that technology will play in it, Virgin Hyperloop One can be a key facilitator."
The company is also working on projects in countries such as the United Arab Emirates, the US, Canada, Finland and the Netherlands.
A video about the Hyperloop concept can be viewed here.