Hyundai breaks ground on Chinese wheeled loader factory
By Chris Sleight19 July 2010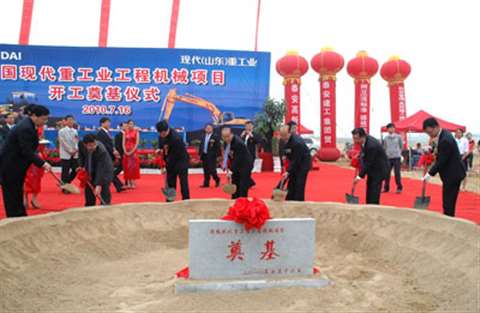 Hyundai has broken ground on a new US$ 48 million wheeled loader factory in Taian, in China's Shandong Province. The new facility will have an annual production capacity of 8000 units, which Hyundai hopes to expand to 10000 machines within five years.
Choe Byeong-ku senior executive vice president and COO of Hyundai's construction equipment division said, "China is an attractive wheel loader market with fast annual production growth rate from 140000 units in 2009 to an estimated 200000 units in 2010. Hyundai Heavy also strives to make inroads into Brazil, Middle East, and African construction equipment markets based on the success in the Chinese market."
The new factory will focus on 3 tonne to 5 tonne rated load wheeled loaders, the most popular models in China. This corresponds to about 1.8 m3 to 3 m3 bucket class machines.
Hyundai entered the Chinese market in 1995 and today operates three manufacturing plants in Beijing and Changzhou. These account for 50% of its overseas sales.