Hyundai developing hydrogen equipment
By Thomas Allen10 March 2020
Hyundai Construction Equipment (HCE) has joined forces with Hyundai Motors and Hyundai Mobis to develop hydrogen-powered medium- and large-capacity excavators and forklifts.
HCE said this is a response to the rising global demand for environmentally friendly equipment.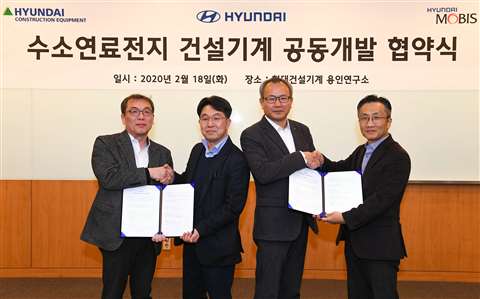 According to the Memorandum of Understanding signed by the three business units, Hyundai Motors and Hyundai Mobis will design and manufacture hydrogen fuel cell systems, including power packs, while Hyundai Construction Equipment will design, manufacture and evaluate the performance of excavators and forklifts.
Development work will begin this year, with a target date for mass production and distribution set in 2023.
Hwang Jong-hyun, Head of the Research and Development Division for Hyundai Material Handling at HCE, said, "With this latest agreement, we've prepared a foundation upon which we can secure core technology in hydrogen-powered construction equipment ahead of our competitors.
"Hyundai Construction Equipment will do its very best to meet the challenges that lie ahead as countries around the world attempt to establish global standards in terms of certifying the performance of equipment and legislating relevant laws for the commercialisation of hydrogen-powered construction equipment, and play a leading role in the market moving forward."
Unlike conventional diesel engine-based equipment, hydrogen-based electric machines use electricity produced by a chemical reaction between hydrogen and oxygen as its power source, meaning no toxic gases are emitted.
HCE said that, compared to lithium batteries, which face structural issues limiting attempts to increase battery capacity, hydrogen fuel cells are easier to expand, making them a better choice for large forklifts or excavators.
Equipment manufacturers are exploring the various possibilities presented by alternative fuel sources. Since the end of 2018, HCE has also been working with engine manufacturer Cummins on a 100% electric-powered excavator.