Hyundai excavator in major Luxembourg project
Luxembourg-based Démolition et terrassement XL is using the largest capacity Hyundai excavator, the R1200-9, which has an operating weight of 120 t, on a major demolition site in the country's capital.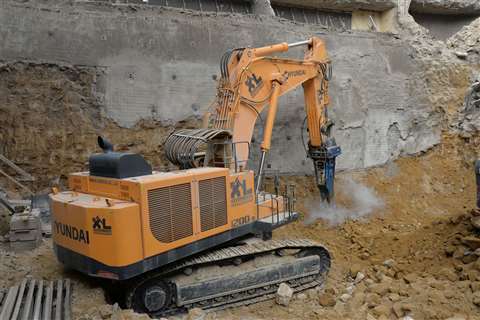 The excavator – the first Hyundai machine of this size to be sold in Europe – is being used to break reinforced concrete foundations with a 7 t hydraulic breaker, and the first task to complete is a 35 m (114 ft) deep, six-storey underground parking area. It was supplied by local dealer HMB.
Powered by a 56 7kW turbocharged diesel engine (displacement 23 l), it was designed for heavy earthmoving, stationary digging and long-reach demolition duties. The standard equipment includes double grouser shoes measuring 710, 800 and 900 mm (28, 31 and 35 in) wide.
Hyundai said the state-of-the-art CAPO (Computer Aided Power Optimisation) system ensures optimum performance from the engine and the two hydraulic pumps.
As with other Hyundai hydraulic excavators, the operator has the option of selecting the power mode appropriate to the job, materials or attachment. The three power modes ensure maximum engine performance, high speed and optimum fuel efficiency.
Power mode ensures maximum machine speed and power for maximum productivity. Standard mode provides reduced engine speed for optimum performance and improved fuel economy.
Economy mode adapts flow and engine power to specific load conditions for maximum fuel efficiency and controllability.