Hyva Germany appoints new director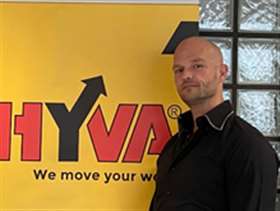 Truck loader crane and hydraulics manufacturer Hyva has appointed Olav Berkelmans as the new managing director of Hyva Germany.
A logistics and economics graduate with more than 20 years of industry experience, Berkelmans will oversee the company's sales strategies and distribution channels across Germany, Austria and Switzerland.
The new director has already set out his plans for achieving the company's regional growth targets. Berkelmans said, "Our focus will be to double the size of the German, Austrian and Switzerland business in the course of the next three to five years. We will achieve this by delivering improved customer service and increased customer satisfaction."
He added, "We will get physically closer to our customers by adding more partners to our combined network of sales, local Hyva dealers and Hyva certified service partners and workshops in line with the Hyva International service strategy. We will also be driving more efficiencies within the processes and procedures we need to add value to the chain."
With regard to the company's tipping solutions and capital equipment businesses, Berkelmans said Hyva Germany would "deliver an even higher level of customer service and added value than ever before by offering strong sales, service and aftersales total solutions for our customers".
Martin Kolkman, vice president Hyva International & Western Europe-Middle East-Africa, said, "We are very pleased to welcome Olav in Hyva. We have set a very ambitious, but achievable plan for our business developments in Germany, Austria and Switzerland." He added, "Olav will be central in our effort to continually build relationships and achieve our goals together with our partners and customers."