IC Tower Index 2018: Going higher
Another record year for the IC Tower Index ranking of the world's largest tower crane-owning companies. ICST reports
In continuing the trend of double digit increases, the IC Tower Index does not disappoint in 2018. This year's top 20 was 10.2 percent higher than the 2017 total. It was, however, only around a third of the 29 % increase in 2017 over 2016. Last year was an even bigger exception, though, as "usually" the increase is around 20 %. The 2016 figure was a 21 % increase over 2015. The 2017 rise was largely due to the entry of Liebherr in the table for the first time.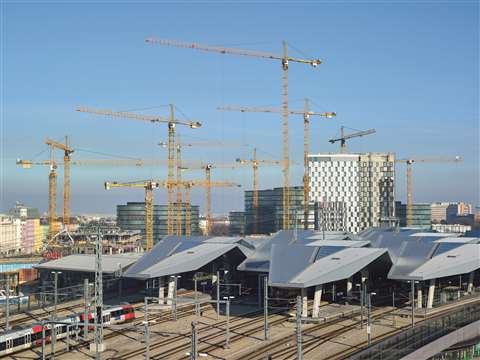 There is no such major disruption in 2018 but the tower crane market continues to be a strong one worldwide. It is forecast to continue upward for at least another couple of years, in most if not all of the markets where it is already performing well, for example, the USA, Europe (especially France and Germany) and South East Asia.
Countdown
NFT is at the top of the table for the third year running and has further strengthened its position with a figure of 995,675 tonne-metres, 30 % up on the 765,780 of 2017. It is an impressive 25 % of the top 20 total. Looking at the top five companies, however, NFT is 42 % of the total and more than double the size of its nearest competitor, Liebherr, at number two with a fleet total of 475,010 tonne-metres, itself 4.6 % up on the 454,200 tonne-metre total from 2017, its first year in the table. It has also increased its lead over Pangyuan Machinery Rental from China in third place for the second year running.
Morrow retains its fourth position and increases the total over its 2017 figure by about 1 % or the equivalent of about ten decent sized (300 tonne-metre) tower cranes. Tat Hong retains fifth place from last year, as does Wolffkran in sixth which has a good 6 % increase in its fleet over last year. More than double that increase at 14 % is Maxim Crane Works, again in eighth place like last year.
Arcomet from Belgium retains its ninth place and Neremat, also from Belgium, again rounds out the top ten but this year with a 3.4 % increase to 117,911 tonne-metres.
Heading two places nearer the top ten this year is Bigge in 11th with a 25 % increase in its fleet capability. The US company added 25 new tower cranes in one order for a range of different Potain units earlier in 2018.
Talking of adding cranes, the total number of tower cranes in the top 20 company fleets of 2018 is 14,028, up by 372 units, or 2.7 %, from the 13,656 in 2017. And it would be safe to say that almost all of these extra cranes that are expanding fleets are most likely to be brand new units.
Employee numbers are also up, not something that is always the case in this very cyclical of industries. The 2018 top 20 total is 20,318 employees, up 6.7 % on the 19,041 of last year.
Another company showing a strong increase is Wilbert, still in 14th place but with a 16 % increase in its fleet capability from 85,100 to 98,450. The increase follows the involvement of a Chinese investor in the German company in 2014. Van der Spek from Belgium, UK-based Falcon Crane Hire and BKL from Germany have also expanded their fleets.
It was good to see five new entries this year, while two others were deleted from the data with old data. Of the new entries one, SanteCrane from Singapore, entered the top 20, at 18th place. The others were Espamex from Mexico at 23, Creative Lifting from the USA at 36, Compass Equipment from the USA at 38, and Open Frame from South Africa at 41.
A total of 43 entries this year beat the 2017 record of 40 so, if your company owns tower cranes, please do help us increase this further to give a better picture of the industry by completing and returning an entry form next year. Look out on www.khl.com for the announcements calling for entries.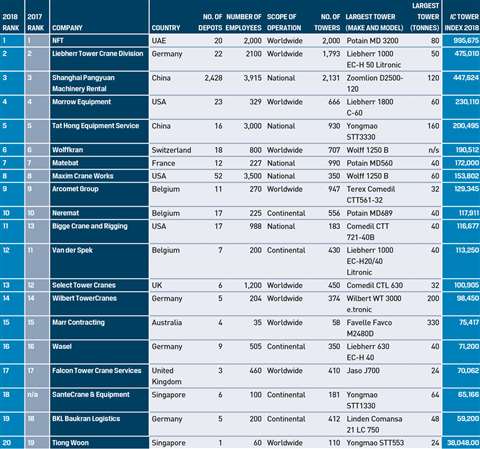 IC Tower Index
Companies are ranked by their IC Tower Index, calculated as the total maximum load moment rating, in tonne-metres, of all tower cranes in a fleet. All companies in the list, plus other prospective ones, have the opportunity to supply fleet information and other data. Where companies supply the full data the figure used is calculated by them. In cases of insolvency, acquisition or lack of information, companies are withdrawn from the table.
While we make great effort to ensure the accuracy of information provided, it cannot be guaranteed and International Cranes and Specialized Transport and its publisher, KHL Group, accept no liability for inaccuracies or omissions.
The IC Tower Crane Index will next be updated in the first half of 2019. If you think your company should be included please contact ICST for an application form.