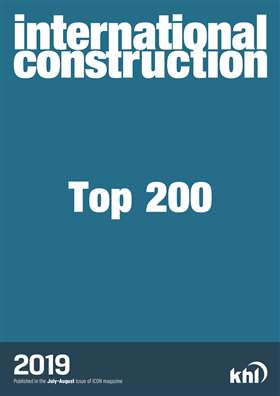 The global construction industry enjoyed a positive year in 2018, with sales of worldwide construction equipment increasing once again, so it is no surprise to report that overall sales for the contractors featured increased, although only by a (relatively) small amount. e total sales figure generated by the contractors on the last edition of the list was US$1.608 trillion – this has increased to US$1.677 trillion.
It is also not surprising that China-based firms continue their domination of the list. In 2018 China once again became the world's largest market for construction equipment sales, with sales of equipment growing by 30% to approximately 325,000 units. China is continuing its Belt and Road Initiative, which has proved to be a major boost for China-based contractors. The policy shows no signs of slowing down, so there is no reason to think that the top of the list won't be dominated by Chinese firms for the foreseeable future.
The number one ranked contractor by sales, China State Construction and Engineering, increased sales from US$164 billion in 2017 to 2018's quite remarkable US$178 billion.Staying in second position on the list is China Railway Group. e company increased their sales from US$101 billion to US$111 billion. The gap between second and third place on the list remains small, with China Railway Construction Corporation not far behind in third place, with sales increasing from US$99 billion to just under US$109 billion.
Supporting documents
Click links below to download and view individual files.