igus equips 1000th STS crane
By Christian Shelton14 July 2017
Motion plastics specialist, igus, is celebrating having equipped its 1000th ship-to-shore crane with a plastic energy chain system. It says this demonstrates the increasing use of lightweight, long-lasting plastic components for crane applications.
The company outlines a number of reasons why its energy chain (e-chain) systems are proving so popular. It says through the use of its rolling energy chains the service life of components can be increased and the drive power required to run them can be reduced.
"By using a roller, the coefficient of friction on long travels drops dramatically when the upper run of the chain runs on the lower run; thereby, up to 57 percent of the required drive energy can be saved while moving the energy chain system," explained Theo Diehl, head of industry management cranes at igus.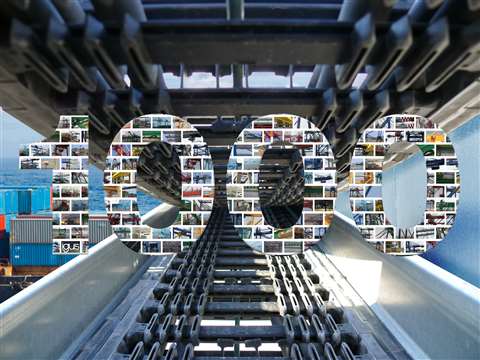 The company also says noise and vibration levels can be reduced.
Detailed monitoring of the condition of the energy chain system is also possible.
For example, the company's EC.M module can be mounted on the moving end of a chain to automatically record acceleration, speed, temperature and the number of cycles completed.
Alternatively its EC.W wear sensor measures the wear on the e-chain. The company says this makes it possible to determine the e-chain's remaining service life.
And its new EC.RC (e-chain Run Control), which was introduced in 2017, monitors the operating status of the chains, especially in guide troughs where long travels are involved. The sensors measure and check the position of the energy chain. In this way, the machine is prevented from continuing to operate if a mechanical fault should occur, thus helping guard against any unscheduled machine shutdowns.