Implenia to lead on major German bridge build
By Mike Hayes06 December 2022
Swiss construction firm Implenia is heading up a joint venture, commissioned to undertake a significant road bridge project in northern Germany.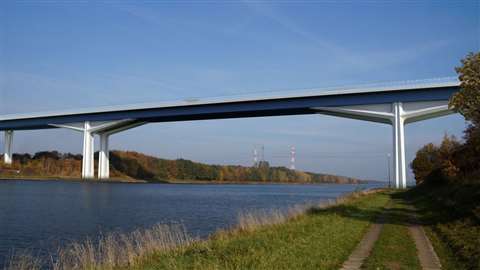 The new bridge will replace the Rader Hochbrücke bridge, which carries the A7 motorway east of Rendsburg in Schleswig-Holstein, across both the Kiel Canal and the Borgstedter Enge lake and is a key link for road traffic to and from Denmark and Scandinavia.
Implenia will act as technical lead on the project, which is being developed by Germany's state-owned project management body, DEGES.
Implenia will work with two German partners on the project: the engineering firm Plauen Stahl Technologie and steel construction specialist Zwickauer Sonderstahlbau.
The bridge, which will be 1500m long and 42m high, will be built using steel composite, and it is understood that construction work will begin in January 2023, with completion due by the end of 2026.
DEGES reported that, during the tender phase, Implenia and its partners had made impressive suggestions for project optimisations across civil engineering, special foundations and formwork elements, including answering the logistical problems of working on water and from a canal island.
Christian Späth, Head Division Civil Engineering of Implenia, said of the project: "The planning and construction of the new Rader Hochbrücke is another complex infrastructure project in Germany and fits perfectly with Implenia's strategy.
"The award of the contract followed an intense, six-month tender process. We'd like to thank DEGES for the confidence in Implenia and we look forward to continuing our constructive collaboration."