In Memoriam: Alfred L. Scott, 1931-2022
By Bob Dimmitt11 July 2022
With a career approaching seventy years in the crane industry, Alfred Scott was the consummate entrepreneur.
Alfred L. Scott, founder of Scott-Macon Equipment, died at 91 on Monday, June 27, 2022. With a career approaching seven decades in the crane industry, Al founded two major crane rental/dealer companies, and was chairman of a third. Over this period, he touched the lives of countless people in the industry, from his employees and management teams to manufacturers, customers and competitors. Al was a staunch advocate for the industry, a consummate salesman and dealmaker and deeply cared for his family, employees, and company. He led by example and treated everyone fairly, with compassion and respect, and the highest level of ethics. His generosity knew no bounds.
Al graduated from Union College and the New York University School of Law, where he became interested in leasing during his law studies. After membership in the New York Bar, he started Bell Equipment Corporation in 1956 with the purchase of one used Bay City truck crane. Under Al's leadership, Bell grew rapidly into a worldwide rental company and equipment dealer with seven domestic offices and six international locations.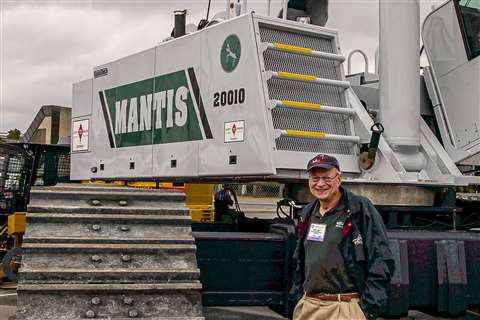 Still in his mid-30's, Al sold Bell Equipment and joined Oppenheimer & Co. where he advised corporations on mergers and acquisitions and debt and equity financing. Ever the entrepreneur, in 1973 he founded Scott-Macon, Ltd. as a boutique investment bank serving the middle market. Soon after, Al also returned to the crane industry at the request of a former Bell Equipment customer. He based the equipment operations in Houston and proceeded to build two very diverse businesses simultaneously within one organization on what had been his trademark at Bell, outstanding customer service.
Forty-nine years later, Scott-Macon Equipment reflects the vision that Al laid out to his management team in those early days. A leading equipment rental company in the Gulf Coast, it also is a dealer for Tadano, Ltd., Broderson Manufacturing Corporation and Kobelco Construction Machinery U.S.A. Inc. Concurrently, Scott-Macon, Ltd. continues as one of the oldest independent middle-market investment banking firms.
While his son, Alex Scott took over as president in 2021, Al was active in both businesses until his passing. During his career, Al also served on numerous corporate boards and was Chairman of Dayton-Scott Equipment Company until its sale to Lampson. He was an early advocate for a regional industry association which evolved, with the help of others, into the Texas Crane Owners Association. Outside the industry, he was instrumental in many fundraising programs including for the Columbia-Greene Hospital Foundation.
He married the late Anne A. Scott in 1963 with whom he had two children. He then married Elizabeth J. Scott in 1991 who survives him. Al is survived by his daughter, Carolyn Scott and son, Alexander Scott and his two stepchildren Elizabeth Jacks and Robert Jacks. Between the two families he has eight  grandchildren.