In the metal
By Lindsay Gale12 August 2008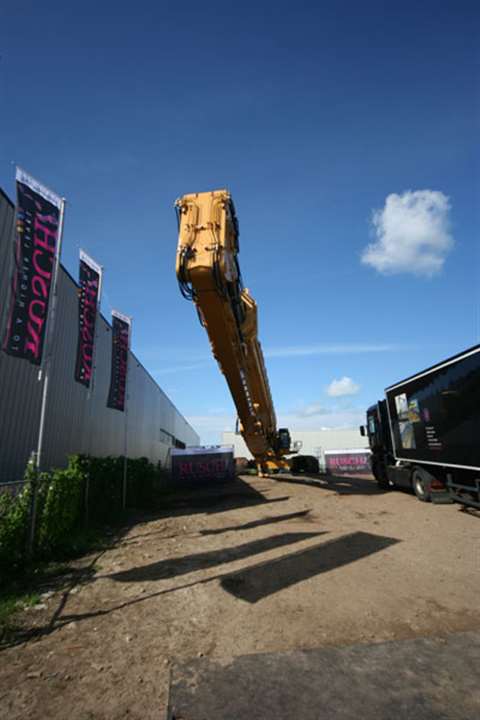 It is finally here. Lindsay Gale reports on the first time Rusch's high reach demolition rig achieved its full 90 m working height prior to handover to Euro Demolition.
It is one thing to watch a computer animation. It is quite another to see what is the world's highest reaching (by some margin) demolition boom raise, extend and then unfold up to its full height of 90 m (295 ft). Awesome is just one adjective that could be used
The machine has been undergoing final testing at the Rusch factory near Amsterdam, the Netherlands, and is due to be delivered to customer Euro Demolition by the end of this week.
According to managing director Ruud Schreijer: "we calculated that the boom would weigh 70 tonnes and we are almost spot on – it is actually fractionally lighter at 69 tonnes. In total, the whole machine will be 220-230 tonnes. We don't know exactly at the moment as there are still some components to go on." This means that the carrier weighs more than 150 tonnes, considerably heavier than the company originally expected – Rusch had hoped the final all-up weight would be less than 200 tonnes. Mr Schreijer was quite relaxed about this, however, since the additional weight adds to the machine's overall stability. "The boom is the important thing and it is exactly the weight we wanted," he said.
The biggest challenge faced by Rusch during the manufacture of the machine was where the 'cylinders' that provide the telescoping function were concerned. "Our original design was insufficiently rigid. These cylinders have been designed to be, in effect, small telescopic booms inside each telescoping main boom section. If we had gone for a single cylinder in each section, they would have been very expensive and it would have taken 18 months for them to be delivered. And if one was damaged in use, the crane would have to lie idle for a similar length of time," explained Mr Schreijer.
The system as designed therefore uses four identical, relatively small bore cylinders, connected together in sequence with a surrounding two-piece telescoping casing. Each pushes out in turn, with the cylinder at the top pushing out first. It was the casing that was found to be insufficiently rigid and required reinforcement. Final testing was conducted with the system lying horizontally, which is not the attitude it was designed for. As a result, when the telescoping system was put into the boom, it actually worked considerably better than this testing had indicated. Rusch expects that once the full electronic control system is installed on the machine, it will take just three minutes to deploy the boom to full height from the horizontal.
According to Mr Schreijer, another challenge that had to be overcome was connected with locking off the lower boom sections. "It is a completely new system, very different to the one we used on our previous high reach. In this case the locking mechanisms are in the frames of the 18 m ((56 ft) boom sections. This means that the alignment of the locking cylinders has to be perfect – if it is out by just 1 mm, the boom cannot be locked off. Initially we had trouble achieving this perfect alignment but we have now overcome this," said Mr Schreijer
Maintaining the system is not going to be easy, however. The lower main section of the boom has a 1.8 m (5.9 ft) square internal spacing but once the boom is fully retracted, this is almost completely filled by the upper sections. To service the locking mechanisms requires that the boom be extended by 2 m (6.6 ft). Rusch has learned from this however, and the next telescopic machine it will build – a 75 m (246 ft) currently on the drawing board – will feature greater access for routine maintenance.
Nevertheless, Mr Schreijer believes that the locking system developed for the 90 m crane is "much better then the first one. Again, it is a pleasant surprise that it works so well. We have made something that did not exist and always, at the end of the day, it is a case of …… does it actually work."
"We have been pushing the design boundaries with this machine, and at the end of the day, we have found that almost everything worked as well as, if not better, than we originally expected," said Mr Schreijer.
"But we had the time to do it," explained Mr Schreijer. On the previous 60 m machine, Rusch was under considerable time pressure to complete the work, and in fact carried out 30% of the work after the machine was delivered – never a desirable situation.
Where the 90 m machine is concerned, Euro Demolition was content to wait until the machine was finished to Rusch's satisfaction, almost irrespective of the time required. In all Rusch has taken a year to design and build the machine, using a total of 14,000 man-hours. Delivery was originally scheduled for February 2008, but it was not just development work that caused this date to slip - the steel for the boom was delivered three months late, and the lifting cylinders were only delivered in May. In addition, the electronic control system, built around the latest Iflex system, has only just been finished (when D&Ri saw the machine, it had yet to be fitted). This measures all the crane's operating parameters, including angles, pressures and speeds, with all this data being logged and accessible via a dial-up modem. Operating parameters can also be reset remotely as required.
All this makes the new 90 m considerably more sophisticated than the previous 60 m machine – the learning curve for Rusch for demolition applications is a steep one.
Given the effort involved in developing this 90 m giant, it might be reasonable to assume that the company might plan to relax a little before stepping back into the fray of design and build. However, this will not happen since it has several new projects to get its teeth into. First off, there will be 75 m and 45 m versions of its new telescopic design, as well as a new concept – a three section boom that will provide 33 m (108 ft) of reach and 20 m (66ft) of digging depth. The latter will be developed specifically for ship breaking applications using a 15 tonne shear (operating with just two sections, it will be able to carry a 25 tonne shear). Another bigger machine using this boom concept will also be produced, based on a Cat 5130 shovel, for use in oil and gas decommissioning work in Norway that will be able to carry a 25 tonne shear to 34 m (112 ft).
Rusch has also developed a 10 tonne 'punch' for use in ship breaking that is used to punch holes in steel plate to allow shear blades to be inserted. "It is possible that following this we will start to develop special tools for specific applications," Mr Schreijer told D&Ri. "This is what we like to do. If it does not exist but a client wants it, we will make it."
And there is another concept in Mr Schreijer's mind. "On this 90 m crane, we have changed the base carrier so much that there is not really very much left of the original 5110. As a result, we are thinking of making complete machines ourselves, using OEM sourced main components, such as engines, transmissions etc." Currently, Rusch has three Cat 5110 carriers and one Cat 5130 available to it, and these will be used for the machines currently on order (with a Cat 245 being used for the 45 m machine). Meanwhile, the company will also be developing the own build concept and designs so that by 2010, it will be in a position to stop using second hand or OEM sourced carriers.
While Rusch will continue to carrry out its crane repair work, it sees its future very much as being with its demolition machines. "It is something new, and poses a lot of challenges. We have a lot of experience across the board in our company that I feel we can bring to the sector. We don't necessarily invent new technologies but we are good at bring technologies from other sectors together to produce solutions for our customers' needs.
D&Ri's visit to the factory coincided with the first time the boom of its monster machine reached its full height of 90 m. The obvious question was what were Mr Schreijer's feelings when it hit that height. His answer: "It was great. We had the machine fully telescoped out yesterday, but not at full height. One of our welders stood looking at the machine with tears in his eyes – it was an emotional moment for us all. We have been working on the machine for over a year. We had our ups and downs, some people said that it was not possible and at times we had our own doubts. At the end of the day, when you see it up at full height, then it is just….. yes!"
The next stage, of course, is to see how well the machine performs on site, but Mr Schriejer is supremely confidant that his new giant will meet all expectations.