Inaugural lift for ALE's latest crane
By Christian Shelton25 August 2017
Heavy-lift specialist ALE has used its latest equipment innovation, the Lightweight Service Crane, for the first time to lift a building maintenance unit (BMU) onto the roof of a 124m high-rise building in the centre of London, UK. The BMU comprised a number of components, weighing between 1–3.5 tonnes.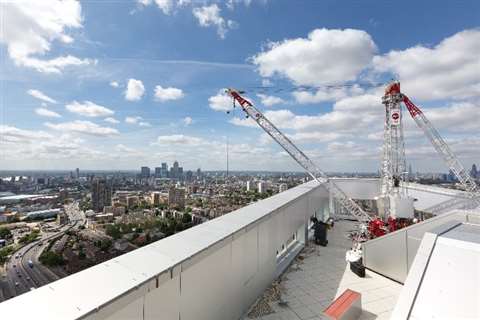 According to ALE, all the Lightweight Service Crane's components were mobilised with a small truck and then setup on the roof using the service lift and staircase. The crane was configured in its largest configuration on the roof and performed eight lifts for all of the BMU components to be positioned on the rooftop.
"We were tasked with lifting the BMU from street level to the top of a high-rise building, located in a congested and busy area," explained Patrick van der Ent, account manager offshore handling services at ALE. "As a large crawler crane would've required a road closure, our Lightweight Service Crane was the only possible solution that avoided disruptions."
ALE said all of the lifts were executed in just one day, with the preparation, mobilisation and demobilisation taking only one week to complete.