India: Booms and bottlenecks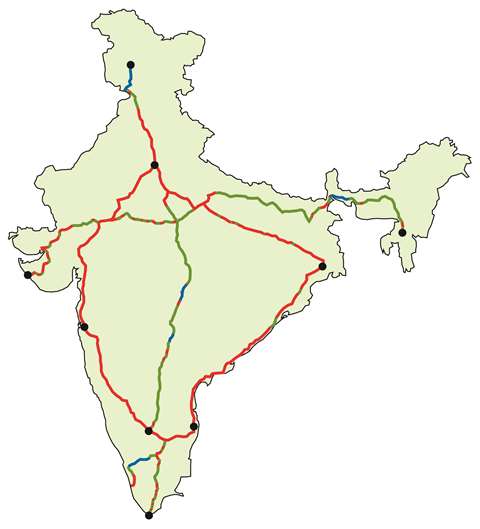 The combination of strong economic growth and government commitment to investing in infrastructure makes India one of the most dynamic construction markets in the world today. The key change in the country's recent history came in 1991, with a series of reforms put together by the then Finance Minister and current Prime Minister, Manmohan Singh. These opened the country up to foreign direct investment and also did away with many state monopolies.
GDP growth has taken off in recent years, with the economy growing at close to +10% in real terms in 2006. This steep expansion has been accompanied by investment in infrastructure, and the prolonged boom has also improved confidence about the future.
Perhaps the most famous of India's infrastructure schemes has been the Golden Quadrilateral (GQ) - a project to build and rehabilitate some 5800 km of roads connecting the four major population centres of Delhi, Chennai, Kolkata and Mumbai. The name refers to the routes' diamond shape when viewed on a map, due to the four cities' locations at the North, South, East and West extremities of India.

Approved in 1998 and started in 2000, this scheme is all but complete now, however, it is just part of a India's much larger National Highways Development Project (NHDP), which is managed by the National Highway Authority of India.
Speaking at last November's Excon exhibition in Bangalore, Nirmaljit Singh, a technical member of NHAI said, "In India we have road network of almost 3.3 million km. Out of that we have a national road network of about 66590 km, which is the responsibility of the central government. The other roads come under the state governments. Roads are the main method of transport in this country - they carry about 85% of the passenger traffic and 70% of the freight traffic."
"If we take the national highways, which are just 2% of the network, they carry almost 40% of the traffic. The state highways, which are 4% of the network, are carrying another 30% of the traffic. So these primary networks of national and state highways are carrying about 70% of all traffic in India. It is very important that we improve the network to keep pace with growth in the country," he said.
The NHAI's work is divided up into a series of phases. The first was essentially the GQ, and this was followed by the North-South, East-West Links, augmenting the GQ with direct roads between Delhi and Chennai, and Mumbai and Kolkata. According to Mr Singh contracts for about 5800 km of this 6000 km of road building have now been awarded.
Looking further ahead, there will be anything up to five more phases in the NHDP by 2015. But while the early stages were paid for by the state, the NHAI is now looking to concession agreements with the private sector to deliver its plans.
"The total cost of the projects we are going to do by 2015 comes to almost US$ 59 billion, but the bulk of it will be as Build-Operate-Transfer (BOT) toll roads. We expect almost 80% of the investment to come from the private sector. The Government investment is at the level of land acquisition and feasibility studies," said Mr Singh.
The government is funding what parts of the NHDP it pays for through a road fuel tax of INR 2 (US$ 0.05) per litre of petrol and diesel. India has also received loans from the World Bank and Asian Development bank to fund projects.
Latest phases
Not all the future phases have received approval yet, but BOT is very much a feature of those that have. Phase 3 of the NHDP was given the go-ahead in March 2005, and this involves upgrading 12500 km of key stretches of road to provide two lanes of traffic in each direction - 'four-laneing'.
"The main criteria used to select the stretches was corridors with a high density of traffic, corridors connecting state capitals and corridors connecting tourist areas or areas of economic importance," said Mr Singh.
Two other parts of the NHDP have been approved to date. Phase 5 essentially involves widening the GQ from two to three lanes in each direction. Phase 6 on the other hand will see some 1000 km of genuine expressway built, including a 400 km road from Mumbai to Gujarat.
The future plans that are not yet approved are Phase 4 - the four-laneing of a further 27300 km of roads, and Phase 7 - the construction of ring roads totalling about 16200 km around all of India's major conurbations.
If these plans all come together, the workload will be huge. "Overall we're going to do US$ 60 billion worth in the next 7 to 8 years," said Mr Singh.
Bottlenecks
India certainly has ambitious infrastructure plans. Besides road building, there are schemes for major construction programmes in a range of infrastructure sectors including the power, water, port, rail and air sectors. The combined value of these is huge, as S.S Mehta, director general of the Confederation of Indian Industry (CII) said, "There needs to be about US$ 500 billion spent on India's infrastructure. About 30% of that will be private money."
But as iC reported in December leading figures in the contracting fraternity have voiced serious concerns about the country's capacity for so much construction work in such a short time.
K V Rangaswami, president of construction at the country's largest contractor, Larsen & Toubro said, "I like to talk about the five 'M's - men, materials, machinery, money and management. If you look at all five of these you can see we are lagging behind.
"We are short of labour, we are short of equipment - particularly because of the current boom. Money can be a problem because of Government efforts to control inflation. In management it is difficult to get good graduates, and materials such as sand and aggregates are in short supply.

"The indigenous equipment offering does not match global standards at the moment, and there is also an irrational tax system in place. L&T's fleet is worth about INR 1000 crore* (US$ 250 million), and we still have a shortage."
An example of the type of problem India's contractors face was given by Shrikant Joshi, general manager of Hindustan Construction Company (HCC), based on his experience of building major bridges.
"My experience is that mobilisation takes 20% of the time. There are plenty of reason for delays in mobilisation - one is not getting land to put up the installations, and poor transport means we can't have installations too far from the site. The other thing is getting the required specialised equipment to the project on time.
"We have to import most of the specialised equipment for foundation construction - large capacity rotary piling rigs, machines for diaphragm wall construction, jack-up platforms for marine work and high capacity cranes.
"There are a lot of import formalities, considerable costs, and because of poor transport facilities, we are unable to transport anything heavier than 40 tonnes. That means we have to break machines down machines, transport it on eight or 10 trailers and then get another crane in at the site to erect it.
"Most of these specialised machines are not available for short-term rental. They may relate to only 5% of a bridge construction programme, but if you don't have them you can't build a bridge," he said.
Contractors' frustrations are recognised by the equipment industry, but there are few signs that all of India's requirements for larger equipment will be met indigenously any time soon. Ranaveer Sinha, managing director Telcon - a joint venture between Tata and Hitachi, and India's largest excavator manufacturer said, "At the moment everyone in the industry is bringing standard machines to India. We need to understand the applications more and develop specialised machines."
One of the big problems for the equipment industry is shared by the contractors they are supplying - that of a skills shortage. Mathew Taylor, chief operating officer of JCB told iC, "There are more people in India than you could ever hope to have in your business, but the skill levels are very poor. That is not a quick fix issue - however hard you work at it, it takes time. "
Another of the issues that needs to be addressed is India's tax regime, which many have criticised as being a barrier to the Government's infrastructure development plans. Mr Taylor said, "One of the biggest factors for us is the discriminatory nature of the tax system in India. We would like to see a simple goods and sales tax replace the current complex system."
This view was echoed by another contractor iC spoke to. "The landed cost of an imported machine is less than one made in India because of all the taxes paid here," he said.
Keep on booming
But for all the issues faced by the Indian construction sector, few would dispute that the sector is set for further growth. The point is how steep will that growth be? Some problems like the excessive bureaucracy and inequitable tax system could be solved relatively quickly with a package of reforms. Other issues - particularly that of the skills shortage will take substantial and carefully target investment over many years to redress.
* NOTE: Crore and Lakh are units in the Indian counting system 1 Lakh = 0.1 million. 1 Crore = 100 Lakhs = 10 million