India: Confident expectation
By Partha Pratim Basistha05 June 2020
Planned or mooted infrastructure projects inspired confidence among crane manufacturers at the recent ExCon exhibition in India. Partha Pratim Basistha reports. A positive mood prevailed in India at December's ExCon show in anticipation of an uptick in demand for new construction equipment. Crane manufacturers forecast that sales will gain traction in the short term led by demand from new roads and related infrastructure, upcoming metro and railway and mega refinery and airport expansion projects.
Spread across 300,000 square metres, the 10th iteration of ExCon 2019, organised by the Confederation of Indian Industry at Bangalore in the Southern Indian State of Karnataka, saw participation of almost 1,250 exhibitors, including around 390 overseas companies from 21 countries. China, Germany, Italy, South Korea, Turkey and the UK had country pavilions. The five-day exhibition in December attracted close to 70,000 business visitors from India and abroad.
Despite crane rental rates remaining under pressure, with crane supply continuing to outstrip demand, there were fair numbers of newer exhibits, predominantly at lower capacities. Updated versions of existing models were also seen. Crane demand has been facing retrogression in India over recent years. It is mainly due to directives from India's main Central Reserve Bank, state-managed banks and non-banking financial institutions. They have become restrictive towards releasing finance for construction companies. This hardening stance is due to large volumes of non-performing assets accumulated in recent years. The Central Bank has softened its position in recent months by lowering borrowing rates and recapitalising banks. Down the line, however, the release of funds remains restrictive. Volatility in oil prices, rupee (currency) depreciation and slow release of payments from construction companies to the crane rental agencies also remain deterrents.
Who is buying
Consensus among a selection of members of the Indian crane industry, including manufacturers and dealers, reports demand for truck cranes as remaining steady for the last three years. Contractors are upgrading to higher capacity cranes, with better safety features and more precisely adaptable to space constraints at project sites. The trend for acquiring newer truck cranes is expected to continue, both with contractors and rental companies. It is mainly due to the age of the cranes being clearly defined in the contract by the project owner, developer and the contractor.
Demand in the 40 to 80 tonne range is expected to be firm considering the nature of usage in India. The industry expects 80 per cent of the market's requirement will be met with cranes below 80 tonnes. Cranes of 25 and 30 tonnes capacity will have specific requirement in certain Industries, for example, steel yards, highway projects and oil and gas industries.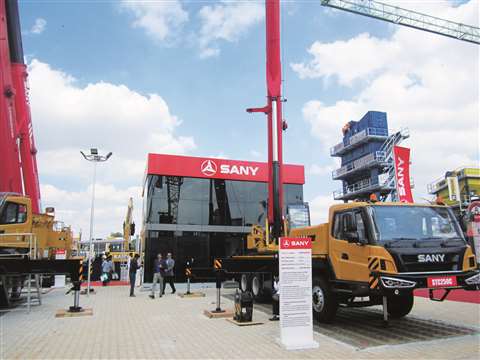 New on the block
Sany Heavy Industry India used the show to launch its SC T600 telescopic crawler crane for the Indian market. Sanjay Saxena, Sany Heavy Industry India vice president, said, "The crane will be targeted for shipyards and warehousing construction. The machine can also be used for precast, plant and erection, metro railway construction projects and long piping erections with superior speed and efficiency."
Sany also showed a 45 tonne lattice boom crawler crane. "SCC 450A is a new invention for the crane market in India with specialized track, lifting capacity and transportation system. The machine can be operated in different applications, including piling, concreting and structural plant erection, among others," said Saxena.
Maximum boom length is 40 metres and it offers a maximum fixed jib combination of 31 metres plus 15.25 metres. Capacity is 45 tonnes with a 10 metre boom and at 3.3 metres working radius. On a full boom it lifts 12.1 tonnes at an 8 metre working radius.
Sany India also exhibited its new 50 tonne STC 500 C truck crane. According to Saxena, it is a brand new product for a wider range of heavier applications, for example, the lifting requirements of power plants, road and metro projects.
Down the capacity range and also on show was the updated STC 250 C truck crane. Saxena said, "We have modernised our 25 tonne truck for better control and stability and travel with our own dedicated chassis. In addition, we have also increased the load lifting capacity with increasing the main boom length to 33.5 metres for higher reach applications. This has also been done through the new U-shaped stronger, lighter, higher tensile steel boom."
STC 250 C has a four section telescopic boom with a basic boom length of 10.55 metres, while fully extended it is 33.5 metres. An 8 metre jib is an option. It can lift 25 tonnes on 10.55 metres of boom at a 3.00 metre working radius. The STC 500C has a five section telescopic boom with a basic boom length of 11.3 metres and 44 metres fully extended. It can lift 50 tonnes on 11.3 metres of boom at a 3 metre working radius.
Saxena said, "Our new range of mobile cranes contains telematics called E-Vision. This is in sync with the theme of Excon 2019. E-Vision connected through GPS, will deliver real time information on various operating functionalities of the cranes. Owners will get information on the number of lifts made for the erection jobs assigned, diesel consumption, etc. Following testing and its authentication, E-Vision will be available through mobile handsets of the owners or operators through Google Playstore. One of the prime advantages of the E-Vision telematics will be that based on the data available and also through historical data, the right lift plan of the cranes can be prepared as per the safety parameters, and enable preventive maintenance of the cranes for higher availability."
Leading local
Indian construction equipment heavyweight, Action Construction Equipment, (ACE) unveiled its new higher capacity truck mounted cranes, the 45 tonne TM450 and 55 tonne TM550. Sharing details of the new products, Sorab Agarwal, ACE executive director, said, "The cranes come with our own dedicated chassis, instead of commercial chassis, manufactured by truck manufacturers. This will result in improved stability of the machine by shifting the centre of gravity lower and reducing the overall height of the machine. Use of double axles on the front and the rear will help in the overall weight distribution, thus making the operation smooth and jerk free. The outrigger span has been increased horizontally so that the machine can lift the desired load with ease. We have provided two modes in the engine wherein we can use the machine in the normal mode and also in the fuel saver mode to reduce fuel consumption and improve the overall efficiency of the machine."
Sharing further details, Agarwal continued, "We have designed the boom in-house with our own engineering capability for the new cranes. We have used boom assemblies with four and five sections, made out of high strength steel with optimised shape. This drastically reduces its own self weight and enhances the lifting capability of the overall machine. Integration of a best-in-class drive line along with top notch hydraulics and in-house designed structures with a high factor of safety and boom assembly will make our cranes standout from others."
ACE's present truck crane offer includes 25, 30, 45 and 55 tonne models. It will launch 60 and 80 tonne capacity models also on their own dedicated chassis.
Also launched by ACE was the NextGen NX-series of "multi-activity" cranes, including the NX360 a 15 tonne capacity mix of fully slewing but also pick and carry type crane. Also new is the NXP-150 pick and carry crane that can also work as an aerial work platform (AWP). "The latest NextGen cranes are the latest addition to ACE's product portfolio with the unique distinction of having been manufactured completely in-house by the company. We have also filed a patent for the NX-series cranes and expect them to be a game changer in the global pick-and-carry crane segment," said, Agarwal.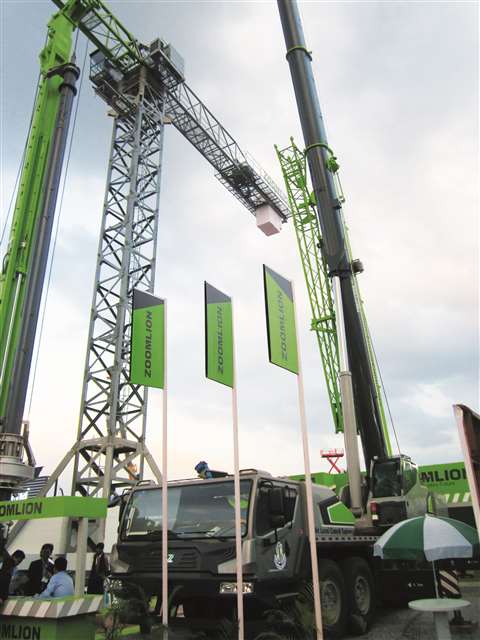 Zoomlion showed its new ZTC 1100V (India Version) truck crane. According to Danish Kamalari, regional head- Zoomlion Cranes, North India, "The crane features, four axle, six section, U-shaped 58.5 metre main boom, with 17.5 metre fly jib, allowing it to lift higher loads at longer radius in its class. Typically for lifting higher loads at a longer radius, all terrain cranes are used. This cost effective truck crane, suited critically to Indian operating requirements, especially when hire rates are under pressure will be able to perform job of lifting and loading at longer radius, given its longer boom length."
A key feature of the Zoomlion crane is an intelligent, multi power mode energy saving system for lower average fuel consumption, the company said. Its control system for the boom extension includes auto telescopic mode, emergency mode and auto telescopic mode. The ZTC 1100V can lift 110 tonnes at a 2.5 metre working radius and a 12.5 metre boom. Zoomlion India has so far delivered 10 units for refinery, cement plant expansion and infrastructure projects in India.
All terrains
Liebherr exhibited its 250 tonne capacity LTM 1250-5.1 five axle wheeled mobile telescopic crane. It is one of the most powerful cranes in its class worldwide, Liebherr said. Load capacity has been increased compared to its predecessor by up to 20 per cent. With lattice extensions, the maximum hook height has been increased by an impressive 9 metres to 110 metres.
The new 250 tonner was handed over at the show to Indian road contractor heavyweight, Dilip Buildcon. Subhajit Chandra, divisional head, Liebherr Cranes India, said, "Dilip Buildcon selected the crane for its numerous innovative features, closely suiting their operational and project requirements. Prime among these, is the single engine of the crane, consuming less fuel with minimal maintenance costs." The new crane joins Dilip Buiildcon's two 170 tonne capacity Grove GMK5170 all terrains acquired in 2013 and two GMK5220s acquired in 2014.
On tracks
Kobelco India exhibited its 100 tonne capacity CKL 1000i (India Series) lattice boom crawler crane made at its Chennai plant in South India. S. Shivram Krishnan, senior manager, sales & marketing at Kobelco Construction Equipment India, said, "With the magnetic base attached to the boom, the crane will be lifting the slag materials for recycling in steel plants. This is typically a newer application of our cranes in the Indian market. Earlier the jobs for picking up the slag materials were done through traditional machines and lower capacity 40 to 50 tonne mobile cranes. However, with the faster cycle times of our cranes and higher lifting capacities and safety features, Kobelco cranes are being increasingly employed for these jobs by steel plants."
CKL 1000i offers a maximum boom length of 61.0 metres, while its fixed jib combination is 51.8 metres plus 18.3 metres. The crane can lift 100 tonnes on 12.2 metres of boom at a 3.0 metre working radius. At 61.0 metres boom length it can lift 11.7 tonnes at 10.0 metres working radius.
Greater heights
At Excon Liebherr also launched its NC-B 12-70, a 12 tonne capacity flat top tower crane. This is the third and largest flattop crane of the new NC-B series, unveiled at the show. Maximum radius is 70 metres, making it significantly larger than the NC-B 9-62 and the NC-B 6-62. A specific 16 EC tower system has been developed for the NC-B cranes.
New NC-B series models are developed to meet the requirements for use in metropolitan areas of emerging countries. The first three models in the new series can cover wide range of construction projects in these areas. The 9 and 12 tonne versions are for hoisting heavy prefabricated components for building commercial centres, production plants and car parks.
Get moving
Sarens India participated in the event to showcase its brand and range of services offered by it. Participation was also made by large Indian crane rental and ODC transportation company, Tara Chand Logistics and also by some medium level crane rental companies at the event.
Along with the exhibition, CII organised seminars on emerging trends in the Indian construction industry. One was on over dimensional cargo (ODC) and infrastructure where the industry experts shared their insight on efficient project cargo movement and emerging requirements in India and its challenges.
The session on ODC discussed procedural developments in project cargo, challenges faced while handling heavy lifts in ports and cargo carrier innovations on road, rail and inland waterways. Industry experts also shared their views on managing project cargo complexities – road, rail and inland waterway transport and next steps towards project cargo logistics excellence in India.
Geeta Lakshmi, general manager, Atlas Logistics, Indian ODC transportation company, said, "ODC has a specialized nature of handling a shipment to move from point A to point B. The use of IoT is required to ease the connectivity while delivering an ODC. One of the most important factors while handling ODC is the cost involved as each project needs specialized equipment and infrastructure for each level of delivery. Hence, to get to handle the ODC right, one needs to define the gravity for the cargo on the ground and make a movement."
Addressing the key logistics opportunities and challenges in India, Biju Thomas, Seven Seas Global Express Logistics managing director, another, major Indian ODC transportation company, said, "While delivering an ODC, the experience is a very important aspect one should consider. Despite getting all the theories right, things can still go wrong."
Thomas continues, "One of the key challenges faced by the industry in India today is the implementation of policies by the authorities. Today, about 20-25 documents are required along with many gate passes to get a custom clearance … If we have more ODC cargo, it is a clear indication that the country is progressing, as a lot of capital goods are flowing in and out of the country."