Indian flyover collapse kills 23
By Joe Malone01 April 2016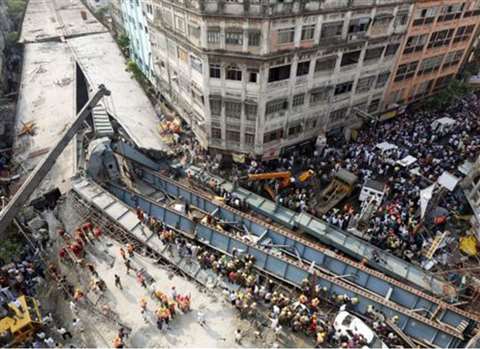 A flyover under construction in Kolkata, India, has collapsed, killing at least 23 people and injuring almost 100.
Rescuers spent the night trying to remove the rubble, as more people are feared to be trapped under the concrete and steel bridge.
Police have now opened a case of culpable homicide against the company building the flyover, IVRCL, it has been reported.
The accident happened near Girish Park, one of Kolkata's most densely populated neighbourhoods.
The 2 km-long flyover had been under construction since 2009, and missed several deadlines for completion.
Chief Minister Mamata Banerjee, whose centre-left party is seeking re-election next month in the state of West Bengal, said those responsible would not be spared and blamed the previous state government that had awarded the flyover contract in 2007.
Yet she herself faces questions about a construction project that has been plagued by delays and safety fears under her rule.