Industrial lifting: cranes with brains
By Katherine Weir23 March 2016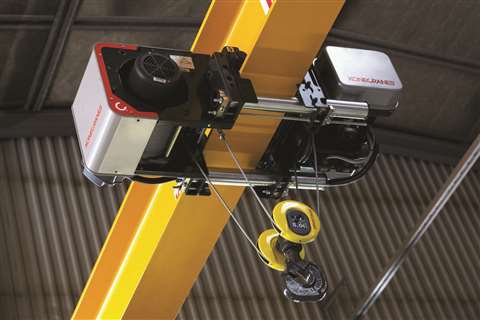 Progressive industrial crane manufacturers know that good ergonomics is good economics and they use that knowledge to the advantage of their customers.
Jeff Armfield, executive director – global product strategy and product development at electric hoist, crane and lifting equipment manufacturer Columbus McKinnon (CM), explains, "The way operators interact with our equipment is paramount in the successful application and usage of hoists. We are working to improve ergonomics across multiple product lines – from the way users carry our product on a daily basis to the way they operate it."
Armfield illustrates this commendable goal with the example of his own company's CM Hurricane 360 hand chain hoist, "This is a hoist that adapts to the user instead of the user adapting to the hoist. With a patented 360 degree hand chain cover, operators can lift, pull or position loads from virtually any angle."
Of course, the ergonomic design of the lifting gear itself is only half the story. There's also a compelling business case for making the operator's life more productive with ergonomically appropriate workplace design, and industrial cranes can help achieve this.
The keys that unlock high productivity are speed, reliability and availability, and lifting gear that contributes towards an ergonomic workplace has a significant bearing on all three of them. Well-specified industrial cranes, for example, can help accelerate operations and increase reliability by reducing operator fatigue as well as raising employee satisfaction and morale. They can also help make industrial operations safer and therefore less prone to costly sickness absence.
The use of an industrial overhead crane allows the operator to lift quickly and position slowly, simulating manual lifting without any strain on the operator. And using overhead cranes can help operators avoid the awkward manual lifting positions that lead to physical injury.
Convenience is also an important function of clever ergonomic design. One example of this is the inability of customers to conduct lifts where traditional cranes cannot get access and permanent overhead structures for cranes are not an option.
Travel for answers
Enerpac has responded to this challenge with its ETG600 travel gantry which has a lifting capacity of 60 tonnes. A company spokesman explains, "The ETG600 is able to fold-up and be driven into a 40 foot shipping container. The gantry is shipped to a location in the container and quickly erected using the wireless operator controller. Thus, the flexibility and compactness of the ETG600 lends itself to a wide range of industrial lifting applications."
Thinking beyond functional design, a second big trend in the industrial lifting sector is digitisation – the process of converting information into a digital format. The information can then be organised into units of data that can be addressed separately to create smart systems.
Of course, smart systems are nothing new. Witten, Germany-based lifting equipment supplier J D Neuhaus developed an application in the mid-1990s that allows several hoists to communicate with each other. Says the company's MD, Wilfried Neuhaus-Galladé, "I'm sure other manufacturers of cranes and hoists could cite similar examples. This just goes to show that materials handling systems have always led the way on many different fronts."
Digitisation, however, in the form of Industry 4.0 and the Internet of Things (IoT) is a far more recent development. Industry 4.0 is a collective term for the fourth industrial revolution which embraces automation, data exchange and manufacturing technologies. The IoT is a network of devices, buildings and other objects embedded with electronics, software, sensors and network connectivity that enable these objects to collect and exchange data.
Jeff Armfield at CM points out, "Automation, the IoT, and the electronic technology that underpins them are starting to influence hoist design and function in a number of applications. Some of our end users demand real-time operating data from hoists as part of their overall efforts to understand what happens on their manufacturing floor."
Thomas Kraus, support centre director for Stahl CraneSystems in Künzelsau, Germany, confirms that the trend in lifting is towards intelligent systems. "The integration of individual process operations into a single operating package is a development that is being embraced by more and more crane manufacturers," Kraus explains.
Indeed, Kraus forecasts that controlling crane systems via a tablet computer or other smart gadgets, and collecting and analysing process data will be standard practice in the industry before long.
Marc Rieser, managing director at Vetter Krantechnik in Siegen, Germany, agrees that Industry 4.0 is becoming increasingly important in the crane engineering sector. "For example, we can now incorporate preventive maintenance modules, which can increase plant availability and reduce downtime for repairs and maintenance."
Digitisation
At J D Neuhaus, however, Wilfried Neuhaus-Galladé, who is also managing member of the German VDMA's Association for Materials Handling and Intralogistics, feels that the move to smarter cranes via digitisation will have its issues. "To get the full benefit of the new technology, businesses will have to master many challenges. For many companies, the main hurdles are high investment costs and a not very clear idea of the benefits that will result."
Neuhaus-Galladé insists that his own company wants to get to grips with Industry 4.0, "As our core business is compressed air as a power source, the challenge for us is to develop electro-pneumatic control systems that make our products compatible with digitalisation." He adds, "Given the punishing conditions under which our lifting equipment and cranes generally operate, this issue tends not to feature very prominently."
Developing technologies like Industry 4.0 will certainly contribute to smarter lifting solutions and greater productivity in future. But today's clever cranes also rely on well-proven technologies.
The CXT NEO crane from Konecranes, for example, features the company's Truconnect remote service that connects data, machines and people to help businesses address potential maintenance and performance issues before they threaten safety, productivity and revenue.
Truconnect remote monitoring makes crane usage and operating data visible. The data is used to estimate the remaining design working period and service life of selected components. Crane usage patterns might also identify where operator training could improve productivity.
Smooth control
Other smart features on Konecranes products include positioning and load control technologies designed to improve safety and productivity by allowing the operator to make smooth, controlled movements on a crane more easily. So, for example, the company offers:
Sway control – designed automatically to limit load sway by controlling the bridge and trolley acceleration and deceleration rates to give operators precise load positioning and reduce load cycle times.
Inching – for accurate incremental movements when approaching the load destination. It can be activated both for hoisting and travelling motions.
Micro-speed – for very slow movements to improve load control. It can be activated for all motions, turning large joystick movements into slow, precise load movements.
Shock load prevention – for smooth load pick-up. The hoist drive monitors the load; if it is picked up abruptly, the hoisting speed is automatically reduced until the load is lifted. This prevents shocks to the load and the crane, reducing wear on the crane's steel structure and its mechanical parts.
Slack rope prevention – an important productivity feature when using below the hook devices such as lifting beams. As the load is lowered, the hoist drive detects when the load has landed and stops the movement. The hoist ropes do not slacken so the ropes do not slip out of the hook block and the lifting device does not tip over.
Industrial crane order roundup
Mechanical engineering company VCM GmbH has specified two Demag V-type cranes for its new factory in Plauen, Germany. Decisive in the specifying decision was that the crane fits between the roof of the workshop and a portal milling machine without compromising the specified safety distance. The V-type cranes have a rated load capacity of 10 tonnes and a span of 29.67 metres.
Pelloby has installed an unusual inverted travelling jib crane at the Science and Technology Facilities Council ISIS complex near Oxford, UK – a materials research centre. As the building's capabilities were expanded, new areas were located where existing overhead cranes couldn't reach. Working with STFC engineers, Pelloby designers came up with an inverted travelling jib crane that can traverse the length of the building along a 53 metre gantry support rail system while also providing continuous 360 degree access in a 5 m radius thanks to a powered rotating jib arm. This modified travelling jib crane can support loads up to 5 tonnes.
Haisch Kran eK supplied 26 tailor-made overhead cranes for the new production hall of Schwäbische Werkzeugmaschinen, the Waldmössingen, Germany-based manufacturer of horizontal, multi-spindled processing centres. The crane systems were manufactured with CraneKit component packs from SWF Krantechnik. The compactness of the Nova electric hoists meant the architect was able to plan for a relatively low hall ceiling height, which saved time and reduced construction costs.
SCX's Special Projects division has won the contract to design, manufacture and install a drum crane to handle nuclear waste at a new £22 million (US$ 32 million) high-level waste storage facility in Dounreay, Scotland. The 3 tonne semi-automatic, remote controlled SWL crane comes with a MotoSuiveur failsafe unit, recovery systems and CCTV. The crane will transfer the 500 litre drums containing the nuclear waste packages within the D2702 facility from the drum import enclosure to the facility's storage vaults.
Guide to becoming a smooth operator
The Crane Operator's Manual – CMAA Specification 79 supports lifting operations that use overhead cranes for material handling throughout North America.
Available in English and Spanish, the 32-page publication contains recommendations from the Crane Manufacturers Association of America (CMAA) Engineering Committee for the operation of overhead and gantry cranes.
The crane manufacturer has no direct involvement or control over the crane's operation and application so conforming to good safety practices is the responsibility of the owner, user and operating personnel.
A CMAA spokesperson explains, "The operator must consider and anticipate the motions and actions that will occur as a result of operating the controls. Overhead cranes generally handle materials in proximity to working areas where there are personnel.
"Therefore, it is important for the crane operator to be instructed in the use of the crane and to understand the severe consequences from careless operation."
The Crane Operator's Manual is available at: http://bit.ly/1KiUFy9