Industrial lifting: Industrial evolution
By Christian Shelton23 April 2019
The steel industry continues to be a fruitful source of lifting and transportation work. For example, multinational steel and mining company ArcelorMittal required a 360 tonne capacity, 36 metre overhead crane to be relocated at a steel manufacturing plant in Dunkerque, France. To do this it commissioned international heavy transport and lifting specialist Sarens.
Sarens used two 12 axle lines of Kamag self propelled modular transporter (SPMT), its in-house designed CS1000 and CS250 climbing systems, bracing, 14-metre HEM300 steel mats, as well as forklifts and cherry pickers. Sarens says it used the CS1000 climbing system because, although it was larger than required for the job, it didn't need a bracing system.
The relocation was carried out while the plant was shut down. To move the crane from inside to outside an opening was made in the side of the steel hall. Then the CS1000 was assembled onto SPMT and jacked 200 mm to avoid contact with the rails. It then picked up the overhead crane inside the hall, rotated it 90 degrees, and lowered it onto the waiting CS250. The CS1000 and SPMT were then transferred outside of the hall where the CS1000 was temporarily unloaded. The SPMT were brought back inside the hall to pick up the overhead crane and transfer it outside, along with the CS250. Outside the hall, the CS250 was re-installed and positioned to remove the SPMT. The CS1000 was assembled back onto the SPMT. The CS1000 then picked up the overhead crane and jacked it to its intended height. Once the overhead crane was correctly positioned, the SPMT lowered to release it onto the rails.
Mexican steel mill
In Mexico, a new steel mill is being built in Silao, in the northern state of Guanajuato. As part of this modules, ranging from roof panels to plant modules and weighing up to 300 tonnes, needed to be lifted. For this, international heavy lift and transportation specialist ALE was commissioned.
To lift the parts ALE used its Liebherr LR 11350 crawler crane with the Liebherr PowerBoom add-on – which is designed to increase the crawler's load capacity.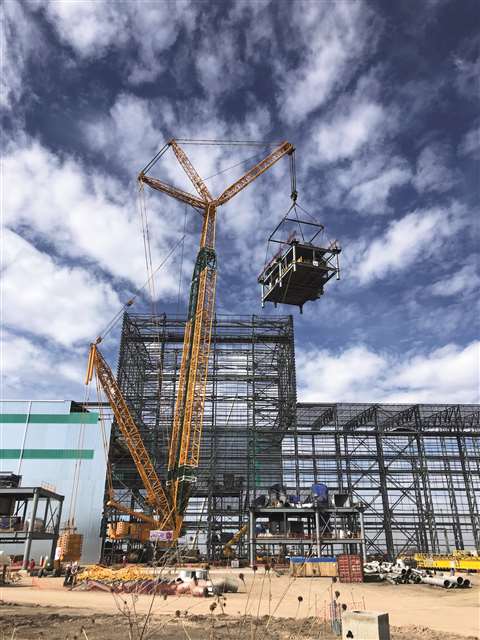 By using this configuration and a small footprint, ALE says it was able to minimise congestion on site and enable construction work to continue, thus reducing overall costs and optimising the build schedule.
Power industry
Like the steel industry, the power generation industry is a well-established source of work for lifting and transport companies.
Poland-based energy, civil and industrial construction specialist MKL Bau commissioned UK lifting specialist Rope and Sling Specialists (RSS) to carry out a series of tests and inspections at King's Lynn Power Station, in the east of the UK.
The work included the proof load testing of a lifting beam and inspection of a 2.5 tonne capacity Hadef chain hoist installed on a 52 metre runway, which had been installed by another company.
The beam and hoist were located 25 metres up, in an air-cooled condenser (ACC) building, and are used by the power station to remove motors for service and repair.
RSS used a steel structure in the power station to pull against, using chain slings as an alternative to live weights, to carry out a deflection test. According to RSS site engineer Gary Coleman, "This method saves a substantial amount of money in transportation and time."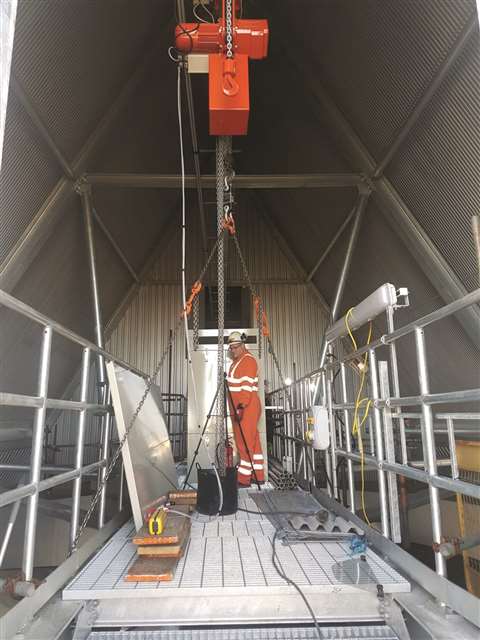 RSS carrying out an inspection at King's Lynn Power Station in the UK
RSS used a manual chain block and an electric chain hoist to achieve deflection with a load and hoist weight. A load cell was also incorporated to measure the safe working load. At ground level, a telehandler was employed to carry out a deflection test of a cantilevered beam, again to save the costs associated with the use of live weights.
Two months after this work was completed, RSS then carried out onsite testing of a temporary lifting beam to facilitate assembly of ACC ducting. According to RSS, the requirement for specialist lifting and rigging services has been a constant during a long-term investment programme into new flexible power plants across the country.
Plant maintenance
Heavy lift equipment specialist, Enerpac Heavy Lifting Technology, has developed a 'Pick, Skid and Drive' strand jack gantry system for power plant maintenance. With a lift capacity of 450 tonnes, Enerpac says the strand jack gantry has been designed to allow generators and turbines to be swapped out for maintenance while keeping any disruption to power generation capacity to a minimum.
According to Enerpac, the gantry achieves this by enabling the generator or turbine to be effectively picked up and transported over obstacles and replaced with another generator or turbine within 24 hours, thus maintaining power generation capacity.
The system comprises an aerial track of skid beams and support legs, a strand jack gantry (combining skidding and strand jack technologies), and a SPMT or electric trolley system.
Enerpac's 'pick, skid and drive' strand jack gantry system
With the strand gantry skidded into position, the turbine generator is disconnected and lifted off its foundation using four Enerpac HSL2000 strand jacks. Once clear of any turbine hall obstacles, the generator is skidded using four HSK1250 skid beams below the strand jack gantry to the far end of the skid beam track. It can then be lowered onto either SPMT or an electric trolley system mounted on steel tracks and moved to a maintenance area. Installing the replacement generator is the reverse of the pick, skid and drive process and allows generator exchange within 24 hours, Enerpac claims.
"The ability of the strand jack gantry system to effectively 'pick, skid and drive' the generator out of the turbine hall for maintenance is much quicker than other methods and less disruptive to power generation capacity," says Mart Hinnen, managing director at Enerpac. "It gives specialist heavy lift contractors the ability to assist power equipment suppliers and power station operators in a wide range of maintenance tasks without the need for expensive and time-consuming civil engineering works."
Power station maintenance work has also been undertaken by German crane and transport company Maximum Kran- und Schwerlastlogistik, which used its Liebherr LTC 1050-3.1 wheeled mobile telescopic crane to aid refurbishment work at a power plant in Saxony, Germany.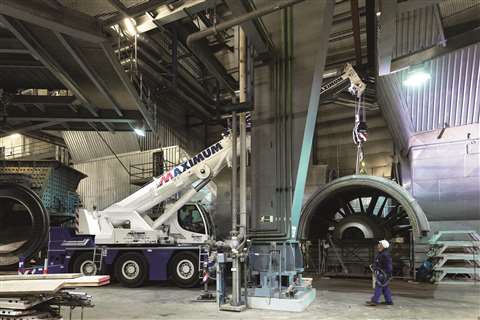 A large forced draught fan needed to be dismantled, refurbished, and replaced. The space in which the crane could operate was restricted but the compact dimensions of the crane, combined with its ability to telescope with a six-tonne load on its hook, meant that it was particularly suitable for the job, says Liebherr. The fan was partly manoeuvred by retracting the crane's telescopic boom.
In the USA, energy company Dominion Energy Virginia purchased a 135 tonne capacity (150 US ton) Link-Belt RTC-80150 Series II to be used at North Anna Power Station in Mineral, Virginia. It will be used for maintenance work during scheduled 30-day shutdowns, which happen at the power station every 18 months. The shutdown enables repairs and maintenance to be carried out around the clock and, according to Dominion Energy Virginia, the purchase of the crane has helped speed this work up. "It cut our time down to a fraction of what we were spending before," says Kenneth Boyd, North Anna facilities support superintendent. "Days before a lift, we would have to spend a lot of time and effort just moving components to fit a truck crane in. The RTC-80150 has the capacity for a valve replacement, or the reach for all of our preventative maintenance."
According to Link-Belt, prior to purchasing the RTC-80150, Dominion Energy Virginia would hire up to nine cranes to carry out the maintenance work; now it only requires three.
Link-Belt RTC-80150 Series II
Dismantling work
While some power stations are being built or refurbished others are being dismantled. German crane, transport and industrial assembly specialist Wasel has been particularly busy in this field. The company used two 500 tonne and two 250 tonne Liebherr cranes on a two week project to help dismantle the Voerde Power Station in the Lower Rhine region of Germany. The powerstation closed down in 2017 and was dismantled in November 2018.
The first stage of the dismantling project involved the removal of a former overhead line tower. The cranes were then repositioned and used to dismantle a coal conveyor bridge weighing nearly 100 tonnes. The conveyor bridge stretched over the Frankfurter Strasse road and so this stage of the project was completed using a tandem hoist.
In 2018, Wasel also dismantled another coal conveyor bridge for coal mining company Ruhrkohle AG in the German city of Gelsenkirchen. This was also a two-week project in which Wasel used up to five cranes on site. According to Wasel, a key part of the project was the removal of a segment of the bridge, weighing 80 tonnes, which crossed a four-lane main road and the nearby S-Bahn suburban train line. Two mobile cranes, with load capacities of 750 and 500 tonnes, were used for another tandem hoist using a radius of up to 42 metres. A video of the project can be seen at: https://bit.ly/2MFEL4m
Nuclear decomissioning
Also in Germany, the government is decommissioning many nuclear power stations. One such job carried out by German crane specialist Innokran is the subject of our site report on page 21. Another example is energy company Energie Baden-Württemberg (EnBW) commissioning Mammoet Germany to lift and remove three steam generators, each weighing up to 283 tonnes and a 90 tonne pressure vessel from the Neckarwestheim I (GKN I) nuclear power plant, north of Stuttgart. Mammoet will use its DHS-500 lifting system, which was developed for use in nuclear power plants. It will be adapted to the requirements of the GKN I and fitted to the in-house crane. In this way no extra load will be added to the structure of the building, Mammoet says.
Sebastian Albrecht, Mammoet Germany operations director, says, "Mammoet has deep and long-standing expertise in dismantling and decommissioning nuclear plants. A flawless execution under the highest safety requirements in nuclear facilities has top priority. For this, we exclusively use our highly qualified and experienced Mammoet nuclear sector specialists."
Future work
As some industries decline, others grow. One area that has the potential to become a lucrative source of work for lifting companies is the construction and deployment of data centres.
According to a report by industry research provider Insight Partners the value of the international data centre construction market has been estimated at US$43 billion, and is predicted to rise to US$92 billion by 2025.
Data centres are currently being built by technology giants, both onshore and offshore. One offshore datacentre project underway is Project Natick. It is owned by tech giant Microsoft and is located off Orkney Archipelago. To deploy the data centre, Microsoft commissioned French company Naval Group – a specialist in naval defence and marine renewable energy – to implement Phase 2 of the project.
Ben Cutler, Project Natick manager at Microsoft Research comments, "Half the world's population lives within 200 km of the sea, so placing data centres offshore increases the proximity of the cloud to the population, reducing latency and providing better responsiveness. And by deploying in the water we benefit from ready access to cooling – reducing the requirement for energy for cooling by up to 95%."
Rubber-tyred gantries
Finland headquartered cargo handling solutions provider Kalmar has enjoyed a slew of orders around the world for its rubber-tyred gantry (RTG) cranes.
In the USA, transportation company Norfolk Southern Corporation ordered four Kalmar SmartPower RTGs to extend capacity at its intermodal terminals at Landers, Chicago, Illinois, and Rossville, Memphis, Tennessee. Two cranes will be installed at each terminal with a span of approximately 25 metres and will be equipped with Kalmar's electro-mechanical anti-sway system and a rotating Bromma spreader. Kalmar says the SmartPower RTG uses up to 10 litres less fuel per hour than most diesel RTGs on the market, due to its smaller diesel engine and power management systems.
Argentinian cargo and container handling company Exolgan SA has ordered four Kalmar RTGs with hybrid drivelines for its container terminal in Buenos Aires. The order includes a spare parts package for the machines. Carlos Mancini, engineering manager at Exolgan says, "Kalmar's Hybrid RTG solution was the ideal choice for us since it will both help us reduce fuel costs and improve sustainability by reducing noise and airborne emissions."
And in Northern Ireland, Belfast Container Terminal (BCT) ordered a complete AutoRTG system from Kalmar comprising eight automated RTGs controlled by the Kalmar Terminal Logistic System and new-generation remote control desks. The AutoRTG system will replace the manually operated rail-mounted gantry crane system currently in use. The cranes will be factory pre-tested and they will be delivered to BCT fully erected.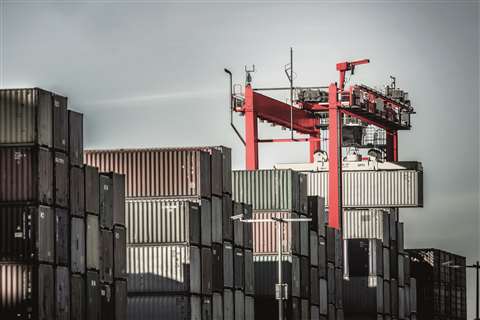 Kalmar says its order books are busy