Industry interview: Joachim Strobel, Liebherr
By Andy Brown19 November 2020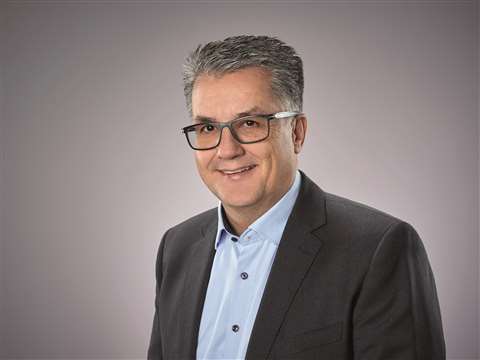 In approaching 25 years working for Liebherr Joachim Strobel has seen a lot of change. For instance, two decades ago the size of the Chinese construction market compared to now was miniscule, and the idea that major OEMs would be releasing wheeled loaders and excavators powered by anything other than diesel would have been far-fetched.
Strobel may have been at Liebherr for more than two decades but says that this is 'normal' for the company and shares with us a company saying: "After ten years at Liebherr you have done your training and then you start doing serious work." Despite his years of experience Strobel – who as managing director of Liebherr-EMtec GmbH is responsible for worldwide sales of earthmoving equipment – has never seen anything quite like Covid-19 before.
He says that he returned from the Conexpo show in Las Vegas, US, and shortly afterwards the company had to lockdown one of its factory's in Colmar, France. Within a week four factories in Europe were locked down. Strobel says that, "Of course we started immediately after the lockdown to prepare for the restart of the factories, but there was a lot of work to do. We had to fix the warning signs, prepare working areas so that people are able to keep their distance indoors.
"We organised groups so not all of them are working to the same time, so that if there is an infection in one team you still have the possibility to let the other team do the work and the other stay at home."
After two weeks of lockdown the factories reopened and have stayed open, although due to social distancing they are not yet operating at 100% of production – Strobel estimates that they have dropped capacity by around 15%, which is also, roughly, in line with the reduced market demand.
Construction equipmnent sales
Regarding the million dollar – or billion dollar – question of what construction equipment sales will look like in 2021 he says that, "This is the most important question, it is what we are asking ourselves every day." He adds that at the beginning of the pandemic he was optimistic as the economy in most of the markets where Liebherr operates were in good shape and sales in 2020 were shaping up to be an even better than 2019. This optimism has slowly faded away due to how long the pandemic has lasted.
"The pandemic lasts much longer than it was expected in the beginning and this creates more uncertainty; this is poison for the economy. A lot of investors have the position of 'let's wait and see how it develops' and then shift investment. If they start to shift investments then the economy goes down and then it ends up being a self-fulfilling prophecy."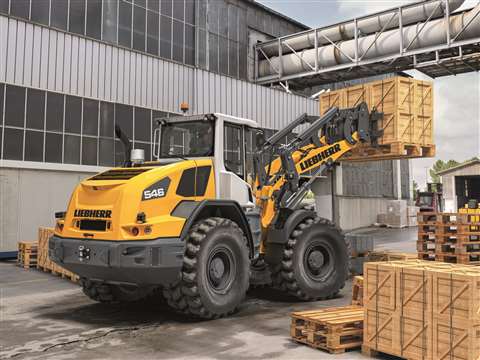 Construction has certainly been better placed than many other industries during the pandemic – spare a thought for the airline industry or cinemas – with many governments around the world investing in infrastructure projects to boost their economies. Strobel makes an interesting point that the money is often available for such projects, but the issue is that the administration is not.
"The order intake is also slowing down for our customers. Why? They tell us that the administration of projects, even from the government side is slowing down. The governments have put a lot of money on the table and said, 'we will help to keep the economy up' but if nobody is there to administrate that money then the projects stop." He adds that projects in the past that might have had only had one or two contractors bidding on them can now have as many as 15 to 20.
Speculating on future sales, he says that he expects 2021 to be a "side movement" of the market, so for sales to be roughly similar to this year. He predicts that the market could take three or for years to recover to the level of what Liebherr forecasted they would sell in 2020, before the pandemic.
Approach to global construction markets
Liebherr are one of the biggest construction OEMs in the world, consistently placing in the top ten of International Construction's Yellow Table – the ranking of the world's biggest construction OEMs by sales. As such they have a global footprint, but Strobel is keen to point out that Germany is the company's home market and their biggest market, saying, "We are one of the biggest construction machinery manufacturer in Germany. That is our home market and traditionally the most important market for us."
Europe is a major focus for the company – and a traditional strength – but of course the company do have their eye on other global markets and on increasing their presence and sales in certain key areas. Stroblel says that Liebherr earthmoving divide markets into high and low regulated countries and that they have a strong focus on the largest high regulated market outside of Europe.
"If you look outside of Europe, what is the biggest high regulated market? It's the US market where we can go with the same type of machines, the same system, the same strategy. This is a very important focus, we would like to get a better position in the US. We have implemented a complete new dealer network there so we are very well positioned; we've had a fantastic development there in the last two and three years."
It makes sense for Liebherr to divide markets into high and low regulated ones – low regulated markets tend to be more concerned with the initial price point rather than higher quality products and aftercare. It is often the brands that sell their products for less that perform better.
China is, by some distance, the world's biggest low-regulated market and Strobel says that although Liebherr has a presence there it is not so large that the earthmoving division as a whole is affected by the fluctuations in the market. Liebherr's approach to China, and other lower-regulated markets such as India, is (as you would expect) well thought out.
Using China as an example, Strobel says that Liebherr produce certain machines there, such as crawler excavators and wheeled loaders in order to build up a well-organised service and sales network with partners and dealers. With a strong network they can focus on selling 'specialized' equipment like material handlers, demolition and tunnelling equipment where the products aren't as price-focused as, for example, a 20 tonne excavator.
New technology focus
One of the biggest industry trends in earthmoving equipment in recent years has been the rise in electric-powered equipment. This is something which Strobel says makes sense for compact machines, but not for larger machines.
"We cannot see, at the moment, that the battery solution will be a final solution for construction machinery and not for the whole range. The investment for such a machine is far higher than for a diesel engine or any other and it doesn't make us say we decide that the battery is the solution and we go with all our machine fleet in this direction.
"We are active in R&D in all the available technologies; if it's a fuel cell, if it's a hybrid, or whatever is possible, we are doing our homework at the moment to be prepared. We keep our options open in all directions."
Despite keeping their options open, Strobel says that Liebherr see real potential with synthetic fuels and adds that, "We have tested all engines and we are close to the time where we can certificate our machines, that they are allowed to run by a synthetic fuel."
A benefit of synthetic fuel is that it doesn't require new infrastructure to be built and, depending on how the technology develops, could produce a lot less CO2 than batteries. As Strobel comments, "Synthetic fuel is something that we can do immediately. Within two years, you can fit the whole existing machine field worldwide with that. There is logic behind it that this could be a global working solution. And this is something where we see our preference, but I'm not saying that we don't do anything else. We are ready when the market is ready."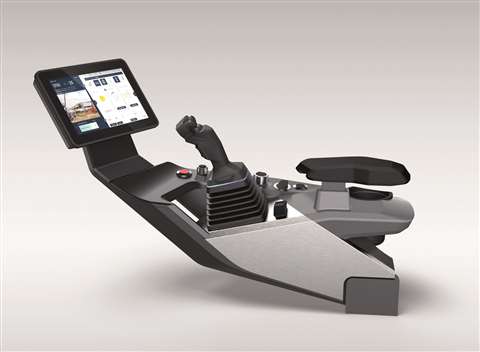 Technology is becoming increasing engrained into earthmoving equipment, with semi-automation, dig assist features and an ever-increasing amount of telematics. Liebherr's INTUSI system, a new driver operator organization in the cab, is scheduled to be ready for Bauma 2022 and through artificial intelligence bring together many aspects of new technology to make the operator's job easier and more efficient.
New technology is exciting – it is new, it does different things and it offers great possibilities. However, the company working on a construction site to a tight schedule typically aren't that concerned with possibilities, they want to do the job as well as they can, as quickly and productively as they can. When it comes down to it, customers are only interested in new technology if it makes their life easier.
Talking about INTUSI, Strobel says, "It will not be efficient if an operator cannot understand, if he can not use a feature as it should be. That is the idea behind this INTUSI system, where we have a self-learning system, which analyses exactly what this operator needs now. It must help the operator in his work, makes things easier in the working process. I think that the customer is only happy if it pays off, then he is prepared to pay money for it."