Industry pioneers
By Lindsey Anderson19 November 2019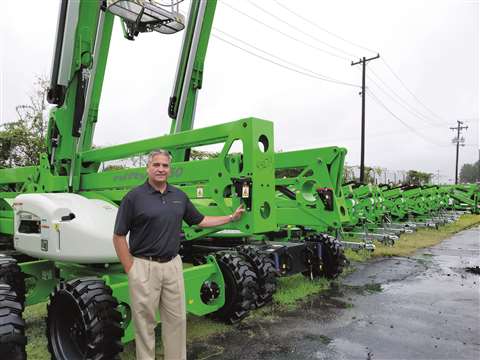 More than 34 years ago, in a small garden shed located near Bedfordshire, England, Roger Bowden got to work. The Founder and Chairman of Niftylift designed and built the Nifty 120 – a 40-foot, trailer-mount boom lift. It was the first machine produced by the company, and it's still manufactured today.
Fast forward nearly 20 years and Niftylift Inc. opened its first U.S. facility in Greer, SC. Four people managed and ran the South Carolina operation, but, as demand grew for Niftylift units, so did the need for more people – and space.
Niftylift Inc. now employs more than two dozen people and has officially outgrown its 15,000-square-foot spot in Greer. Ground has officially been broken on a new facility close by that, when opened in 2020, will double the company's footprint to 30,000 square feet across five acres of land.
"The move is in response to strong demand and growth Niftylift has experienced in the United States," says Jon Hedlund, vice president of sales and operations for Niftylift Inc. "Our VP and general manager noted we were busting at the seams and he said, 'It's time to invest more heavily into North American operations.'
The new space is cantilevered, too, so that we can add to it if necessary."
Niftylift manufactures its machines in Milton Keynes, a UK town north of London. Currently, more than 550 people work across the world for Niftylift and the company has a dealer network spanning 60 countries. According to the company, 75 percent of its business is exported. A chunk of those exports – thousands, yearly – come to the U.S. where Niftylift Inc. has experienced year-over-year growth.
"We've experienced at least 10 percent growth year-over-year since I joined in 2006," Hedlund says. "Business has not slowed down – not even during the recession."
The company attributes its success in the world's largest market for powered access equipment to working with independent rental companies; more than 75 percent of its business is conducted with independents.
"We cater to them," Hedlund says. "That's how we cut our teeth more than 20 years ago."
Looking forward, the company's goal is to eventually start assembling machines in South Carolina, with a long-term possibility of manufacturing.
Pioneers
From hybrids to secondary guarding, Niftylift has long been at the forefront of machine advancements and safety.
The company was one of the first to introduce hybrid machines to the market, as well as secondary guarding, known as SiOPS, which it introduced over 15 years ago.
"We were the first in the industry to introduce overhead crush protection," Hedlund says. "When Roger [Bowden] started the company years ago in his garage, he knew the company had to be different. So, they cut their teeth on safety and innovation – and we've stayed there."
SiOPS is short for "sustained involuntary operation prevention system." The system, debuted in 2009, reacts when it senses an operator being forced into the machine controls – it stops machine movement immediately.
"Occasionally, operators can become trapped between the machine and surrounding objects, forcing their torso onto the controls," the company explains. "In extreme cases, this can result in sustained involuntary operation of the machine's controls which can inadvertently move the machine and operator toward the obstacle, worsening any injuries."
SiOPS eliminates sustained involuntary operation by instantly interrupting all machine movement if an operator is pushed against the cage controls. If someone becomes trapped while using a machine with SiOPS, the person's body pressure on the control panel activates a switch, which shuts of machine movement to prevent further injury and sets off a warning light and verbal alarm alerting people on the ground that a colleague is trapped. The person can then be brought safely down using the ground controls.
Niftylift was also a pioneer with hybrid technology on its machines. The company debuted its first hybrid – the HR21 diesel/electric bi-energy – in 2007, which incorporated the company's revolutionary hybrid power system. The company has worked to combine a Tier 4/EU Stage IIIB diesel engine with a clean and quite electric power pack to produce a parallel hybrid power system. The system offers an electric-only mode for zero emission operation, or a hybrid power mode that's economical and environmentally conscious.
While the European and overseas markets are more adept to using hybrid machines, Hedlund says now that every major OEM has hybrid options, he believes that within five years, the technology will be more commonplace and accepted in the U.S.
"We're looking at bringing more hybrids in, definitely," Hedlund says. "However, I would say hybrid use is still in its infancy in the United States. Everybody still wants diesel. It's what they're comfortable with."
Opportunities
Niftylift Inc's core focus is construction and specialty markets, such as the signage industry, but they approach business in the U.S. with a broad brushstroke.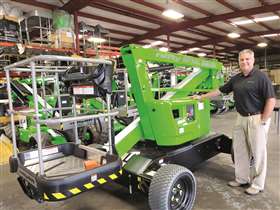 "Our country is so large," Hedlund says. "The Northeast is different than the Southeast, which is different than the Midwest, which is different than the Southwest. And I run it that way. You've got to be flexible. We've done a good job at being flexible on a smaller scale with the competition we have."
Being adaptable to various markets and needs is what Niftylift says keeps its customers satisfied and coming back for more.
"Take, for instance, the way Niftylift manufactures," Hedlund says. "We will take one widget and use it in as many places throughout the product range as possible. It's smart engineering and provides commonality across our products."
Another key aspect of Niftylift machines is their simplicity, Hedlund notes.
"With other tow-behind manufacturers, there's a lot of electronics on their machines. These units get towed down a highway at 65 mph and the wiring and electronics get jostled around and loosened. Then, rental companies tend to pressure wash machines to clean them; pressure washing is not a friend to electronics. So, our machines are very simple – they are hydraulic over electric and there are no computers involved."
The company also prides itself in having every part and component of its machines in stock at its South Carolina facility. "We stock everything that's in our catalog except for the chassis," Hedlund says. "Because, chances are, if you need a chassis, your machine is toast."
New products and challenges
Over the coming year, the industry can expect to see a number of updates occur across Niftylift's product line. Hybrid technology will expand, advancements with lithium batteries on track-drive machines will happen and an overall 'revamping' of the company's older products will take place.
Hedlund also teased to keep an eye out for new "rough-terrain, big-stick booms" and the addition of hybrid power plants in the company's self-drive machines.
"It's not like we're coming out with a lot of new product," he notes, "but people can expect facelifts to our lines."
When asked how the new ANSI standards will affect business, Hedlund says, without a blink of the eye, "We won't hiccup at all because everything we manufacture meets or exceeds the new standards."
While Niftylift is ahead of the ANSI game, Hedlund admits it has cost the company business in the past.
"People would say, 'Well, your machine cuts out if I go over by one degree. Your machine doesn't do what everybody else's does,'" he says. "But we've been compliant, and we know what's coming. We are ready to go."
Hedlund's biggest concerns right now surround the skilled workers shortage and continued pace of national rental acquisitions.
"The big rental companies keep buying people and it starves the independents out," Hedlund notes. "Where's the crux of our business? Independents. This is a big challenge.
"We're also in a situation where we need more service people. There's just not enough young people interested in the industry. We're looking at tech schools and putting out advertising locally. We want to make apprenticeships available and pay people. But it's tough."
And while the industry holds its breath at the notion of a 2020 recession, it's one aspect of business Hedlund doesn't sweat.
"Usually during recessions in the United States, we grow, because people want more compact machinery. They don't want huge trucks and trailer and transportation costs," he says. "With our machines, I can offer a 70-foot rough terrain boom that can be hauled on a rollback.
"What we do, we do well, and we stay in our lane and stick with it."