Infrastructure investments to drive strong growth for China's economy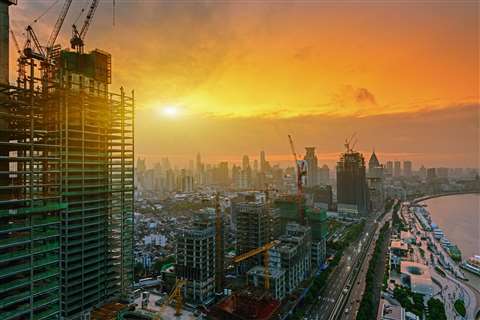 The Chinese economy is predicted to grow by 5.4% in 2023 following its modest growth of 3% in 2022, according to a new report from GlobalData.
China – the world's largest market for construction equipment sales – is reported to be benefitting economically from the lifting of the country's zero-Covid policy as well as institutional reforms.
In August 2022, the Chinese government announced approximately US$1 trillion investment in infrastructure megaprojects, which is expected to boost the construction and related activities. GlobalData projects that construction activities in China will grow at an average annual rate of 9.3% over 2023-25.
View a video interview on the strengths and weakness of the Chinese construction industry. 
China's economy began 2023 on a strong note with a 4.5% growth in GDP in Q1 2023 on an annual basis, up from 2.9% in Q4 2022. The rebound was driven mainly by consumption, with retail sales growing by 10.6% on an annual basis in March 2023, the highest level since June 2021. Industrial production also showed steady growth, up 3.9% in March 2023 compared to 2.4% in January and February 2023 combined.
"The ending of China's self-imposed isolation in December 2022 is likely to boost growth in many parts of the world, particularly for countries that export commodities to China," said Maheshwari, economic research analyst, GlobalData.
"Countries that export commodities such as copper, zinc, nickel, and iron ore could benefit from increased demand from China. In addition, the end of restrictions in China should help to resolve disruptions in the global supply chain, leading to increased efficiency and productivity."
GlobalData added that it expects the inflation rate in China to increase from 2.0% in 2022 to 2.3% in 2023 – within the Chinese government's target of 5%.