Innovating to meet new demands
By Thomas Allen10 April 2019
An 'Innovation Stand' at Atlas Copco's booth (FS-1108/1) highlights three new products being introduced at Bauma this year, which all help to meet the demands of urban construction sites in particular. They are the E-Air H 250 variable speed drive compressor, the Hi-Light Z3 – which is the company's first ever battery-powered lighting tower – and the QAS VSG (variable speed generator).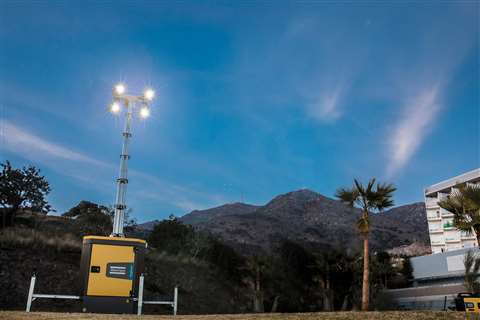 Hendrik Timmermans, Vice-President of Atlas Copco's Portable Air division, and Adrian Ridge, President of the Power and Flow Division, spoke to IRN about some of the main features.
Timmermans said, "From enhanced efficiency to improved noise levels and no diesel engine emissions, the benefits of going electric within specific applications cannot be overstated. The new Variable Speed Drive electric compressor range is a game changer when it comes to clean drive technology for rough and dusty environments like underground tunnelling and mining."
The compressor's integrated VSD-driven permanent magnet electric motor requires only low power for start-up, so there is no need to oversize the power supply.
This is the first of a number of new mobile electric VSD air compressors that Atlas Copco will be adding to its E-Air range – from 250 up to 1100cfm – over the course of 2019.
Speaking about the TwinPower, Ridge said, "The containerised unit is easy to transport, and due to the fact that it has two compact 725kVA generators it can be run at 50% load, giving users greater flexibility in a single piece of equipment."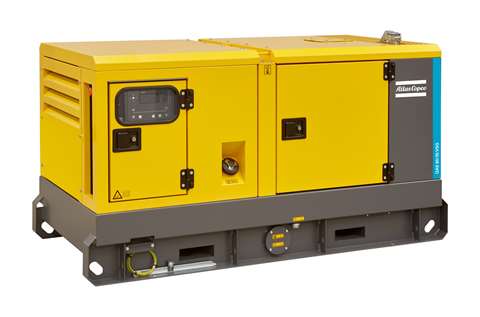 Powered by lithium-ion batteries, the lighting tower produces almost no noise and zero emissions. Since it does not use diesel, no re-fuelling is required and maintenance is minimised. The lighting tower can run for up to 32 hours before requiring recharging.
Meanwhile, the QAS VSG (variable speed generator) has a smaller footprint and consumes up to 40% less fuel than similar models.
The generator features automatic variable speed control from 800 to 2550rpm, and a built-in Power Management System (PMS).
"It also caters for six different power nodes, which gives greater flexibility – something which is desirable for rental companies," Ridge said.
Atlas Copco is also using the exhibition as a forum to provide companies with guidance about Stage V regulations.