Innovation in high-rise construction
By Lewis Tyler10 June 2022
High-rise projects are seen on horizons across the globe and show no signs of slowing down, says Catrin Jones
Potentially costly and not without significant risk, impressive high-rise projects are nevertheless in demand, with urbanisation one of the world's biggest trends and more and more of the population living in urban areas.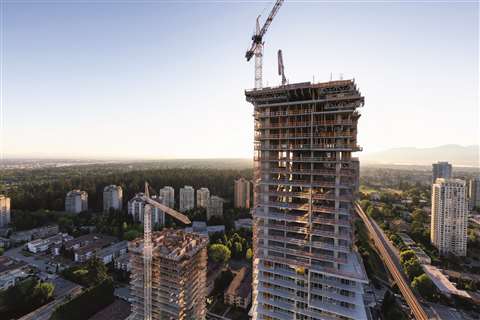 The safety of workers whilst working at height is imperative. The sector continues to develop innovative solutions to minimise challenges with tower cranes and falsework and formwork, making some of the most ambitious projects possible.
The Middle East is home to some of the world's tallest high-rise buildings and there is an increasing desire to build better and bigger. The well-known Burj Khalifa in Dubai, United Arab Emirates, is for now the world's tallest building but the Kingdom Tower in Jeddah, Saudi Arabia is set to surpass it – if it is ever completed.
It is planned that the 1km high tower will become the focal point of Jeddah Economic City, a commercial and residential project featuring homes, hotels, and offices. However, despite starting construction in 2013, the tower is still incomplete. As with many high-rise projects, financial issues and building challenges have plagued the project.
Back in 2014, Mounib Hammoud, CEO of Jeddah Economic Company said in a press release that, "construction work is moving at an accelerated pace and by the highest construction standards using the most advanced techniques."
Due to labour issues with a contractor as a result of the Saudi Arabian Purge, the mass arrest of several prominent figures in Saudi Arabia, structural concrete work on the tower was halted – leaving only one-third built.
Reports on the status of the tower are limited and it is unknown whether it will be completed after it surpassed its expected completion date in 2020.
Super-tall infrastructure can also be seen across the entirety of the skyline in Dubai, UAE. High-rise construction projects are developing in the desert with a speed and scale incomparable to other cities. According to a journal paper from the Council on Tall Buildings and Urban Habitat, the average height of the 100 tallest buildings in Dubai is 265.9m.
Earlier this year, Besix Group completed the concrete work on the Dubai Uptown Tower – which has reached its peak of 329m, with the final height of 340m due to be reached in autumn 2022. The 81-storey building will be the first super-tall tower in Dubai's uptown district.
Besix Group's in-house design office contributed to geotechnical and structural studies, the development of BIM models, the design and construction of the façade, and the development of planning and methods.
How do you make a high-rise sustainable? 
Not all high-rise projects strive to be the tallest; for some, the focus is on sustainability. An increase in tall buildings means an increase in energy consumption and greater consideration of the impact it has on the environment.
Green space is limited in urban areas and building upwards used to mean a lack of outdoor space. Ulma recently developed specialised formwork systems for a 120m high skyscraper in Warsaw, Poland, for a new building that will feature green areas the size of two football pitches and terraces around the whole perimeter.
Over in London, England, Skanska UK has signed a £235 million (US$295 million) construction contract for a new 16-storey 'ultra-sustainable' commercial building in the city centre.
Designed to "foster the health and wellbeing of its end users" by architects KPF and Henning Larsen, the community-focused structure will feature a central 'Village Square' at street level and provide 30,000 square feet of green space and terracing.
"The project will pioneer innovations in sustainability to create a healthy, green building fit for the future. It will focus on carbon reduction through attention to detail at every stage – from material selection, and site operating efficiencies to modern methods of construction," said Skanska UK.
Modular construction is gaining popularity across the industry as companies realise the efficiency and cost-saving benefits – the high-rise sector is also becoming an advocate.
Not only is the method seen to be cheaper because it reduces construction times, but it also requires fewer workers. Ramboll found this method to be beneficial in both the Hotel Bella Sky in Copenhagen, Denmark, and Travelodge, 250 City Road in London, England.
In a short insights and solutions column, Shonn Mills, global director of high-rise at Ramboll wrote that, "The use of offsite construction is evolving beyond assembling small 2D elements.
"We are now prefabricating full 3D modular building components from bathroom pods to full hotel rooms or apartments. We are currently trying to challenge the upper limits for modular high-rise, and we are developing prototypes for a full 3D modular high-rise."
Ramboll has made a multi-million Euro investment into Vu.City – a digital platform that can create data-driven visuals of cities to aid the decision-making process.
The digital twin is becoming a favoured tool in the planning stages for other infrastructure projects and can be influential in previewing future high-rise projects against their existing neighbours.
Ramboll COO Michael Simmelsgaard, added that, "City-wide digital twin technologies are a crucial tool to support the development of sustainable, resilient and liveable cities…Tech-enabled consulting and joint technology platforms drive more informed decision making and accelerate productivity."
Latest tower crane technology
High-rise projects would not be able to fulfil their potential without tower cranes. Cities are becoming bigger – and taller – as countries continue to build upwards, which demands greater lifting capabilities.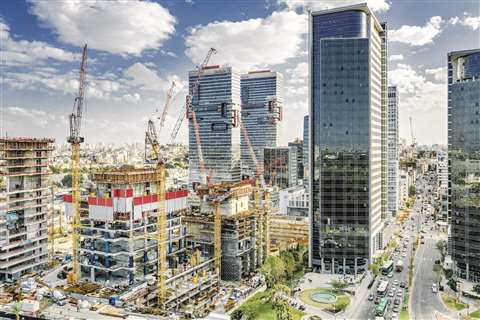 Tower cranes have not typically been at the forefront of innovation and rely on proper maintenance and repair throughout their lifespan. Despite this, a drive for a higher degree of health and safety has pushed the development of tower crane technology.
Crane decks are often used to increase site safety and provide workers with a robust platform for material handling – making them excellent when working at height. Australia-based Active Crane Hire specialises in supplying cranes to the small to medium size section of the construction market.
Innovation and safety are at the forefront of tower cranes and their role in high-rise construction. Hermann Buchberger, director of Active Crane, said, "We want to lead the market by introducing innovation with everything we do and so we have launched a range of hydraulically operating loading decks. We are marketing the range as Active Crane Deck.
"The extending of the deck is managed by a hydraulic cylinder which is under the deck. With the deck fully extended the cylinder is at 3m. The concept is uncomplicated and the sizes we are offering to seem to be where the demand will be in the market and what the construction companies are used to."
The company's hydraulic loading deck (HLD) range includes three models: the first is the HLD 2200 with 2200 indicating the width of the deck. The company anticipates releasing the next sizes soon – the HLD2800 and the HLD3200.
"Everywhere in the world, construction sites are looking for better utilisation from site cranes and wherever possible they are making the sites safer for the construction workers," Buchberger added.
Tower crane health and safety 
Health and safety in the tower crane market for high-rise construction is a key area that many companies are choosing to expand and develop. Liebherr knows that working from height brings several challenges and has adapted its tower cranes to support building in dense areas. A spokesperson from Liebherr said, "HC-L cranes from Liebherr are used in the construction of high-rise buildings. A significant advantage of the luffing jib cranes is that several cranes can be easily erected in a small area.
"Due to the low slewing radius, overslewing of neighbouring properties is avoided. A reliable climbing system is also important for economical and safe crane operation. The 16 EC 240 and 355 IC tower sections fulfil the requirements for space-saving, safe and easy internal climbing. Stiff tower systems are important to reduce deflection and get high overstanding heights."
In addition to this, Liebherr sees new assistance systems helping to increase health and safety and will be a step forward in automation. "The intelligent Litronic crane control system on HC-L cranes of Liebherr helps to ensure that the crane is controlled efficiently and safely. It can quickly adapt to the personal requirements of the crane operator and those of the construction site," added a Liebherr spokesperson.
Health and safety is also at the forefront of formwork. Doka is currently working on what will be the tallest residential building in Canada at 94 storeys. This project will see the first-time use of a 6000 square feet screen (per side) which is suspended on two of the mega columns and will cover multiple floors for a protected work environment underneath the concrete.
Hermann Stift, head of global expertise centre high rise, Doka, says, "Currently, we see that the focus is on productivity – so reduction of crane times is very important and crucial and can be achieved by using self-climbing formwork.
Making the daily work easier, more efficient and safer is our goal while we are designing the project solutions."
Safety is also a key factor in projects for Doka and they see self-climbing platforms growing in popularity. "The trend of using self-climbing platforms to extend the lay-down area and the safety feature of having an enclosed working environment with a minimum of ladders [using proper stair towers] is booming.
"There is a global increase of requests for safety features and systems – Protection screen Xclimb60 are becoming mandatory on high-rise and super high-rise buildings in more and more big cities all over the world," added Sift.
Advantages of modular building
Jaso Cranes have been involved in several large-scale housing projects in Singapore. Currently, prefabricated prefinished volumetric construction (PPVC) is trending in the Asian country – especially for Housing and Development Board (HDB) projects, Singapore's public housing authority.
"It is also looking likely that private projects will adopt this method shortly," says Theodor Huitema, area manager for Jaso Cranes.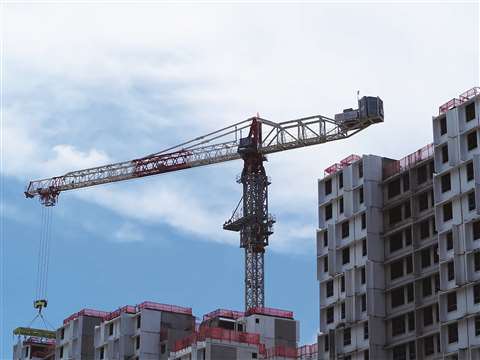 Government housing projects by the HDB require tower cranes that can comfortably lift heavy PPVC as some components can weigh as much as 35 tons.
"The growing trend towards PPVC, particularly in Asia, has led to increased requests for cranes with heavy-duty lifting capacities. As a response to this demand, Jaso designed the J1400; it has an 80-metre-long jib and can lift a maximum load of 64 tons and 10.5 tons at tip load," says Huitema.
Over in Germany, BKL – specialists in crane rental, sales, and service – are busy adapting solutions to suit the specific needs of a high-rise project in Wolfsburg, Germany.
A 202 EC-B tower crane is being deployed to help extensively modernise two high-rise buildings 'Don Camillo & Peppone' and create a new landmark in the automotive city, home of one of the world's biggest car plants.
As an efficient solution for the lifting operations over 60m above the ground, the BKL crane specialists configured the tower crane on a special construction on the roof of the 'Peppone' high-rise, which is being refurbished.
As technology advances and new methods are created, projects continue to be built higher and at a significant rate. There is no doubt that with further development of safety practices and innovations, these trends will only accelerate.