Innovation, Tools & Attachments
Winner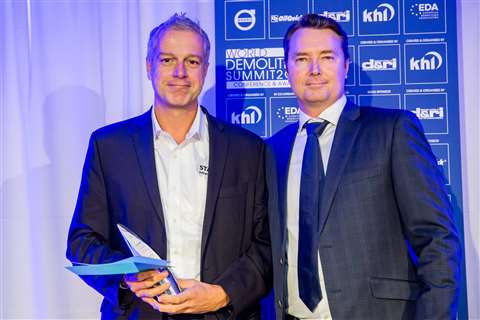 La Bounty
Country
USA
Project
UPX 2800 demolition tool
Also shortlisted
Epiroc (Germany);
MB Crusher (Italy)
Judges said
"The features of the product make it ideal for the modern demolition environment"
Summary
London may have dominated the Urban section of the 2018 awards, but the manufacturer categories had a distinctly stars-and-stripes complexion. With Plant and Equipment already secured courtesy of Ferma, LaBounty wrapped up the Tools and Attachments award against opposition from two European countries.
LaBounty's successful entry, for the UPX 2800 universal processor, was developed to address the fact that the demolition industry is increasingly being confronted with more difficult concrete to process.
In response to the problem, the company harnessed 40 years of experience into its latest demolition tool, the largest and most powerful product in a range of work tools based on the original LaBounty patent for universal processors.
The UPX weighs 20,400 kg (45,150 lb) and LaBounty said it features the industry's best power-to-weight ratio for control and versatility and is designed for both high reach and underwater demolition.
It also has a speed valve for fast cycle times and swivel seal technology to reduce maintenance intervals by half.