Intermat celebrates innovation
By Thomas Allen23 January 2018
The winners of the Intermat Innovation Awards 2018 have been revealed.
The new director of Intermat, Isabelle Alfano, said that innovation and new technology will be two major focuses of this year's trade show, which will take place in Paris, France, between 23 and 28 April.
The awards pay tribute to the most innovative equipment presented by the show's 1,500 exhibitors.
New in 2018, the competition is divided into the exhibition's four hubs of expertise – earthmoving and demolition; roads, minerals and foundations; lifting, handling and transportation; and building and concrete.
There was also a World of Concrete award and four special awards – digital transition, energy transition, safety, and start-up.
The 37 nominated applications came from manufacturers and suppliers based in 16 different countries. Although they were predominantly European, they included some from the US, Japan and New Zealand.
In terms of overall trends, the judges noted that a large proportion of entries proposed solutions connected with energy saving and the use of low-polluting energy sources. IT solutions also had a significant presence.
Highlights
In the earthmoving and demolition category, Volvo CE won the equipment and machinery award for its EX2 compact excavator. The two lithium ion batteries by which it is powered were said to provide energy for eight hours of operation.
The machine's movements are carried out using electromechanical linear actuators, and it was said that the average power consumed by the EX2 does not exceed 3.5kW. In particular, its idling consumption is insignificant, according to Volvo CE.
The company said it was considering developing several versions of the machine – all-electric, hybrid power and a version with fuel cell and batteries.
Fayat secured the equipment and machinery award in the roads, minerals and foundations category for its TRX mobile asphalt plant. From asphalt recycled at 0% or 100%, it is able to produce 150 to 430 tonnes per hour of either hot or warm mix.
This continuous plant has an electronically-operated burner with pneumatically-assisted fuel spraying and a frequency converter-powered turbine, both of which help to improve energy efficiency. Drying gases are reincorporated in the process.
The Lightlift 33.17 Performance IIIS won Hinowa the equipment and machinery award in the lifting, handling and transportation category.
This tracked mobile aerial work platform can be powered by either 76V 150Ah lithium ion batteries or a Kubota diesel engine.
Despite having a working height of up to 32.5m, a 16.5m outreach, and a 230kg load bearing capacity, it was said to remain compact. Its height is less than 2m when retracted, enabling it to pass under standard doorways.
In the buildings and concrete category, Alphi won the equipment and machinery award for its MaxUpDown, which is a tool designed to handle the brand's MaxiDalle formwork panels from the ground.
Its telescopic mast, fitted with a panel hooking system, can operate at heights of up to 5.6m, and it can be worked using two buttons – one to install the panel on the prop heads and the other for removal.
Since it uses bottled compressed air that can power the tool for in excess of a day, the MaxUpDown does not require an external power source.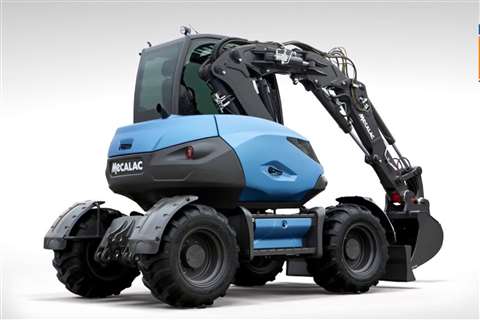 Of the special awards, the one for energy transition was clinched by Mecalac for its e12, said to be the world's first compact wheeled excavator that runs only on electricity, without compromising on battery life, performance and compactness.
The 1m3 batteries are placed in what would be the engine compartment on traditional Mecalac machines, where they act as a counterweight.
The manufacturer chose a LiFePO4 (Lithium Iron Phosphate) solution that supplies 650V for its batteries, offering a power capacity of 146kWh with two engines. The first engine drives the transmission with an automatic gearbox, and the second operates a hydraulic pump to rotate the superstructure and move the chassis and the equipment.