InterMax China handles oversized equipment installation
By Ian Vallely12 December 2016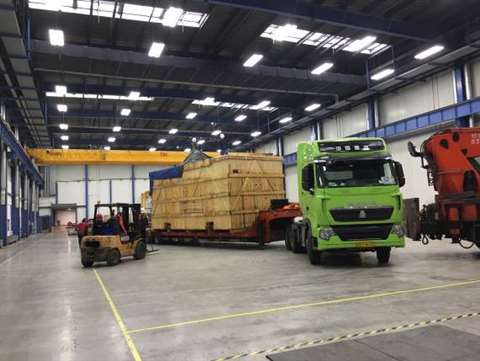 InterMax China, a member of the equipment owners network Cargo Equipment Experts (CEE), has delivered and installed a heavy machine from Antwerp to Changzhou. It was the second time that InterMax co-operated with the site for installation work.
The machine and parts were delivered by 40 foot flat rack and 40 foot open top container. The machine was 3.4 metres high and had a weight of 34 tonnes.
The entrance of the factory is only 4.5 m high so InterMax had to arrange an 80 tonne capacity mobile crane to safely shift the machine from a flat rack onto a low bed trailer for delivery into the factory for installation.
InterMax personnel worked with the technicians to adjust the balance during installation and a mobile crane was used to lift and position the machine.