International Rental Conference hears of China rental potential
By Euan Youdale and Murray Pollok14 October 2013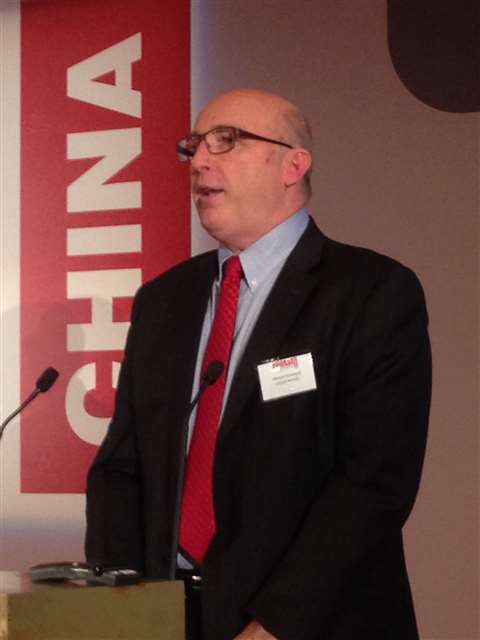 Nearly 300 industry professionals attended the first International Rental Conference China in Beijing on Monday and were treated a wide range of top level talks.
Michael Kneeland, chief executive officer of United Rentals, used his keynote address at the conference, organised by International Rental News (IRN) and KHL Group, to encourage local players to continue to develop the rental market.
"I know that, from a global perspective, the cost of construction labour in China has been very affordable. But it won't be that way forever. Even a small shift in the cost of labour can help make a strong case for equipment rental," said Mr kneeland.
Comparing the Chinese rental market today to his early days working in the US, he said; "To make a living in the industry back then, you had to be both a pioneer and an evangelist. You had to get in front of the prospect, make your case, and then let the equipment do the talking for you!
"That was a major lesson I learned about building demand in an emerging market -customers have to see the results for themselves."
When asked if United Renatals planned to expand into China, Mr Kneeland said that possibility was a long way off and he was purely here to learn about the market.
The conference, held at the Swissotel in central Beijing on 14 October, was organized by International Rental News (IRN) magazine and KHL Group.
Mr Jai Li Cai, managing director of the Machinery Management and Rental division of the China Construction Industry Association, opening the conference at the Swissotel in central Beijing, said the Chinese rental market was beginning to blossom on the back of continued construction activity; "China's construction market is indeed a large one enjoying sustained prosperity. Let's put construction in energy, transportation and public facilities aside and look at housing construction alone.
"During the past five years over 2 billion square metres of new housing projects have been launched every year. The State's Urbanisation Promotion Program will bring considerable benefits to China's economy and capital markets for years to come."
He invited foreign investors to participate in China's rental sector; "We welcome colleagues from all over the world to come and study our rental market, and come to tap our market with your capital, experience, and first-class equipment."
David Phillips, managing director of Off Highways Research, said construction machinery sales in China would recover following the unprecedented drop in 2012 but by a more gentle 2% to 3% over the next five years. Sales dropped from US$ 37.1 billion in 2911 to $22.6 billion in 2013.
"There is too much new equipment chasing too little work," explained Mr Phillips. "But this could be a great help to rental in China - it could spur on the concept of rental in the country." This would happen, he said, because users would see the benefit of renting a machine over investing in a new product.
Mr Phillips added that the Chinese government would also play a major role in encouraging future demand thanks to its ability to stimulate the economy directly or pull it back when necessary.
Gerard Deprez, president of Loxam, used his speech to highlight how recession can help encourage the development of a rental market; "Rental generally starts after a lengthy recession, kicked off by a strong and brief recovery of the construction industry. Hit by the crisis, contractors are reluctant to massively invest in fleet renewal. Rental then provides the ideal solution. Convinced by the recipe, a reliance on rental then becomes a permanent feature of the market."
He urged investors in China's rental market to have clear strategy for rental, and try to focus on a particular rental model; "Whether you are an individual, a financial fund, a manufacturer or a contractor, the key to success is to pick your model and organisation in accordance to your market, its potential, your competition and your financial means and stick to it. The equipment rental market is so large that it is impossible to cover it all.
"Anyone can succeed. However, there is no rapid success. Impatience usually generates dramatic losses, especially when markets downturn, as happened in Europe."
Describing the current rental market in Europe, he cautioned that nobody should expect a "life-saving rebound". He said development will rely less on expansion and more on a re-engineering of existing rental businesses; "At the end of the day, European executives are now more engaged in a race for operational efficiency than in a race for expansion."
More to follow.