International Tower Cranes (ITC) conference review
By Murray Pollok16 May 2017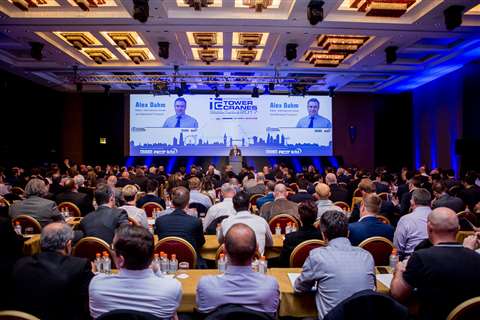 More than 250 tower crane professionals from 16 countries attended the fifth International Tower Cranes (ITC) conference in London on 10 and 11 May, with topics encompassing operator training, crane technology, developments in BIM (Building Information Modelling) and fully automated cranes.
In his keynote address, Simon Marr, a director and third-generation owner of Marr Contracting in Australia, argued that tower cranes can be used for applications in civil engineering and infrastructure projects.
"The industry needs to think differently about how we use tower cranes – not just on high-rise projects but any large scale construction project," argued Marr. He offered some real-world examples of how his company is challenging the status quo with the successful completion of prestigious projects in the energy, agriculture and city centre construction sectors.
On Chevron's Gorgon Project in Western Australia, for example, placing one of its heavy duty Favelle Favco luffing job cranes on a SPMT carrier meant that the crane was able to relocate quickly on site and operate at 98% utilisation rather than the more typical 60%, with a single crane covering a 45,000m2 site.
"Ultimately, we found a solution that allowed the client to get gas on the ship earlier", concluded Marr.
New technology was a key theme of the event, with the integration of tower cranes into new BIM (Building Information Modelling) techniques a key concern.
Aviv Carmel, general manager, Skyline Cranes and Technology in Israel, has been using BIM for its projects for several years, and said it enabled site managers to plan and make decisions with confidence whilst also helping cut unexpected expenses. Carmel also outlined several tower crane innovations his company Carmel Design had developed, including an adjustable pin, a folding climbing system, the Skyline Feeder crane system and LED light-based advertising banners for tower cranes.
Mark Herlihy, lifting solutions leader at Select Plant Hire – the plant hire and tower cranes rental company owned by Laing O'Rourke - and Cristian Badin, sales leader EMEA for Terex Cranes, took the BIM discussion on, explaining how the two companies were cooperating to integrate cranes into BIM plans.
Herlihy said "a revolution is taking place" with BIM and offsite manufacturing as part of a wider "digital engineering strategy" which he claimed can bring about real change for the industry.
"In addition to all the benefits 3D modelling brings, digital engineering now allows you to receive live updates on progress," said Herlihy. "Digital engineering is providing an 'intelligent tool' to hand over to the client once the building has been constructed."
Another aspect of BIM and tower cranes was discussed during the subsequent round-table, with Aviv Carmel joined by Steve Bradby from Select Plant Hire; Julian Norton, business development manager for construction at photogrammetry software specialist Pix4D; Damian McBride, director at engineering specialist Robert Bird Group; and Viet Pham, VDC (virtual design and construction) consultant at Danish contractor MT Højgaard Group.
Norton explained how Pix4D is placing cameras on tower cranes to take pictures of sites, with the photographic data then used to build almost real-time, 3D models of projects that are then fed into BIM models. The company is working alongside using MT Højgaard among other clients.
Also looking at future technology was Mor Ram-On, chief technology officer at Israeli start-up company IntSite. The company is developing a fully automated tower crane using technology adapted from the aerospace industry – with sophisticated guidance systems used in missiles being applied to tower cranes to direct the jib and hook to the loading point in the most efficient way.
He said that the fully automated system would save up to 20% on movements when compared with an experienced tower crane operator. So far the company has only applied its technology to a toy model crane, but the company has attracted financial backing and is now implementing the technology of a full-scale tower crane.
Ram-On was unsure about when the technology would be ready for actual use on site, but he said he was confident the technology would work and that it would happen soon.
The age of the crane operator isn't over quite yet, however, and the conference saw a definite focus on crane operators, with a series of speakers looking at the kinds of technologies that they can expect to see in their cabs, their training needs, and also their welfare.
Eric Pommier, vice president engineering, tower cranes division, Manitowoc Cranes. Pommier looked at the potential benefits the use of technology is bringing, for both operators and construction site managers.
Pommier outlined how safety and efficiency are being increased through the use of technology, which is creeping into all aspects of operating a tower crane. Pommier's speech covered key areas such as: access to the cab; the display used for setting up the crane; assitance in the actual operation of the crane; how to best utilise a tower crane; and the potential of connectivity, telematics and datalogging.
Focusing on training needs was Marco Guariglia, managing director sales, Liebherr Tower Crane Division, who emphasised the importance of training staff to improve safety and performance on the job site.
He acknowledged that the advance of automation was inevitable; however, until that happens, the operator remains the most important person in the process when it comes to using tower cranes. Guariglia outlined how Liebherr trains crane operators through its theoretical and practical course, as well as highlighting the importance of attracting service technicians into the industry.
Former tower crane operator Nigel Howard, who is now safety and training manager at MPS Crane Operators – an employment and training agency based in Wales, UK - provided a unique insight into the challenges facing the industry regarding operator training in the UK, as well as looking at the pressing issue of operator comfort breaks.
He challenged the industry – contractors, manufacturers and tower crane rental companies – to come up with a solution that provides adequate toilet provision for operators, either through providing hoist access to the cab or through facilities in the cab. This prompted one member of the audience, a tower crane rental company in Canada, to report that it had started to provide toilets in the cab incorporating incinerators.
The issue of access to the cab using hoists was covered by Pierrick Lourdain, commercial director at French tower crane company Matebat, part of the Arcomet Group. Since 1 January 2017, French regulations mean that every crane erected above 50 metres must provide a lift for operators. In 2019 the regulations will go even further, making lifts mandatory for all cranes over 30 metres.
This, according to Lourdain, will be between 60-70% of the crane market. He argued that these types of regulations may well be coming for the rest of Europe as well, and that, in that case, rental companies needed to see it as a business opportunity, with crane renters investing in hoists and then charging customers for them. He said this could represent a rental market worth €42 million annually by 2019 in France, or €95 million for Italy, Germany, UK, Belgium and Switzerland.
Lourdain added that in his view the regulations don't make sense for 30 metre high cranes, because in such cases the stretch of mast covered by the hoist will be just 15 metres (because the hoist can't start from ground level or reach the cab level).
Heinz-Gert Kessel, project engineering manager at German crane rental company Franz Bracht and International Cranes and Specialized Transport contributor, considered the all-important topic of how to bring down a tower crane after topping out a building.
"Every dismantling step must be considered in advance," he explained. Kessel's detailed technical knowledge was appreciated by the audience who were treated to an in depth look at exactly how buildings have been dismantled in the past and the various ways they are currently dismantled depending on which company is doing it or which country it is in.
London being the host city for the event there was discussion on property development trends by Will Matthews, head of real estate insight at Deloitte LLP. Matthew's team produces a range of property research reports and his presentation was based around the company's London Office Crane Survey which examined the state of construction in the city.
Matthews explained that although there is much uncertainty around the London real estate market, with office lettings having slowed and vacancy rates having risen, construction continues apace. "More mixed use schemes are bringing demand for space back into city centres," said Matthews. "This will relate into a greater demand for high-rise projects."
Around 70 delegates had seen direct evidence of this activity the previous day, with Casar sponsoring a boat trip on the Thames during which representatives from Select Plant Hire and HTC Wolffkran had described the main projects involving tower cranes taking place along the river. These included the massive Battersea Power Station project – with many Select cranes - and the Greenwhich Peninsula development further down river, which featured HTC cranes.
After the presentations ended delegates retired to the open bar for a well-deserved drink. There was much for everyone to talk about and many business cards were exchanged. The atmosphere was positive, with everyone looking forward to the next event in two years' time.
Watch out at www.khl.com for announcements on the date and location of ITC 2019.