Interview: AFI Group
By Euan Youdale07 November 2017
Nick Selley.
AFI acquired Kimberly Access earlier this year, making it the biggest specialist access equipment rental company in the UK. Shareholder and recently inaugurated IPAF president Nick Selley talks to AI about the company's plans globally and his view of consolidation in the access market.
Nick Selley is as well-placed as anyone in the access industry to provide a clear view of where the sector is heading.
In July, his company AFI acquired the assets of Kimberly Group, bringing its fleet of MEWPS up to 7,000 units. The group's rental division AFI-Uplift is also now the UK's largest specialist powered access rental company.
This new position follows the acquisition of Lavendon Group by generalist Loxam earlier in the year, which included UK-based Nationwide Platforms with around 11,000 platforms in its fleet. HSS Hire Group also has a larger fleet of MEWPS at just over 9,000 units, but, again, is a generalist rental company.
Selley joined the access industry in 1996, specifically Nationwide Platforms, just prior to the flotation of its then parent company Rapid Access on the London Stock Exchange, which then became Lavendon Group. He was the group marketing manager in the UK, then became marketing manager in Germany, leading on to business development director. He left to join AFI in 2003, which was, at the time, a relatively small business.
Complementing his role as group business development director at the AFI group of companies, Selley become president of the International Powered Access Federation (IPAF) earlier this year, after former NES Rentals CEO Andy Studdert completed his two-year tenure in April.
AFI-Uplift has 21 locations, plus three further sites with Hampshire Plant and Access, which operates as a second entity, plus one site for Rapid Platforms that was acquired late last year. The division also includes Wilson Access, UTN training and AFI Resale. Separately, under the AFI group of companies, there is new and used equipment sales company AJ Access Platforms, an equipment sales business and Integrated Training Solutions.
Outside the UK, the company's Middle East business started up in 2008, originally outside of AFI, and has grown to 1,000 units operating in Abu Dhabi, Jeddah, Qatar and Bahrain.
Selley believes AFI's market share in the Middle East is about 10%. "We went in to the Middle East because we thought the market was good and we could start the business with a very good team. "We have got plans to expand but we have also got to balance risk against opportunity and manage cash flows and ensure we remain financially prudent."
Global trends
The access rental business in the Middle East is very different to the well-matured UK market. "You are talking significantly longer hire periods in the Middle East, compared to the UK," says Selley, "as the work is more project-driven. You have machines going out for an average of six to eight months, whereas in the UK you have got three- to four-week average hire periods.
"Our fleet mix in the UK is very much more biased to the small electric scissor side, in the Middle East it is very much more towards diesel and indeed the diesel boom side."
Returning to the UK, AFI's acquisition of self propelled boom specialist Kimberly from Lloyds Development Capital (LDC) brings the group's annual turnover to nearly £100m ($130m). AFI is backed by private equity investors Rutland Partners, which has a 51% stake. The rest is owned by management, includng Selley, which on the last refinancing rolled over more than £12 million, a sizeable investment and commitment.
Selley says, "As well as in the revenue side, Kimberly was very much a self propelled business, we have the possibility to cross sell our Wilson truck and track business, as well as our training business and sell equipment within the sales operations we have in the group."
Asked if there are any further buyouts on the horizon for AFI, Selley explains that one of the company's key objectives is to create value. "We will evaluate acquisitions on a case-by-case basis. Kimberly made sense for us, as a business we were able to fold five of its locations into AFI's and we were able to absorb it within our operational structure with a focus on reducing cost and duplication.
He adds, "When you look at the number of acquisitions the group has made over the years, it is into double figures. But they have to make strategic sense and you have to go back to first principles: does it add value; will it generate a positive cash flow; what is the potential risk? We are inquisitive but very prudent in our approach."
Relating the deal to US-based United Rentals' acquisition of NES Rental earlier this year, in which the rental giant extended its MEWP fleet to more than 120,000 units, the biggest in the world, Selley adds, "If you look back at NES, it had an EBITDA of $156 million. Through rationalisation and cost savings and bringing that up to $240 million over a period of I think two years, you can see how they can de-risk cost and make it more affordable to purchase. When we go back to the rationalisation of Kimberly's depot network, we applied the same logic but on a smaller scale."
AFI has a keen focus on its employees' working environment and, on the other hand, its customer service, both of which Selley sees as a vital part of the business. For example, it has Investors in People Gold Standard and Investors in People Health and Wellbeing, both prestigious UK standards and recruits a high number of apprentices, many of whom have reached high levels in the business. "People are of key importance. I think if you can get quality trained staff you can leverage and gain more."
Potential deals
There is no doubt AFI has created a successful integrated business model under which it is flourishing, but does it see a long-term future as a specialist access equipment rental company, or is it inevitable the big generalists will come knocking with substantial buyout offers?
"Cleary, the landscape indicates it is moving to generalists - I think it's an inevitability as the market matures.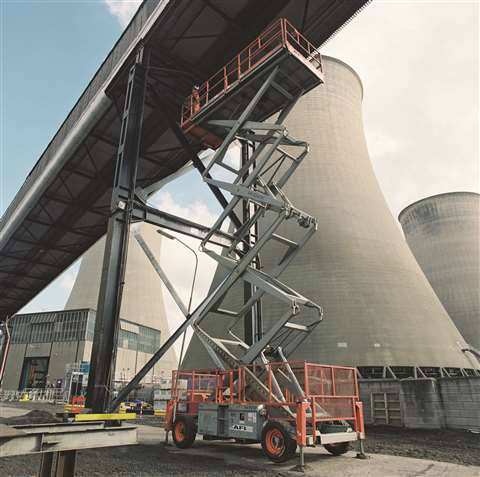 He adds, "There are only really three routes. There are trade sales, flotations or refinancing. I would say it is inevitable there will have to be an event at some point as we are private equity backed. However, we would always look to do what is in the interest of the business and in terms of the shareholders. Up to now, nothing has changed as we invest in the long term as that is the best way to create value."
Nevertheless, in the short term, AFI's goal is to continue to be a top level specialist. "There is still room for specialists but specialists have to know what differentiates them and that again comes down to financial management and investing in areas that are appropriate.
"A specialist can offer knowledge and experience, which AFI has promoted through its customer service initiatives and training investment to differentiate itself so that its staff are more qualified in that area than those at a company that runs a thousand product lines."
And, as a specialist, AFI has no plans to sit back and plans to maintain its acquisition drive in the future. What that might lead to exactly is yet unknown, or at least confidential. "You have to know where your key strengths are and not enter markets where you fundamentally are not going to be as competitive as the generalists. So, for instance, we have 21 AFI locations. That dwarfs into comparison with other more generalist businesses.
"Even in much younger markets like the Middle East and China, the opportunity for acquisition is always possible."
For example, Loxam's acquisition of Lavendon Group allows it to enter the Middle Eastern MEWP market though the latter's Rapid Access.
Would AFI group develop outside its UK and Middle Eastern markets? "I think it would be remiss to say no, if there are opportunities where we believe we can build a team and the market has the right characteristics and there is an opportunity to create value."
Likewise, Selley is upbeat about potential growth in the big access markets. "Would we consider investment into mature markets? If the right opportunity presented itself we would, likewise, the attraction of an emerging market means there is potentially more financial gain to be made by entering such a market at an earlier stage."
IPAF presidency
Nick Selley was officially inaugurated as president of IPAF in April, after joining the IPAF board in 2013.
In September, IPAF introduced a new annual rental audit regime in the UK. The new audit scheme requires all UK rental members to meet the minimum requirements of the now updated IPAF Rental+ audit, which includes a Safety Schemes in Procurement (SSIP) accreditation. All rental companies in the UK, be they new or existing, must undergo the annual audit.
"The key thing is raising standards," says Selley, "I think it is interesting, and an opportunity. Based on the experience of the Hire Association Europe, which moved to a similar model a couple of year ago, I think it will prove challenging in certain aspects."
Continuing on the new audit theme, he adds, "I believe that it is recognition that being an IPAF member means something. Otherwise, it's a case of paying your fee and you become a member. If we are truly committed to raising standards then our members have to demonstrate that."
Selley also believes it is vital the industry continues to improve itself overall. "We have to work to ensure the interests of the industry are maintained. In terms of working with other bodies like Build UK." Selley's links with the UK's Hire Association will also mean the two organisations will explore ways they can work together.
Of course, the UK is the biggest market for IPAF and, in turn, is the biggest adopter of the association's PAL Card. However, it has major ambitions globally, including outside Europe in North America and Asia, and has made significant footholds in the latter.
"One of the challenges of globalisation are dynamics, and characteristics of other markets may mean IPAF has to be flexible to some degree," says Selley.
"Ultimately, IPAF is there to promote safety and good practice, it is not there as a commercial vehicle to sell training. The two interests have to be balanced depending on where the market is."
IPAF has a large revenue stream linked to its card-based training accreditation, which, Selley explains, makes it different to other organisations.
"That revenue stream is a vehicle to promote safety, if it was not there it would not be able to provide the range of services it does and to develop new markets. But it is important to recognise the training scheme was set up to promote safe use and operator competency."
One of the key things IPAF is able to offer globally, is lobbying for safety in the industry. "When you look at the statistics in terms of safety, it indicates that platforms are safe and are becoming safer, which must mean that standards are improving, which can only be in the interest of the overall industry."
Selley has also called for the industry to attract more young people by creating apprenticeships and raising the profile of the career opportunities on offer. "Young people are the future of our industry. They are the leaders of tomorrow, and during my presidency I will be strongly promoting the need for our members to further develop their apprenticeship programmes.
"In my own company AFI, one in eight of our employees is an apprentice and we will be looking to continue this in the future. The hire industry creates very good opportunities, but IPAF needs to increase the industry's profile to encourage more young people to come on board."