Interview: An optimistic outlook for Metso Outotec
By Andy Brown22 October 2020
With Covid-19 continuing to impact the daily lives of most of us around the world, in terms of health, as well as socially and financially, it was unusual – in a nice way – to be able to start an interview with a question that wasn't about the pandemic. When I spoke to Pekka Vauramo, president and CEO at Metso Outotec, it was only a couple of days after the company had released its half-yearly financial results; the first time the company has released combined results with Metso and Outotec since the two companies officially merged.
The financial results were better than many industry commentators had expected, with the half year financial review for 2020 revealing that sales totalled €2.02 billion (US$2.38 billion) – €1.44 billion (US$1.70 billion) for Metso Minerals and €579 (US$684) million for Outotec. The demerger of Metso Corporation and combination of Metso's Minerals business and Outotec was completed on 30 June, 2020.
Cost saving measures
Talking about the results, Vauramo commented that, "It was surprise to the market that we did so well, it was a solid quarter from us. I think the main reason for that was that we were very fast in taking temporary cost saving measures. We basically put ourselves into cost saving mode within ten days in March. We were almost at a full rate of savings by the beginning of April, which means that we had the full impact of those saving actions during the second quarter."
He adds that through a number of these temporary cost cutting measures Metso saved around €20 million (US$23.9 million) in the second quarter and Outotec another 10 million (US$11.9 million).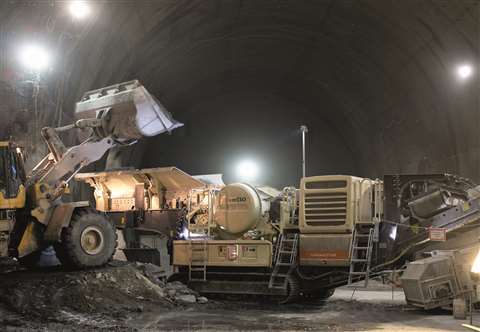 Of course, having the combined revenues of two companies, in both Metso and Outotec, also helps the bottom line, as does the fact that the combined company's product range is now so broad. Talking about the merger between the two, Vauramo says that talks have been taking place for many years, even back to before Outotec was a listed company, but that the latest rounds of talks began early 2019 and took around six months before the deal was concluded and subsequently publicly announced on 4 July, 2019.
With Outotec adding its metals and smelt refining activities and technical expertise to Metso's aggregates and crushing and screening product lines (among others) it is clear to see the synergy between the two Finnish companies.
With the impact of Covid-19 – unfortunately there's only so long we can go without mentioning it – Vauramo says that having a broader product range has helped, as some sectors have been more severely impacted than others.
"Clearly there's been differences and mostly what was affected was our aggregates equipment business. The demand for new equipment went down to almost zero in mid-March and that lasted for one month. The second half of April, it started to recover, and it has continued to recover throughout the second quarter. At the end of the quarter, end of June, we were on a 75% level of what we would record as normal for this time of the year. If we continue as it is currently, we are optimistic about next year.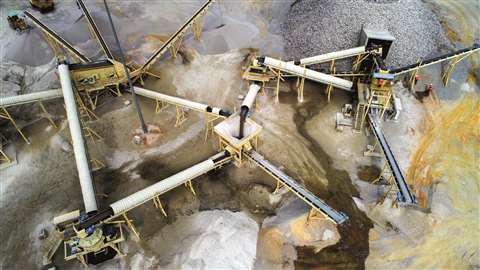 "Another area that was affected was, and this is more of the Outotec side, anything bigger in terms of capital equipment and packages and Greenfield mining projects, they have been put on hold by most customers. We really haven't seen these big orders that are measured in hundreds of millions. They have been absent now since the outbreak of Covid but, on the other hand, smaller mining equipment orders have continued at the same pace or even more active than before.
"Also, the metals refining and minerals processing on the Outotec side have an order backlog, so the impact on the minerals processing business has not been that visible yet."
Metso and Outotec integration
While Covid is impacting Metso Outotec's businesses to varying degrees, it has made the integration of the two companies, if not harder, then certainly different than normal. Due to social distancing regulations the meetings between those in the two companies have taken place via platforms such as Zoom and Microsoft Teams, rather than face to face.
"I have to admit that in early May, I was thinking, 'In this virtual world that we live, how do we really integrate?' But we had been working and preparing these plans in a virtual world since mid-March.
"We did build through that process the confidence that we can implement the plans by working virtually. Of course, it's tougher to do the team building and bonding and getting to know colleagues from the other company. It will come over time, but it does have positives and negatives and I'm really optimistic that we can do the integration well in a virtual world."
One of the focuses for Metso Outotec is sustainability – working to decrease the negative impact of their products on the environment. As Vauramo comments, "We are convinced that climate change will be the topic when Covid is over, and the day will come when Covid goes away from the headlines."
He adds that the principle of sustainability is guiding the company's Research and Development activities and calls electrification a "megatrend," that he believes will only become more and more common in the industry.
He adds, "We will see more fully electric machines and then the energy supply and production will have to be rethought. We think that it really doesn't make sense if we make a fully electric machine and then next to it there's a diesel generator set. The whole system needs to be thought through."
Of course, it is not just emissions standards which are increasing; noise and dusts standards are also getting tougher and will only continue to do so. The CEO and president says technology is being applied to these issues and many others such as materials processing, separating the non-value part faster (which saves time and energy), more energy-efficient crushing methods, and better water management, to list just a few.
Looking to the future from a financial perspective, Vauramo sounds cautiously optimistic. He points out that, as an industry, construction is better placed than many others. "We know that governments have already started to fund infrastructure and that will boost the industry. Funding construction is very efficient because it creates jobs immediately. It's not one where you need to invest billions, and then you create a few hundred jobs; construction is almost immediate when it starts. Infrastructure is an area where many governments have a lot of projects that have been approved and already pre planned."
As well as government spending on infrastructure and metal prices having recovered to pre-Covid levels, there are positive signs around for those who care to look. Talking about the merger between Metso and Outotec Vauramo says, "I look forward to being able to travel again and meet some customers and the personnel in our two companies that have come together. I would like to be present personally rather than virtually, but the day will come."