Interview: Locar on MEWP rentals in Brazil
Marco Ceriello, the commercial director of one of Brazil's largest MEWP rental companies, provides a deep dive into the market and its unique elements.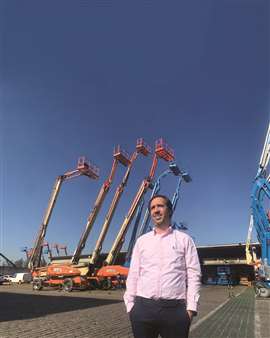 Locar Guindastes e Transportes Intermodais has made a significant step into the Brazilian aerial platform market over the last two years and established itself as one of the largest providers of MEWPs in the country.
From its background in crane and transport rental the company, based in Guarulho, São Paulo, saw the growth potential in the access market and has made major investments to bring its aerial platform fleet up to 2,350 units.
The company's commercial director Marco Ceriello, who joined Locar three years ago, has responsibly for the crane, transport and access divisions of the company and has been the driver of the access fleet expansion ever since.
"The company used to be much more focused on cranes, and that's what we started with, along with transport," explains Ceriello.
"When I arrived, we analysed the opportunity in the market. The [rental] prices were coming up again and the margins were very good – EBITDA for MEWPs was better than with cranes."
Locar has invested R$600 million (US$120.4 million) on fleet over that time and half of it has been concentrated on access equipment, doubling the aerial fleet.
"At that time, we saw the market increasing for civil construction, and industrial was coming up, and we were seeing good penetration for our platforms."
While the access market in Brazil has a long way to go before it becomes fully mature, there are now around 120 rental companies in the country with 50 or more MEWPs in their fleets.
Strong development
Ceriello describes the access market in Brazil as at the bottom of the maturity curve. For example, Chile, the most mature of the South American markets, has three times more platforms in relation to its human population than Brazil. "And compare that to the US, where they can use a platform to put up a Christmas tree at a house - Brazil is very far behind.
"In Brazil we use construction methods like scaffolding when we should be using a platform, or sometimes we use cranes instead of platforms, so we see potential for development and penetration of platforms in the market."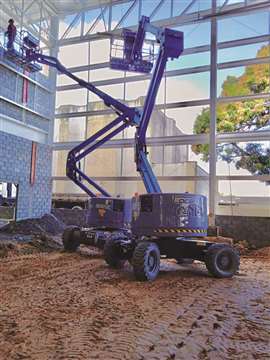 Despite the relative infancy of the market, the competition has risen considerably in recent years as large numbers of new rental players have launched onto the market.
The maturity of the access and associated rental business is is being aided by construction companies from other countries, such as Chile, which are increasingly working in Brazil and bringing in the use of MEWPs as standard practice on their sites.
"We are able to map at least 120 companies, but it there are many more than that with 10-15 units in their fleets."
Between 2008-2014 there were around 27,000 units in Brazil, then between 2015-2021 that dropped to just 9,000 units due to the wider economic pressures in the country, says Ceriello.
That has now risen to 36,000 units, as the country returned to economic health alongside the growing recognition of access equipment. Ceriello forecasts there will be 41,000 units in the country by the end of this year. 85%-90% of those MEWPs are owned by rental companies.
"It is not that many compared to the number of inhabitants in Brazil, but it is a lot in such a small space of time, so the rental prices have gone down. So, it will take six months to one year before we see an increase in prices again."
Stable market
With a new, more stable government in place there is the promise of major investment in infrastructure in the country, combined with interest rates that are dropping to less than 10%.
"The Selic rate (interest rate) and exchange rate is very high, so some projects have been put off until 2024 but the expectations are good and we understand that investment is coming back to Brazil."
Ceriello adds, "We are investing in offshore and the green energy market is seeing a lot of investment so we see good projections after this year.
"And, I think we should in the medium to long term be at least close to Chile in terms of number of platforms per inhabitants."
One of the issues that will remain, is the capacity for rental companies to invest in new equipment, partly due to the Selic and exchange rates.
"Our money is not strong and the interest is very high. A lot of companies can't invest because the banks won't give them any more credit. But with the new suppliers from China there is a balance between price and ways of making payment."
The average age of a MEWP in Brazil is eight to nine years, which means, says Ceriello, the cost of maintenance is also very high. As Ceriello reiterates, the average age is reducing due to the arrival of Chinese suppliers. "A lot of people are now able to invest."
Rates and Utilisation
Looking across Brazil, Ceriello calculates that scissors make up 51% of the country's total fleet, with articulated boom lifts taking a significant second place, followed by big booms and then a variety of other types.
Beyond that there is no obvious move to more specialist equipment like spiders or low level access, at present, accept in some niche applications. "In the offshore market and the wind industry, we see some direction to towards [niche] equipment but in general no.
"It is not a mature market so we still have competition with scaffolding. And beyond that it is scissors and articulated booms."
Having said that, Locar is different and has a lower percentage of scissors, around 30%, in its fleet than the average. That is because the company concentrates in the civil construction sector that complements cranes, which is its other major concern and original area of business. "There are a lot of warehouses in construction and at the beginning of the work we always use articulating booms - this is the main segment we work in."
The company's largest boom lift is a 45m working height unit.
Younger fleet
Locar's average fleet age is less than five years, as the fleet has doubled in the last two years following investment in new equipment from Zoomlion and Genie. Two years ago Locar's average age was nine years for each unit.
"I believe the Chinese manufactures will dominate the Brazilin market," adds Ceriello. "They now have quality, they have a very competitive pricing and they offer credit."
Looking at wider rental, the aerial platform sector is very different to the areas that the company has traditionally concentrated on, namely cranes, explains Ceriello. "With platforms you have to be very close to your customers.
"The crane business is different. I can take a crane and work in Uruguay, Argentina or Chile, but with platforms you need to be close to the business. It's very fast, so you need to have a mechanic in two or three hours, or one day maximum.
"They come with a different mindset and it is helping us to increase our share of the market. These companies only ask for platforms and won't use scaffolding or other types of working at height."
This can be a challenge in a big country like Brazil. For this reason Locar concentrates its efforts in the central southeast and northeast areas, across 10 depots, including the major cities of Sao Paulo and Rio de Janeiro, and has no intention of spreading out.
Organic ambitions
Locar believes it is between the second and fourth largest MEWP rental company in Brazil, based on fleet size. As Ceriello points out there are only around 500 units separating second to fourth positions, following Mills, in first position, which Ceriello believes has around 30% of the country's total fleet size.
"Our strategy is not to spread a lot in Brazil in the next three years; it is to consolidate in where we are, with more smaller branches in the same area to bring us even closer to our customers, where we are more competitive."
Would the company consider acquisitions in the future, as we have seen Mills do in recent years? The answer again is based around its previously described strategy.
"If we see a good opportunity to buy or merge then we will but we are focused on growing organically."
Brazil fleet mix
Rental rates are on the up. As Ceriello explains, there were around four years where the market consistently decreased. "Over the last three years, the Brazilion market could start to be compared to the US, with a 2.8% – 3.3% rental rate, up to a maximum of four, compared to the 5% in the US."
On utilisation, Ceriello adds, "We don't have a measure of the whole market but when we talk with competitors everybody says it is at about 60%.
"Last year was higher at 70%. This is due to the increasing competition. In one area we had five to six competitors in the past, now we have 15 with around 50 platforms each."