Interview: Boels UK
By Joe Malone21 June 2018
Entering into new markets is something that requires more than just a thick chequebook, it requires careful planning to ensure the synergy is strong. Get that right, and you are golden. Get it wrong, however, and the consequences could be fatal.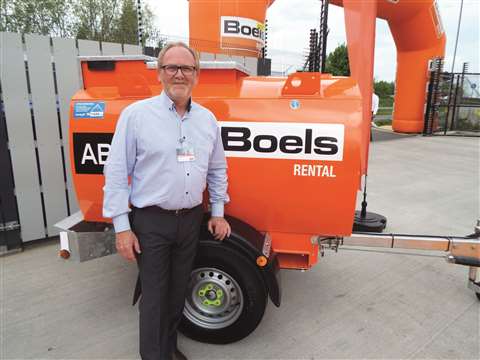 For Boels Rental, the early signs of its entrance into the UK rental market – through the acquisition of Supply UK in April 2017 – are good. Bought for an undisclosed fee, Supply UK was a nationwide tool hire business with a turnover of around £15 million (€17.16 million), operating 25 branches, including five specialist survey and laser rental locations. A very humble start to life in the UK for Boels Rental, you might say.
However, the company had other ideas on its mind. Indeed, the traditions and values have, and will continue to, remain the same, but the company – now known as Boels UK – is becoming a different animal. This was the statement made on the opening of its new 10,000m2 depot in Liverpool, in the north west of the UK, as the company's UK managing director Chris Haycocks outlined its plans for the coming years.
"The ultimate goal is to reach 50 depots as fast as possible, and we're currently at 29", said Haycocks. Boels UK has since acquired Already Hire which has added to its offerings, and further acquisitions will come. "Acquisitions will be the strategy for our growth here in the UK, so it's a very exciting time to be at the company.
"What Boels gives us is a chance to become a strong general rental company, moving away from our core business which has been tool hire. The UK market, though it's the biggest and most competitive market, has become very specialist and it's hard to establish yourself as a generalist. Boels gives us so many more options – our goal now is to become specialists in availability."
Fresh look
The new depot in Liverpool replaces a "run-down" location in a different part of the city and has been kitted out with a range of new equipment including on-site power, earthmoving machines and access equipment.
All of its branches will be rebranded over time, with another location in the north west recently being painted in Boels' distinctive orange colours. Haycocks confirmed that its London, Cardiff and Durham branches were next to be rebranded, with relocations – similar to the one in Liverpool – to occur in Stoke, Leeds, Hereford and Shrewsbury. Not all areas of the country will see relocations, though.
The company's stock is rising in the UK, at a fast pace. Haycocks said that when Boels bought Supply UK last year, its revenues were around £15 million (€17.16 million), and confirmed it was expecting to see that figure rise to some £35 million (€40 million) in 2018.
The company's specialist survey and laser division is also growing, and Haycocks said the plan was for it to become a £20 million (€22.88 million) business in the next three years. He said, "We've currently got 10 locations for this division, and we've got a new one in West Bromwich opening soon."
New suitors
Supply UK had been 20-years-old when acquired by Boels, and Haycocks said it was a strong, reliable company that had grown handsomely over the years. However, once it became a 20-depot company, he said it became difficult to grow. Therefore, it was looking for potential suitors. For Boels, Haycocks said its CEO, Pierre Boels, had had the opportunity to enter the UK "several times before" with other possible acquisitions on offer, but the synergy wouldn't have aligned.
Haycocks added, "The problem was, once we'd reached a certain level, we became a very reactionary company, which wasn't ideal. In April 2016 we began looking for opportunities for buyers, including looking into the private equity market. The problem with that market, we felt, was that it would be financially clever, but wouldn't give us any stability in terms of the running of the company.
"We decided that selling to a national company could happen for us, but we were more intrigued by the idea of a European company coming in to the market. The call then came from Boels that August and we immediately got a good feeling about it. I then met with Pierre in the UK and, quite frankly, the rest is history. I also knew that, once our guys went to Holland to see Boels Rental, they were convinced too."
Haycocks said that the new depot in Liverpool was all down to Pierre Boels' knowledge and astute business acumen. He added that its locations in Holland were like nothing he'd ever seen before in the UK, with the service and quality operating on another level. For example, stock levels were said to be unprecedented in Holland.
Another important factor for Haycocks was Boels' understanding of its customers, despite the vast size of the company.
With the 50-depot goal now in full swing, Boels UK will be scanning the market for potential acquisitions. Its latest, general rental company Already Hire, was made in April this year, boosting its presence in London with four locations, leaving 21 left to make target.
To double the amount of locations from its original 25 to 50 will be no mean feat, but the company is already expecting to more-than double its annual revenues for 2018, and the power of the well-established Boels Rental brand will serve as a strong selling point for the company.
Expect more acquisitions to occur in the next few years. But the question is, how big can Boels Rental become in the UK market? Watch this space.