Interview: Jahangir Doongaji, Hilti
By Andy Brown09 April 2021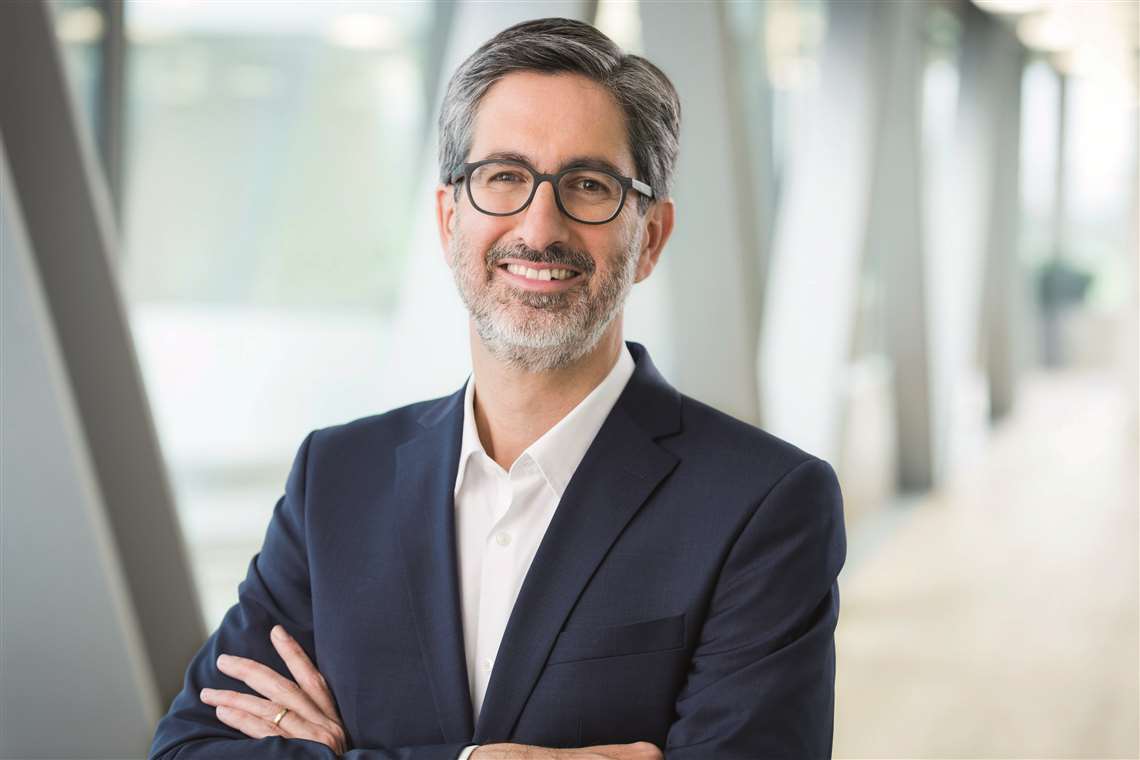 Hilti has a number of products related to the technological revolution that is seeping into the construction industry, such as exoskeletons and a BIM-enabled construction site robot.
Last year the Liechtenstein-headquartered company acquired the assets of Concrete Sensors – a provider of connected devices, software, and services that help enable improve decisions and accelerated construction schedules through a better understanding of the concrete curing proces.
International Construction spoke with Jahangir Doongaji, member of the executive board at Hilti Group, about the company's future plans, what is holding back the increased adoption of new technology and how the company's products can help workers arouund the world.
Andy Brown: Hilti has released a number of products that are in the sphere of 'new technology' for construction. Can you explain Hilti's approach?
Jahangir Doongaji: Productivity is one of the most important concerns in our industry. We have therefore continuously increased our investments in the area of innovation while we have broadened our portfolio from being merely a tool and anchor provider to being a provider of holistic solutions tailored to specific problems that our customers want us to solve – be it problems with hardware, software or various service elements. Our portfolio allows us to market more than 60 innovations each year. In recent years, our focus has been on digital solutions.
Having regular exchanges with universities is something we have identified as an important aspect when it comes to research and new technology. In today's world, research takes place in networks and not in an ivory tower. The scope of technology is far too vast and the fields too complex for us to think we can cover everything by ourselves. This exchange gives us access to international research cooperation and programs. For a company the size of Hilti, it's only natural that we would look externally to generate or maintain a leading innovative edge.
The construction industry is more accepting of new technology than ever before, but where on the journey do you think the industry is?
The construction industry is increasingly in need of improved productivity. This is particularly true if one considers the background of low average margins, an aging workforce and a shortage of skilled workers. Additionally, sustainability plays an increasingly important role and puts pressure on the industry to adopt new technology much faster than in the past.
We see the digitalisation of the construction industry as a great opportunity to drive productivity. It is accelerating throughout construction, from architecture and engineering to construction and facility management. It is based both on a broader adoption of BIM and supporting software solutions, as well as on smart, digitally-enabled hardware that closes the loop.
There are varying stages of technology adoption depending on geography, regulatory environments and on company and supply chain readiness. But the industry is definitely on the move and this is where our business model, of direct customer contact, provides big advantages when it comes to innovation. For example, we can demonstrate to our customers, directly on the construction site, how our differentiated solutions solve their problems.
What is holding back the adoption of new technology?
In our industry, low margins don't leave much freedom for R&D, which results in very targeted investment in this area. Furthermore, the construction industry is highly fragmented. Realising construction projects, especially lager ones, involves a complex supply chain that needs to be directed and coordinated. So dedicating time to R&D and innovation is a challenge, especially for small-to-mid-sized companies.
In order to fully adopt new digital technologies and to harvest the full potential offered, different factors have to be considered and changed. Collaboration frameworks, like integrated project delivery, are required to incentivize proactive collaboration, to ensure quality, on-time delivery of projects and to see that established budgets are not exceeded.
Furthermore, operational planning processes need to be redefined and included in the very early stages of planning across all trades, with a strong emphasis on data consistency. Finally, the planning and execution of site preparation and site logistics are key enablers for successfully leveraging the productivity potential.
Talking about the BIM-enabled construction site robot – what jobs do you see this doing?
Let me answer this question by providing a brief idea of our motivation for launching the Jaibot. We increasingly help customers to digitally plan a project via BIM. Using our Hilti Total Stations, the foreman can then bring the digital model to life on the site. The last step of this value chain, the actual execution of the work on the construction site, has been performed manually until now.
With the Jaibot, we have now launched the first product that closes this gap and enables end-to-end digitalisation. This extends from digital planning, which ensures less rework, to automatic, precise, plannable execution of the work steps, to feedback on the completed work in the digital model. This means that we identify, and take advantage of, the potential for efficiency at many points along the value chain.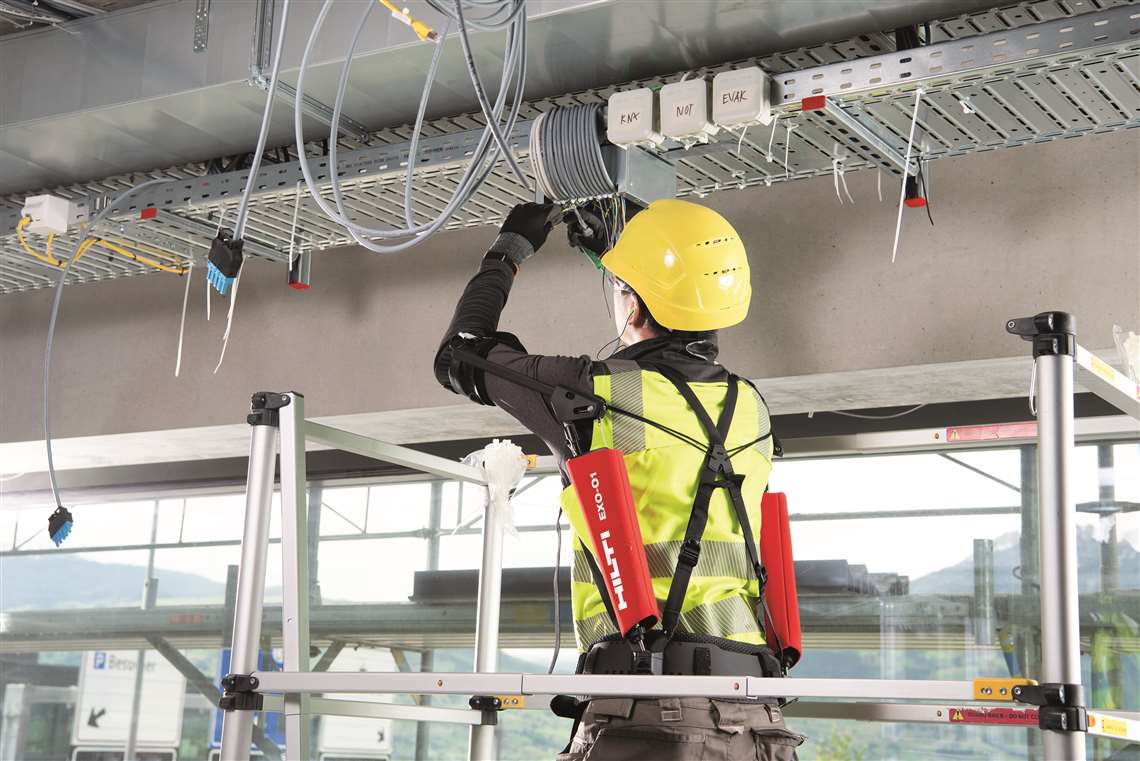 Jaibot is suitable for serial ceiling drilling applications on all large construction sites. It is a global product, because these types of construction sites and projects exist all over the world.
Another very important aspect, which is also most welcome on today's jobsites, is the reduction of physical stress for the worker. Jaibot performs overhead drilling work, which is one of the most strenuous tasks on the construction site and also ranks high among the situations most likely to cause accidents.
What is the latest regarding the exoskeleton?
In autumn, the Exoskeleton EXO-O1 was commercially introduced in Sweden, the first launch market. Our sales force has started to present the new human augmentation solution to customers in several European countries. It was introduced in these markets as of January 2021, to be followed by the North American and additional regions.
The feedback from our customers so far has been overwhelmingly positive. We see a clear pull from the markets. It shows us that the need for solutions that focus on the health and safety of the workers is increasingly important on jobsites, especially when we consider the growing issue of skilled labor shortage.