Interview: Kubota
By Joe Sargent11 October 2019
When it comes to the uptake of digital technologies, the construction industry has some catching up to do when compared with other sectors.
So says David Hart, Managing Director and Vice President of Business Transformation at Kubota UK. He has been with the equipment and engine manufacturer for just over a year, having previously worked at John Deere for 28 years – the last seven of which he spent as the company's Regional Leader for Strategic and Key Account Management, covering Europe, the Near Middle East, North Africa and CIS.
Hart suggests that, until recently, customers have not demanded advanced technology such as telematics because there has not been the economic pressure to justify it.
However, this is changing as global economic headwinds pick up, prompting people to look at equipment that is sitting unused on construction sites and ask how more could be achieved with fewer assets.
"I think if we go through a tough period economically, that's when you'll start to see that the telematics side of the business needs to actually advance quite quickly because they'll need to make sure that they're getting the most out of that asset," says Hart.
Technology shift
Already, a lot of rental companies are shifting to the use of Apps linked to machines and other such technologies.
"So we're looking at the telematics side of that," says Hart, "And the benefit is not so much for the rental company as for the customer doing the renting. If they have a number of machines on rent, then what we and our dealer network should be doing is supplying useful information about the utilisation of those machines."
Kubota is moving away from simply providing raw telematics data for customers to process themselves, and is instead beginning to interpret that data and offer them actionable advice.
"This is because they're not specialists in machinery; they're specialists in rental or construction. So, to give them the solution is probably the best way to utilise technology, rather than just giving them a load of data and telling them to go and decipher it and work out how to better utilise their fleet."
Aftermarket services were also singled out by Hart as an increasingly important part of Kubota's offering.
Hart says that when it comes to agricultural equipment, aftermarket services are the engine of dealerships. The construction equipment industry is not at the same level – yet.
"I think the construction business is still built very much on the whole good being sold at the front end, and then it's a necessary evil to do the service and parts. But I think, in the future, if we're to be successful and grow our market share, we need to lead in the aftermarket segment," says Hart.
In this way, Hart hopes to grow Kubota's UK market share in the up-to-8-tonne excavator sector from 30 to 40%. That size class is pure rental territory, of course, so that implies a remarkable market share in the UK and Ireland's plant hire market.
However, digital innovation and services are secondary to machine reliability.
"When we've got a hire industry within the UK that perhaps takes up to 70% of our types of product, innovation is one piece of the puzzle, but actually the uptime piece is of more interest to them because they're renting machines to customers and every time a machine breaks down that actually costs the rental company money," says Hart.
Kubota serves rental companies across the spectrum, from the very large to the very small, so it is not just a matter of securing national deals but also smaller deals on a local level. Clearly, it is imperative for Kubota to take into account what rental companies are looking for when considering its proposition to customers.
Machine reliability
Machine reliability affects residual values, which are particularly important for rental companies in such competitive markets as the UK, where there is strong downward pressure on rental rates.
"The reason that the rental market in the UK is as strong as it is, is because the residual value is where a lot of these businesses make their final margin, by selling it when they get it back after it's been on rental," says Hart.
He adds, "Residual value is nearly more important than the initial purchase price, because that gives you the cost of ownership. If you have a reasonable or fair initial purchase price and you have a good residual value, actually the cost of ownership is unbeatable."
One way of maintaining good residual value, argues Hart, is to invest in reputable brands because people will have more confidence in the quality of the equipment.
"If, after three or four years, the machine doesn't need a full overhaul, then you know the residual value is going to be far greater," says Hart. "Reliability is the key in all of this. And I think Kubota has got a very good track record of having reliable machines and reliable engines."
As with any other company operating in the UK, Kubota is having to navigate the murky waters of Brexit.
"We don't know what we don't know. That's the situation we find ourselves in," says Hart.
Brexit uncertainty
Like every other UK business, Kubota finds itself second-guessing what the economy is going to do. Will the UK construction market continue to struggle as the residential market slows, or might there be a sudden upturn as pent-up demand finds expression after Brexit? Kubota does not want to reduce its inventory only to find that it cannot then take advantage of such an upturn.
"It's very unsettling, but to the point where we can't worry about it anymore," says Hart. "We just have to continue. We've got a workforce that we need to employ, we've got dealers that rely on us, and we've just got to continue the best way we can."
Although it's costing multiple millions of pounds to prepare for the possibility of a no-deal Brexit, the company has little choice but to forge ahead.
Tackling emissions
Earlier this year, at Bauma, Munich, Kubota revealed its KX019-4 LPG mini excavator prototype. The machine is powered by a next generation Kubota Spark Ignition series engine and can run on LPG (liquid petrol gas), writes Thomas Allen.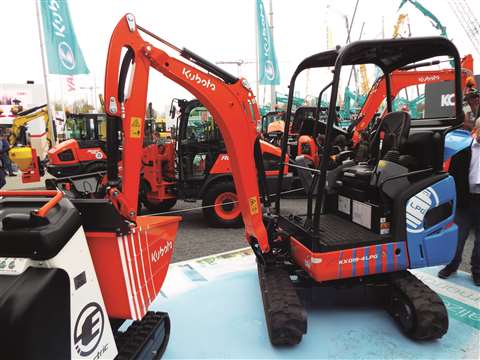 Hart says, "It's not an electric excavator and, actually, I'm not sure that the whole industry is ready for electrification at this stage."
In an effort to find a unique value proposition for rental, Hart says, "We've talked to some rental companies, and it gives them the opportunity to put it in enclosed spaces."
The KX019-4 LPG is also good for jobsites with emissions restrictions, such as the growing number of low-emission zones in cities, as well as in noise-sensitive areas due to the machine's lower noise output.
The excavator uses standard industrial gas bottles that are widely available and is equipped with a reserve tank so that the operator will notice before the gas bottle becomes empty.
With a digging depth of more than 2.5m, the KX019-4 LPG performs just as well as its diesel counterpart, the KX019. And with its variable undercarriage, it can enter through doorways less than a metre wide.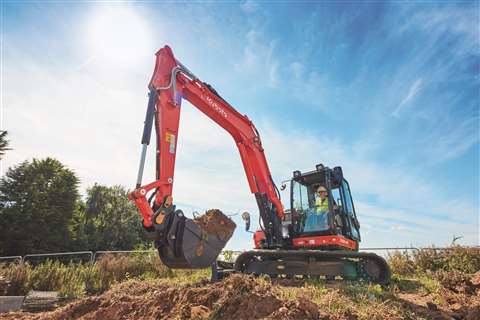 More recently, Kubota has launched its new KX080-4A2 midi excavator, which was said to be capable of the same performance as previous models but includes Kubota's V3307 direct injection engine, which is now Stage V compliant.
The new model has a reduced engine RPM requirement to run its diesel particulate filter (DPF) re-generation, giving lower noise levels, as well as increased DPF re-generation intervals and longer DPF replacement life. This has the effect of lowering maintenance costs – as well as reducing the machine's impact on the environment.
With its new two-pump load-sensing hydraulic system, the excavator offers smoother operations when using front attachments. The hydraulic oil flows according to the specific range of the operator's lever motion.
Maintenance is made simpler by the fact that key components – such as the battery, fluid tanks and filters – can be access more easily, and safety is enhanced by a range of standard safety features. These include an auto-stop function on the tank's electric refuelling pump, an anti-drop valve on the boom and arm cylinder, advanced visibility mirrors, and a seat belt indicator.
The machine is protected by Kubota's anti-theft system, which only allows programmed keys to start up the engine.
Reaching out
In response to changing customer demands, such as the rising awareness of environmental sustainability, Kubota recognises the need to deliver new forms of value such as 'system solutions' using ICT, AI (artificial intelligence) and other advanced technologies.
Until now, the company has focused on in-house product development, done through specialised development departments for each of its product lines, as well as an in-house research and development department.
However, given the increasingly rapid rate at which these technologies are evolving, Kubota has determined that it is necessary to pursue partnerships with external partners, such as venture businesses, companies in other industries and universities, in order to keep pace with changes.
To this end, Kubota has announced that it will establish Innovation Centres in Japan and Europe, dedicated to accelerating the creation of new business ventures, products and services.
The company will also consider setting up similar centres in other regions in the future.