Interview: Norty Turner and Bal Guerrero
By Lindsey Anderson23 March 2021
"I hope no one takes this the wrong way," I say to Norty Turner during a video interview in early February, "but of anyone, you probably have the best perspective on how IPAF is perceived in North America compared to Europe and other parts of the world."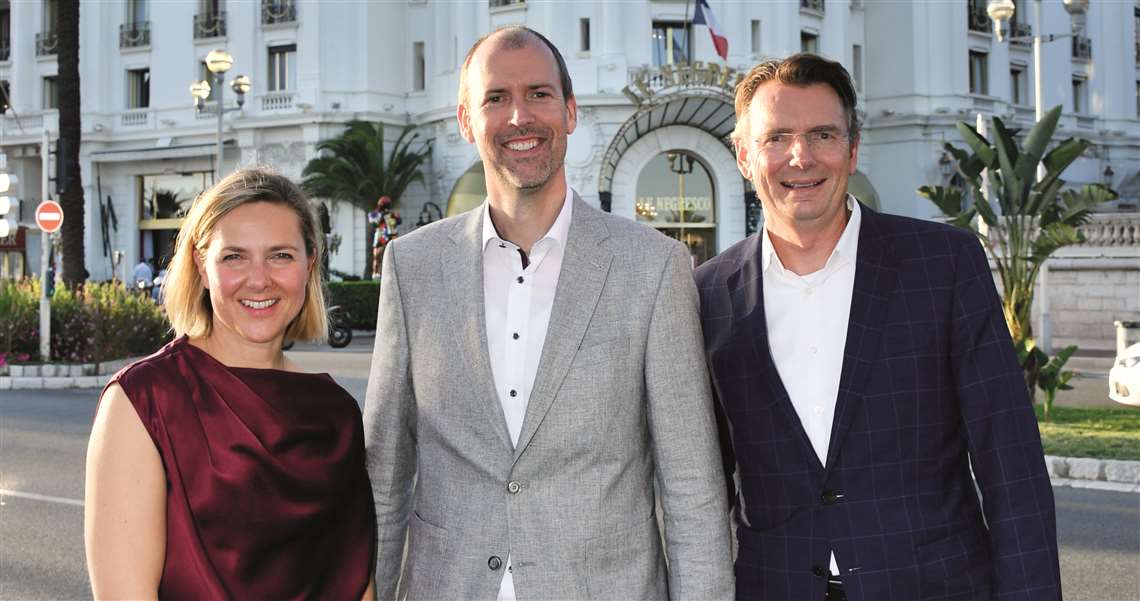 After all, Turner spent more than six years as CEO of Riwal, The Netherlands-based rental company, before jumping the pond to join United Rentals as its senior vice president of services and advanced solutions in 2018. Prior to his Riwal role, Turner also held a number of positions with Herc Rentals (formerly Hertz Equipment Rental,) including vice president of EMEA where he focused on improving operations in France, Spain and other countries.
With his global business acumen, Turner has experienced first-hand how the International Powered Access Federation (IPAF) is accepted around the world, and now, where it stands in the North American market.
Turner, who was appointed president of IPAF in late 2019, succeeded Brad Boehler who stepped down after leaving his role with Skyjack.
Going back to my statement, Turner chuckles – and then discusses IPAF's global acceptance.
"Obviously, IPAF started out in the UK and then it spread beyond those shores and onto the main continent. Beyond there, it moved into Asia, Brazil – and all of South America – the Middle East and North America."
But acceptance of IPAF here has been – and this is stated gently – a long, uphill journey.
"I think what needs to happen and what is happening more, actually, is awareness at the user level and customer level of what IPAF represents," Turner explains. "IPAF can help its members in many ways in North America, and the future can be very, very bright, but we have to get to that end-user awareness."
Rental experience
While Turner's presidency is one that offers a unique and savvy vantage point, IPAF's newly appointed North American Regional Council chair also brings a wealth of experience to the table.
Bal Guerrero, director of United Rentals' United Academy, was named IPAF's North American Regional Council (NARC) chair following Ebbe Christensen's two-year tenure. Guerrero's background is safety- and rental-rich; he previously worked as BlueLine Rental's director of environment health and safety and held positions with Aggreko, Schlumberger and MODEC, to name a few.
As the director of United Academy, Guerrero knows the ins and outs of all things training – from the latest technological developments to safety strategies. Put the pieces together and the puzzle becomes clear: Turner and Guerrero are well-poised to drive IPAF's North American presence.
"The biggest challenge for the North American market [in regard to IPAF acceptance] is how to expand the knowledge of what IPAF is and does," Guerrero explains. "Among industry leaders – manufacturers, rental companies and associations – we can leverage more of our footprint and use our interactions with customers to teach them about IPAF."
For instance, last year, United Academy trained 60,000 people in North America. If, at the beginning of those training sessions, a brief introduction to IPAF was made, there could be massive potential to educate people on what IPAF is and what it can do. Afterall, United is the largest equipment rental company in the world, and with Guerrero's position, IPAF's message could be heard by hundreds of thousands.
But reaching new audiences isn't IPAF's only goal for North America, and in a broader scope, the Federation's future is full of cutting-edge technology and training advancements.
Technology updates
It's traditional for an incoming IPAF president to set out key objectives for their term in office, and Turner has stacks of them. He is keen on sustainability – from machine electrification to a reduction in paper use. He has witnessed firsthand the success of webinars that became prominent in the wake of Covid-19. He envisions a future of wearable devices that can aid safety. He wants IPAF to collaborate with more industry associations. He believes we'll see an increase of AR/VR simulator training. And, most recently, he assisted in launching IPAF's new app – ePAL.
"There's this magical, powerful computer in everyone's pocket," Turner explains. "So much of people's lives are managed on their [mobile devices.] And IPAF is very cognizant of that. You don't even technically need a credit card to buy things now, you can use your phone. So, do you really need a plastic [PAL] card? Instead, you could have it digitally, which makes it much more useful because all of the training records will be accessible right there in the app."
Setting the standard
Guerrero believes opportunities for IPAF will become more apparent for North American rental companies and end users as the new suite of ANSI standards begin to affect machine use and businesses.
"[IPAF] will help on the journey of people accepting the standards," he says. "We are going to make sure to give you the best chance to be safe."
He also says expanding IPAF's webinar offerings has the potential to grow the Federation's footprint – "We want to provide tools that are embraced by people." – and he also will use his position at United to spread the IPAF message.
"We have training materials, right? Why shouldn't we include a page within the materials that explains what IPAF is and what we do?" Guerrero questions. "We just need to continue to find ways to get the word out."
With Turner and Guerrero being able to leverage their positions at United Rentals in order to help increase IPAF's North American presence, the Federation could very well see an increase in not only members, but North American safety practices and training.n