Interview: Simon Meester, Genie
Simon Meester, the new chief operating officer of Terex Aerials, explains to Thomas Allen how the company's presence in China has not only helped it manage through the Covid-19 pandemic but also promises to drive growth in the longer-term for the US-based company.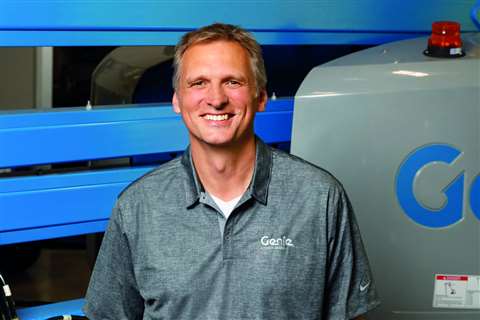 Thanks to its global footprint, Genie had a bit of a head start in North America and Europe with preparations for the Covid-19 pandemic as it emerged. "It actually started for us as early as late January or early February because we have a very sizeable footprint in China," says Simon Meester, the company's Chief Operating Officer. "So we've been living this for seven months."
Meester, vice president (VP), global sales and marketing administration for Terex AWP, was recently promoted to chief operating officer (COO), Terex Aerials, following the departure of former Terex AWP president Matt Fearon at the start of August. Fearon was replaced by John Garrison, Jr, Chairman and CEO of Terex Corp.
Meester joined Terex in 2018 from Eaton Corporation, where he was VP and general manager of the Industrial Control Division. Earlier, he spent 14 years in progressively senior roles at Caterpillar, before becoming president, Sandvik Mining and Construction in India.
Genie's manufacturing facility in China was shut down for a couple of weeks at the peak of the pandemic in the country. "The silver lining for us as a business was that the way that the China team handled it and everything that they implemented from a process standpoint and a mitigation standpoint, we were able to leverage that across the globe," says Meester.
Vital experience
So the company was better prepared by the time the virus reached Europe and the US. Genie was able to quickly put all its locations in full social distancing mode, as Messter puts it, "The moment anyone comes close to our facilities, we have a whole host of actions that we have deployed, and a lot of that is what we learned from what the China team implemented back in early February."
When Genie's North American and European production restarted in late April – after most factories had been temporarily shut down – signs were put in place, temperature checks were taken whenever anyone entered a facility, and masks were worn everywhere. "Today we're back up and running pretty much everywhere," says Meester. "There are still some exceptions where we occasionally need to slow down. But the good news is that we are currently producing very much in line with demand."
Even with a head start on preparations, the severe impact of the pandemic on revenues could not be avoided. Genie's financial results for the second quarter of 2020 showed a loss of $3.2 million on net sales of $690.5 million, compared to an income of $81.6 million in the same period of 2019.
Gradual recovery
The company said global economic activity has gradually been recovering but remains below pre-Covid-19 levels, and so it has been aligning its production plans with the lower customer demand. "The first thing that rental companies have done is tighten their capex plans, and their capex plans means our revenue plans," says Meester.
Although things have apparently started to recover, he adds, "If you pull up the news today, you see that Benelux is going back into lockdown, the UK is still very much in lockdown, the south of Europe is all over the place, Germany is now looking at things, the US is going through multiple waves.
"It's not any time soon that we'll be back at 2019 levels. We think that's going to take a little bit of time – but luckily the signs that things are slowly recovering have started."
So Meester sees a gradual, slow improvement ahead, with aerial markets eventually reaching and even exceeding previous highs.
Has Genie adapted its strategy in response to the pandemic, perhaps by putting more focus on smaller, independent rental companies? "It's a global phenomenon, it impacts large customers and small customers," says Meester. "We've not made any strategic change to focus on one group of customers more than the other."
He adds, "We're just trying to be there with customers. We provide a lot of training and we try to help our customers navigate through this."
While demand remains subdued in North America and Europe, it has returned in China. "China actually came out pretty strong," says Meester. "So whereas the rest of the world is still a little compressed, China actually recovered and has shown year-over-year growth. So the Chinese economy rebounded pretty quickly."
He describes China as a "bright spot", saying its recovery has been V-shaped, whereas the rest of the world is following all sorts of other shapes. Genie has been in China for 20 years, and in greater Asia for 30 years; "We've been there right from the beginning and China is a very important market for us," says Meester.
Third phase
The company has been investing heavily in its Changzhou facility in recent years and is about to complete a third phase of expansion that includes a 9,300m2 extension of the 33,500m2 factory. Work started on the original site in 2008 and it was extended further in 2011 and again in 2015.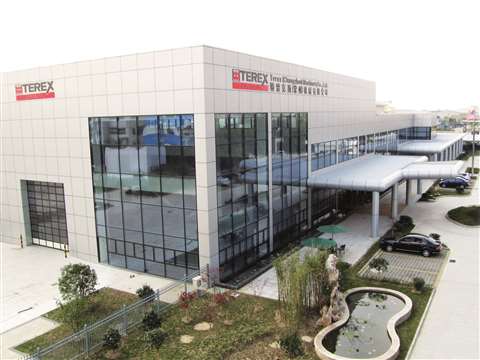 "It's an important market," says Meester, "and we think that the industry and the market will continue to grow for quite some time. So I very much think this is a very integral part of our strategy, our future and our footprint."
What about the impact of the trade war between China and the US? "I would say we are relatively indifferent to the trade war because we do have a global footprint," says Meester. "We have facilities in North America, we have facilities in Europe, and in Asia. So we have a global flexibility."
While the big aerial markets are still North America and Europe, Meester says, "I would say in 3-5 years China will be the size of the European aerial market." He adds, "I would say China is very rapidly growing and they're way beyond being an emerging aerial market."
Speaking about the broader Asia region, Meester says it is particularly diverse in terms of emerging, developing and mature markets, adding, "I see Asia as another growth engine for the future aerial market, and that's why we started investing as early as 30 years ago."
Former president
Matt Fearon, the former president of Terex AWP, stepped down from his role at the start of August, 2020, and was replaced by John Garrison, Jr., chairman and CEO of Terex Corp. Meester became COO of Terex Aerials.
"Matt has been a very important part of Genie's journey" says Meester. "He's been with us for more than 25 years. We're going to miss him dearly. He's been a critical part of everything we've established and the brand we've built and the customers we've served over 25 years."
Fearon has been planning his departure for a while, according to Meester. "Matt decided to move on, and as a consequence we made some changes to our leadership team."
He adds, "It's obvious that Genie is now two thirds of Terex and so we felt, and the board felt, it was a very obvious choice for John to spend time focusing on Genie just as much as he's focusing on Terex as a whole. So that's going to be our structure for the foreseeable future."
Electric/hybrid
Meester recognises that electrification is becoming a big part of the industrial world, and it is for this reason that Genie has already introduced electric equipment such as scissors and booms. But it is a mixed bag and for this reason the company is focused on offering its customers a range of options to choose from.
"There are going to be jobs and applications out there where electric drive makes sense," says Meester, "and we feel that there are going to be jobs and applications where maybe a hybrid solution makes more sense, and there will be times when conventional fossil fuel power trains make more sense."
This is reflected in the company's boom strategy; "With the J, XE and FE series, we're trying to offer our customers flexibility so that they can pick from a host of solutions and tailor it to the applications that they want to serve. And so it gives our customers a lot more flexibility to size the fleet much more granularly and go for return on invested capital much more granularly by offering them these different options". He adds, "The J Series is about offering customers flexibility. So we have an S-60 J that has been launched, which is a 60ft stick boom. And then we're going to come out with an S-80 J in Q4 this year."