Interview: SmartEquip
By Thomas Allen23 January 2020
Back in the year 2000, when Amazon was no more than an online book shop, Alexander Schuessler decided to push e-commerce to a sector that is known to be a slow adopter of new technology: the construction equipment industry.
Schuessler had previously co-founded Caterpillar Rental Services – later renamed Script International – which took Caterpillar into the South American rental market in the 1990s. During his six years with the rental company, Schuessler realised there was a problem with product support.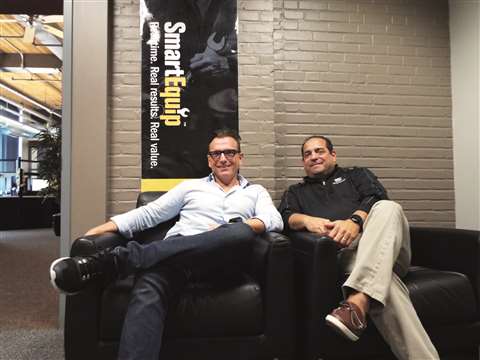 "Very specifically, you had a fleet of several dozen main suppliers – Caterpillar was just one of them," he says, "And you had to offer all lines of equipment, and how do you get the right information service-wise, parts-wise, technical workflow-wise, equipment lifecycle-wise to each asset in the field from different manufacturers?"
So SmartEquip was created with the intention of improving equipment uptime and reducing the cost of servicing machines in diverse fleets by connecting workflows.
To illustrate the basic concept, Schuessler gave the example of a scissor lift in a rental company's fleet. It is assigned an asset number that SmartEquip's system recognises as a particular model. Then when 'valve assembly' is selected, for instance, the user is told exactly what type of valve is required and whether there is one in the rental company's inventory. If not, the system automatically orders the particular part from the correct supplier.
"It was very simple to think about but it's obviously much more complicated to execute," says Schuessler.
The company was very early – perhaps too early – in trying to take the industry in this direction, according to Schuessler; "We had to build all of the technology from scratch – not just the application layer but the whole infrastructure had to be built from scratch."
Digital infrastructure
In order for technical graphical information to be communicated across what were very thin bandwidths at the time, SmartEquip had to set up large servers in California and come up with new data standards.
"All of these things required that we started very much at the high-tech end as a company," says Schuessler.
There was also the challenge of getting manufacturers and fleet owners on board. Before they did, the platform had no value.
In those early days, SmartEquip was able to leverage the simplicity of its single sign-in solution at a time when portals were becoming all the rage.
Ron Piccolo, who has been with SmartEquip for four years and is now Executive Vice President of Sales and Marketing, speaks of a time when he was working as Vice President of Procurement for building materials company Oldcastle Materials, part of CRH; "Each manufacturer would say, we're going to offer you this web portal.
"Now, I've got 600 locations that operate independently and I've got 30 manufacturers. How does every technician have a login? They've got sticky notes all over their screen with how to get into Volvo, Komatsu, Caterpillar… It just wasn't manageable."
Piccolo says, "That's when I really started to understand the benefit of SmartEquip."
Communicating that benefit to manufacturers has been a challenge because it requires a change of mindset, according to Piccolo; "When we approach them and say, we're going to embed your information into your customers' workflow and make that process more efficient, they can become uncomfortable that they're in an environment or a platform that has all of their competitors. As far as they're concerned, they've solved the problem with their website."
He adds, "They don't always see that challenge that their customer has with managing multiple brands."
So it has been a matter of emphasising to manufacturers that SmartEquip enhances the transaction and the efficiency, delivering a lower-cost parts order, "because they don't have someone at the parts counter taking a telephone call trying to understand what part the mechanic has in his hand; the order is just delivered to him and it's accurate," says Piccolo.
Nowadays, the situation is different. It is increasingly the case that SmartEquip is being approached by suppliers, rather than the other way around.
"They recognise it's there to facilitate communications in a highly fragmented space," says Schuessler.
Piccolo adds, "We now have suppliers sending their customers to us because now they don't have to maintain multiple integrations with multiple customers, they maintain their relationship with us and we leverage the work that's already been done."
SmartEquip currently has more than 450 manufacturers on its system globally, the majority of them in North America and Europe, and it does more than $1 billion worth of parts transactions annually.
While a lot of the company's energy was initially directed at developing the digital infrastructure to support its solution, as well as persuading North American fleet owners and equipment manufacturers of the benefits of SmartEquip, all the IT infrastructure is now in place.
"There's now a swing in the other direction where there's so much going on in the digital landscape that rather than trying to push, we need to make sure that we stay ahead of the curve because that curve is now moving without us having to be the ones to push it," says Schuessler.
This has freed up energy that can be channelled into growing SmartEquip's network globally.
"We're now very much the standard here in North America, and we're on the way to becoming the standard in Europe," says Schuessler.
Getting on board
In terms of suppliers on the system, the split between North America and Europe is about 65/35, according to Schuessler, who said that it was approaching even. There are almost 70 fleets on the system in total, including those of contractors – more than 60 of them in North America.
SmartEquip first entered the European market in 2008, just before the financial crash. So the company had to put on the brakes quickly. However, five years ago, when things had started to pick up again, Boels was the first rental company to go live.
"That was followed by Riwal, which was followed by A-Plant, which was followed by Zeppelin," says Schuessler.
A number of European rental companies have been waiting to see how things go with the Boels roll-out before signing up, and so Schuessler is expecting to see a wave of European fleets announcing that they will be going live with SmartEquip in the coming months.
Schuessler, who has been sitting on the European Rental Association (ERA) committee for several years, noted a key difference between the North American and European rental markets.
"The level of national partnership between suppliers and fleets seems quite a bit stronger in Europe. There's a lot of collaboration with the suppliers sitting at the same table with the rental company in this kind of forum, asking what initiatives they can put together to drive down equipment ownership costs for rental companies."
SmartEquip fits right into the middle of that equation.
The company's strategy in North America has been to start with the large rental companies and then roll down into smaller ones, at the same time as expanding into contractor fleets. The intention is to replicate this in Europe.
The Japanese and Australian markets have also been a big focus for SmartEquip over the past two years; "We've been quite active there and a lot of it is to learn about those markets, to set up the right partnerships in those markets so that we're actually locally present in many ways," says Schuessler. "We want to have a true infrastructure in place for the Pacific Ring."
The region is an important growth area for the company and significant progress is expected to be made in the first quarter of 2020.
In SmartEquip's home market of North America, a big area of growth has been the mid-market.
"It used to be a multi-million dollar implementation in the old technology world. You'd have to have a data centre where you'd put servers and everything else – huge ERP [enterprise resource planning] integration," says Schuessler.
"Nowadays, a mid-market player can sign up for less than $10,000, if there's a relationship with their rental management system, and go live without having to buy a single piece of equipment."
SmartEquip is also directing energy into developing the payload it delivers across its network, with the introduction of new products and applications.
For instance, equipment dealers frequently offer multiple lines in a given machine category, so as they enter the world of e-commerce they need a multi-manufacturer platform to serve their customers.
In response to this, Piccolo says, "We now have what we refer to as a store-front or e-commerce platform for dealers to sell parts for all of the lines they represent.
"Manufacturers are concerned that they have no control over the look and feel of their dealers' e-commerce sites because each dealer is creating their own. So we're now talking with manufacturers to develop a multi-manufacturer platform with non-competitive product lines that can be used as standard by their dealers.
"So e-commerce B2C [business to consumer] has started to take off for us."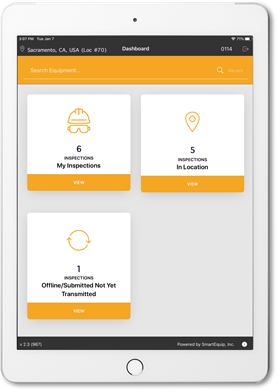 Another new product is SmartEquip's Inspection App. As a piece of equipment is checked in at a rental depot, a member of staff can document any damage or necessary repairs through their mobile device.
"The checklist of actions is then assigned to the workshop where it then, through integrations, creates the header of a work order and then they can begin to add parts to that work order and labour and track the expense," says Piccolo.
Although the use of Apps makes sense in this context, SmartEquip has generally moved away from App development since responsive website design has been made more possible by SmartEquip's transition from a Flash platform to HTML5, and the roll-out of 5G is expected to give greater connectivity.
Integrating telematics
Looking ahead, there is an opportunity to integrate telematics information into the system. The ideal scenario is, "There's a fault code driven by the machine through telematics, the part is ordered automatically and it's there for the repair before the machine breaks. So replace versus repair," says Piccolo.
Of course, telematics is nothing new and when SmartEquip was started in 2000, it was widely believed that telematics was going to revolutionise the industry. But adoption was slow, hindered in part by the lack of a data infrastructure.
At the time, telematics simply offered the same data to technicians working on a machine but at higher resolution.
Schuessler says, "The reason we called the company SmartEquip is we said you don't need the telematics to make your equipment smart, it's really automating the workflow that makes it smart."
However, telematics has matured and the concept of the Internet of Things (IoT) has since been introduced.
"We've been asked several times to come into the fray and we've said we'll interface with any data source – whether that's a data pump on top of the machine or whether it's another system – but it's got to be driven by the relationship between the supplier and the fleet."
So SmartEquip is currently working with a large US rental company that is pushing a full IoT implementation.
"They're doing that together with one of the three largest rental companies and we're very much involved with that to make sure that the information coming from the on-board measurement of the equipment itself ties into the workflow as well. So it's finally becoming 'smart'."
Schuessler is also on the committee of Trackunit's Eliminate Downtime Movement, which is working to encourage collaboration within the construction industry and develop a platform on which data from the various players can be shared.
He says the question now is, "What can we actually accomplish by tying information that's at the SmartEquip layer with information that's coming from these telematics devices through an IoT logic?"
SmartEquip's journey continues.