Interview: Thwaites
By Thomas Allen11 October 2019
Since residual value is so important to rental companies, and the rental sector accounts for about 80% of Thwaites' total sales, the dumper manufacturer wishes to make it easier for rental firms to achieve higher prices when selling used machines.
Over the past two years, Thwaites has been working with UK-based Ardent Hire Solutions to identify ways in which its dumpers can be improved.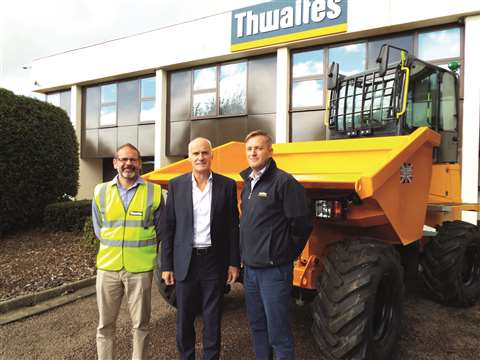 Ardent has become a significant buyer of Thwaites' products. Having chosen to go exclusively with Thwaites for its dumpers, the rental company has bought 300 units over the past 18 months.
Thwaites' Managing Director Ian Brown says, "By analysing data collected from Ardent's existing fleet, we have identified particular pain points and designed solutions into our 2020 dumper range, which is due to be released next year."
Brown has been with Thwaites for 30 years. He was the company's Sales Director for 20 of those years, before being appointed to the role of Managing Director three years ago.
One example of the new features that will be on Thwaites' 2020 range is the SAHR (spring applied hydraulically released) handbrake, which is more robust. Looking at Ardent's data, it was noticed that there are instances when excavator operators will use the arm of the machine to drag a dumper truck closer to it when in the wrong position. This behaviour damages the handbrake on existing dumper models, but the new SAHR handbrake will be unaffected.
Data-driven
Brown says, "Data drives decisions, decisions drive actions, actions properly applied have positive consequences. We are confident that Ardent, along with other hirers, will benefit from further reductions in down time, reduced operating costs, improved performance and an even safer working environment."
He adds that Thwaites constantly monitors auction prices; "On average, a hirer can expect to recover up to 30% more residual value from their Thwaites dumper than from a comparable sized competitor's machine."
Speaking about the growing importance of residual value in the rental industry, Brown says, "There's that shift because if the rental rates are low and they're very competitive – because rental is a market that people can get into relatively easily – the rental of the machines will provide the cash flow but where are you going to make your money? You're going to make it out of the residual value."
Brown points to the example of Ashtead. Its UK subsidiary A-Plant recently reported in its financial results for the first quarter of 2019 that rental revenues had fallen by 1% yet total revenues had risen by 5%, boosted by used equipment sales.
Essentially, the rental business model is concerned with three key questions: how much an asset costs, how much can be earned from renting it, and how much it can be sold for at the end of its rental life; "It's those three elements, and it's the middle part being squeezed," says Brown. This is the case, at least, in competitive markets such as the UK, where Thwaites is based.
Rental companies therefore have a vested interest in taking care of their machines, keeping them serviced and well maintained, so that they hold good residual value when being divested.
This is illustrated by an anecdote told by Andy Sabin, the company's UK Sales Manager. When a small rental company – the name of which was not disclosed – decided to paint its equipment a bold colour, it was warned this would negatively impact the machines' value at the end of their rental life.
"However, the company developed a reputation for taking good care of its equipment, making sure to maintain its assets well. And as a result, the equipment – which was recognised by its colouring – fetched higher prices at auction," says Sabin.
Keeping machines in good condition can also extend their rental life. This is a trend that has been seen in the UK in particular; "Rental companies in the UK have been tending to get longer life out of Thwaites dumpers. They used to be kept for 3 to 4 years, but now it's more like 5 to 6 years," says Dave Webster, Thwaites' Export Regional Sales Manager, who has been with the company for 33 years.
Thwaites has 49 distributors and 54 outlets across five continents. The company does not have a presence in the US due to lack of demand for dumpers because of cultural differences in construction methods, according to Brown.
Safety is also central to the design of Thwaites' products, as exemplified by the recently released Super Seven model – which follows the launch in 2017 of its 7 and 9 tonne cabbed dumpers.
The 7 tonne-capacity dumper has seven key improvements that are "focused on ensuring risk is reduced for both site workers and the operator, whilst increasing payload and productivity," says Brown.
Those features include a redesigned skip with a lower front edge that gives the operator better visibility of obstacles; fluorescent steps, grab rails and roll bar to highlight the importance of maintaining three-points-of-contact when mounting and dismounting the machine; and a 180° front-facing camera that provides a view of the front blind spot during low-speed manoeuvres.
Power sources
Also, the Super Seven is powered by a Stage V engine that does not require AdBlue, and it uses axles normally found on the company's 9 tonne dumper to make the machine more stable.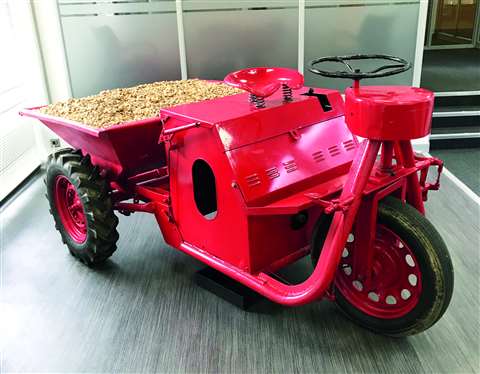 On the question of electrification, Brown says little about the company's plans. However, he did suggest that, while diesel engines remain the dominant power source, there will likely be some electrification.
"Will dumpers always be powered by diesels? I think they will. But I think there will be some form of electrification," says Brown.
He points out, however, that diesel engines are now very efficient and low in emissions. Indeed, they've been forced to become so by ever-tightening emissions legislation.
Brown adds, "You've also got to look at the total emission package – if you like, where is that electricity being generated? And there's no point in having an electric product with a generator sitting in the corner chucking out emissions, or if there's a fossil fuel power station needed to produce the electricity to power that machine."
Pragmatism underlies the thinking at Thwaites.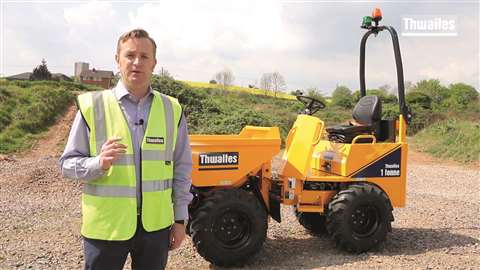 Maintenance videos
As part of its efforts to help companies ensure that machines are well looked after, Thwaites has started to produce videos for daily machine checks. An operator can us their smartphone to scan a QR code on a given machine, and it links through to a video that is specific to that dumper model – as in the example pictured here for Twaites' 1 tonne Hi-Tip dumper, presented by Andy Sabin, UK Sales Manager.