Interview: United goes beyond traditional rental
By Thomas Allen20 November 2019
The largest rental company in the world, United Rentals is increasingly looking beyond rental to take advantage of economies of scale whereby it can offer new services and venture into unchartered territory.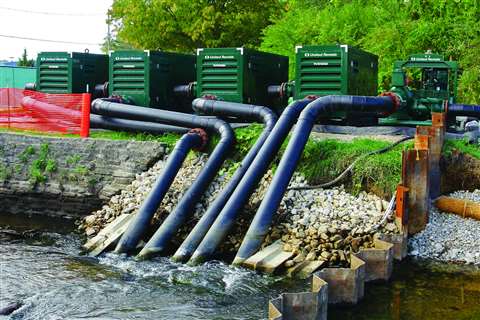 This diversification is perhaps a natural evolution of the company, but it also seems to be part of United's strategy to build more resilience into its business model. After all, the US has enjoyed 10 years of robust growth and now, with markets clouded by political uncertainty and trade disputes, the spectre of recession, or at least economic slowdown, looms.
Three of United's leading figures offer their perspective on the company's evolution.
United's specialty
United's fastest growing segment is its Specialty division, which currently accounts for almost a quarter of the company's total revenues.
With its specialty rentals, United goes beyond the simple rental of equipment; "Typically, the specialty businesses are more of an engineered solution. It's more of a technical sale than a transactional sale," says Paul McDonnell, who has headed up United's Specialty division since its inception in 2012 and was recently promoted to Chief Commercial Officer while retaining the title of Executive Vice President, Sales and Specialty Operations.
The Specialty division has made impressive progress since 2012, climbing from initial revenues of $280 million to $1 billion in 2016, and it now generates close to $2 billion.
Trench Safety is a large part of the business, as is Power and HVAC. And in 2014 the division entered into pump solutions with the acquisition of National Pump and Canadian Pump, allowing the company to diversify into new verticals and opening up new opportunities for cross-selling.
In August 2018, the division's Pump Solutions morphed into Fluid Solutions when the fluid containment and treatment specialist Baker Corp was acquired. Importantly, this marked United's entry into the European market.
The Specialty division now operates out of 350 locations and has between 50 and 60 engineers on staff, who bring a high level of technical expertise to the segment and enable United to 'build' solutions for customers in areas such as trenching, fluid management and air conditioning.
Specialty has the benefit of being particularly profitable; "You'll find in the specialty businesses that they're asset-light, and the asset life is longer than in our traditional business. All of this translates into a more profitable return on invested capital," says McDonnell.
It also has the benefit of being less cyclical.
"Cross-selling has been a key component of the growth in our Specialty business," says McDonnel, adding, "We're very strategic in terms of how we approach the customer across different industries and verticals, and so our ability to bundle product services and solutions to serve customers in the industries that they're working in is a competitive advantage that we have as a company."
McDonnell continues to be optimistic about the division's growth prospects, pointing to the size of the North American market and saying there is a lot of runway for growth.
Of course, there is also the possibility of expansion into Europe. Although McDonnell is reluctant to reveal too much when asked about United's plans for Europe, he does say, "We like the model that we've built in North America – we think it's very successful – and there are pieces of it that would work well in Europe. But we're still in the exploratory stages, in the learning stages."
Referring to the Fluids Solutions business in Europe, he says, "We're leveraging it to give us insights into how to do business in Europe."
A new division
United is now going one step further than specialty rentals, looking to extend its services to non-rental equipment in customers' fleets by offering advice on how customers could better run their businesses with regard to equipment.
Signalling the company's new focus on this area, a Services and Advanced Solutions division was launched by Matt Flannery soon after he became CEO of United earlier this year.
The division is headed by former Riwal CEO Norty Turner, who is responsible for expanding its businesses in areas such as servicing and management of customer fleets, training, and what the company calls Advanced Solutions, which includes autonomous vehicles and wearable technology.
"It's expected to grow by quite a bit over the coming years," says Turner. The safety training business alone has grown by about 50% this year.
For some time, United has had Customer Equipment Service (CES) and Customer Fleet Solutions (CFS) as disparate businesses, and they've been in the nascent stage for a while, according to Turner. But now they've been combined into a single entity, along with United Academy and Advanced Solutions.
CES services and maintains customer-owned equipment, while CFS provides fleet management services for customer-owned equipment using United's own technology. CFS has previously focused on industrial customers – in oil and gas, manufacturing and industrial plants – and the aim is to expand it into construction as well.
Turner sees this as a "natural evolution" of United. The company recognises that a lot of its customers' fleets are partly rented and partly owned, and the owned portion needs to be managed – the equipment serviced, maintained and replaced.
"And also to get those jobs done they need to make sure that their machine operators are properly trained from a safety standpoint, from an operating standpoint," says Turner.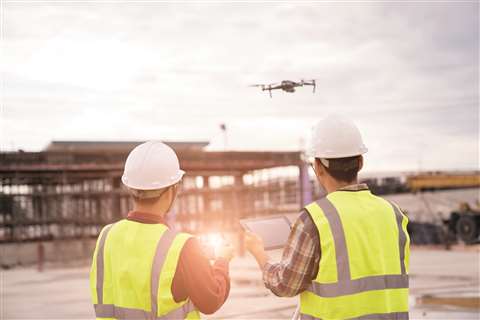 He adds, "Those jobs don't actually change but the solutions to those jobs do change as new technology comes along.
"So that's where the advanced solutions come in. As new technology marches down its innovative pathway, we're able to grab hold of some of that technology and apply it into those customer jobs."
So what does the management of customers' fleets involve? Aside from simply locating equipment – which can be a significant challenge in itself – United offers to monitor machine usage, conduct preventative maintenance, and ensure compliance imperatives are met.
"And then getting into lifecycle management, calculating what that total cost of ownership is and, based on that, understanding which machinery for a given customer should be owned and which machinery should be rented, and when a given machine should be sold off and replaced," says Turner.
These are the types of decisions United's own fleet management teams have been making for a long time, so it's just a matter of applying that expertise to customers' fleets.
"There's not one site that we've engaged with where we haven't been able to drive at least 20% savings into our customers from a fleet operation standpoint," says Turner, "So it's a relatively compelling case."
On the topic of Advanced Solutions, Turner highlights the importance of telematics: "We see telematics devices as being a real pillar that our digital strategy will rest upon and benefit from."
With a new generation of telematics that can now be connected up to the CAN bus of machines, fault codes can be delivered remotely.
This can help to reduce the number of journeys a service technician has to make; "Now they will be able to see exactly what's wrong, grab a part – if a part's needed – and go right out," says Turner.
Touching upon another area of Advanced Solutions, Turner says there are emerging applications for autonomous vehicles; "We're partnering with various groups that are bringing this technology to bear."
For example, on solar farms the lanes between panels are kept very narrow to maximise the use of space. Turner says, "A human operator driving a skid steer between those panels is liable to hit them. But the robotics aren't worried about anything; they're just programmed to drive along a straight line."
Once again, United is enhancing its resilience by diversifying into these new areas.
"Diversity of revenue certainly is a strengthening play for us, and also helps to position us, as so many of the initiatives that we have taken on, for a well-performing company across the cycle," says Turner.
He adds, "And also the returns on invested capital are really strong with these services."
Digital effects
United renewed its focus on marketing a few years ago, when Michael Kneeland was the CEO. This was in large part a response to the way digital technology was altering the landscape, changing the way customers engage with United and use its products.
"Michael Kneeland was looking not just at what we say to our customers but how we say it," says Chris Hummel, Senior Vice President and Chief Marketing Officer, "And so the digital became very tightly interwoven with the marketing aspirations that we have, and that extended into the software that we provide to our customers."
Hummel previously worked for global software manufacturer SAP SE and computer technology firm Oracle Corporation. He came to United from Schneider Electric, where he served as CMO.
Hummel adds, "We're trying to follow the whole process that a customer goes through and look through their eyes. Where are those moments that they want us to do better or they want to do better themselves?"
The story began three-and-a-half years ago, when United launched an online rental reservation system that made it possible for customers to rent equipment online. What was special was the fact that the system was fully automated.
Hummel says, "Traditionally what happened – and still happens in most cases – is you use the web as a kind of lead form. So you fill out a form but a human has to go and connect to it and look it over and make sure that they can take the order.
"Whereas what we did was we set up an algorithm, a set of business logic, that under normal conditions allowed us to take the order automatically."
The key to this was being able to assess the availability of equipment, which is a key challenge.
The second part of the story is about improving the way people 'consume' rental, as Hummel puts it.
For more than 20 years, United has had a proprietary rental management system called Total Control, which gives customers access to account information, including bills, invoices and rental contracts, and helps them locate equipment and manage costs.
The system has seen various upgrades in that time and it is now feeding into something that United has begun to delve into more deeply: business intelligence. Total Control allows customers to benchmark their performance, analyse utilisation and identify where money can be saved.
"We often talk about getting a 20% cost saving for customers when they use Total Control, which is not a software that we charge for but is a software that we provide to the bulk of our largest customers. And there are some pieces of it that are also open to all customers," says Hummel.
E-commerce is an important element in United's effort to go beyond simply renting equipment and help customers to manage their rentals and, indeed, their owned fleet.
"The more we can help them ease the management of rental equipment and reduce the amount of work they have to do in managing their rental equipment and in fact their whole fleet – not just their rental equipment – the more that they can focus on what they need to do, which is build a building, fix a flood, run a plant, or whatever," says Hummel.
The third part of the story relates to off-renting equipment, which is a key moment in the rental process because it affects so many things, from price and the contract to usage and availability for the next customer.
If that process is not streamlined, it can cause confusion.
"That's a place, historically, for miscommunication between customers and the rental companies. And so we've done quite a bit to try and streamline the 'call-for-pickup' process," says Hummel.
That includes the updated mobile App that has just been launched (refer to the box story below).
Given Hummel's background in digital technology, what is his view on aggregators in the rental market?
The concept initially came into fashion when Hummel joined United back in 2016, but they were thwarted by some significant problems.
"They don't have infrastructure, they don't have fleet, or anything like that. So to get access to the fleet, to have the delivery capabilities, the inspection capabilities, the repair capabilities, they had to go and fight hand-to-hand combat in every market to get access to those capabilities," says Hummel.
The one thing he says they had going for them was an e-commerce experience, which is something that traditional rental companies did not offer at the time.
"The first wave of aggregators have essentially all but gone," says Hummel, and there's a second wave coming in now, along with various other technological innovations around telematics. However, they still face the same core challenges presented by not having their own fleets, and the additional challenge that traditional rental companies like United have now developed an e-commerce offering.
Hummel says, "Our market place is driven by United Rentals equipment and given that we have $15 billion of original equipment cost of fleet, we have the largest market place out there because we've been able to deliver that e-commerce experience without the struggle of sourcing equipment, and delivery and inspection partners."
Hummel says that the idea of rental companies working together is not alien, but he believes the idea of being a concierge has a very temporal value; it doesn't last very long.
"I come from the technology space, so I'm as paranoid as anybody and am looking for disruption around every corner," says Hummel, "I certainly keep aggregators on my radar screen but I don't see it as an imminent threat today."
Driving digital adoption
"Driving adoption – like any new technology – is one of the biggest hurdles to overcome," says Hummel, "And one of the primary hurdles is getting it into people's hands." For this reason, United has just replaced its UR Jobsite Mobile App with the new United Rentals Mobile App.
The number of customers using United's e-commerce offering rose from about 11,000 in 2017 to around 31,000 in 2018. Although the figure is not expected to triple every year, it is still growing significantly.
The new App is a gateway to United's cloud-based jobsite performance tool Total Control, which gives visibility of both rented and owned equipment in a customer's fleet.
Designed to help customers better manage their fleets and improve the efficiency of their businesses, the App provides each customer with a personalised dashboard through which they can monitor their equipment in real time, track rentals and share equipment across jobsites.
One important feature of the new App is the way it streamlines the off-renting process. Customers can return equipment with the click of a button at any time of day, and they receive instant confirmation, reducing the risk of discrepancies.
This update to the App is part of a broader consolidation effort to give a more consistent customer experience across United's various digital products; "All of our digital properties are now adopting the same framework, the same look and feel, the same navigations," says Hummel.
The App operates on Apple iOS and Android devices, and it is due to become available in the Apple iOS store and on Google Play in early 2020.