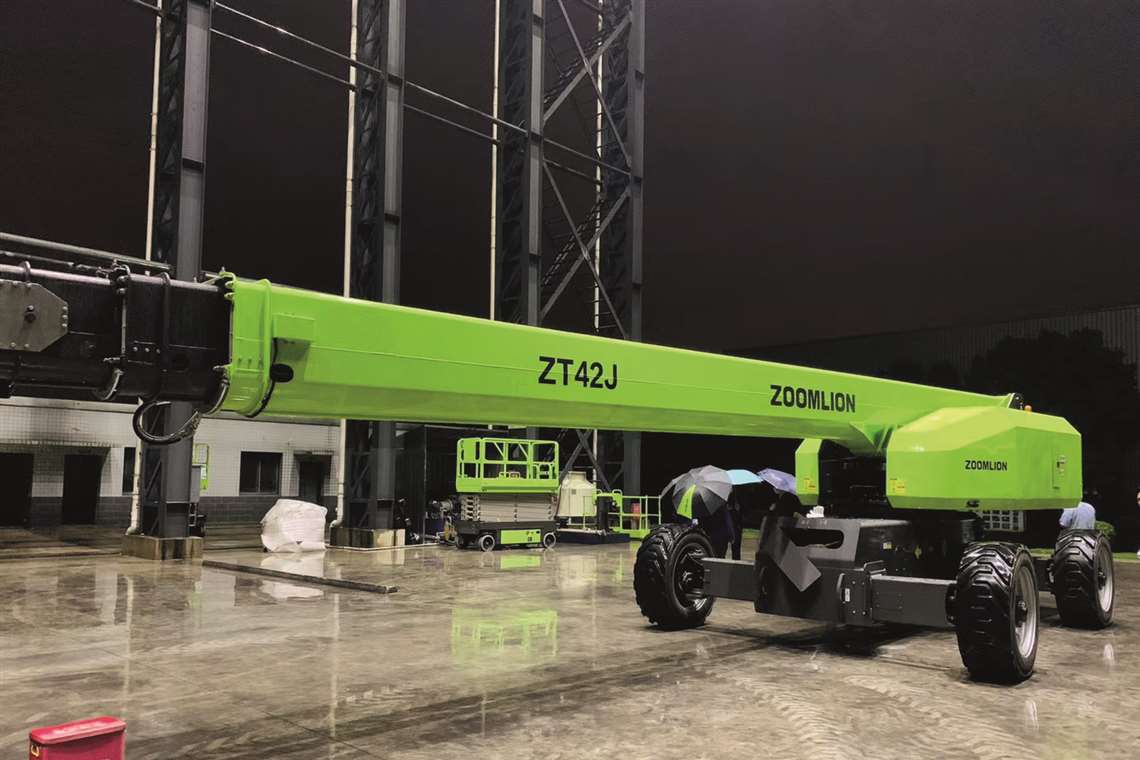 Interview: Zoomlion North America
By Lindsey Anderson08 September 2020
Back in October 2019, I sat down with Zoomlion's Ren Huili and Guo Xuehong to discuss the company's push into the North American access market. We were in Shanghai at APEX Asia talking about the U.S. Oh, the irony.
Huili, who serves as Zoomlion's aerial work machinery company general manager, and Xuehong, Zoomlion's vice president, said the company at the time was producing 1,200 slab scissors a month from its Chinese facility and its goal for boom lifts was 250 to 300 per month. In 2019, Zoomlion shipped more than 6,000 scissors into the Chinese market. The company said its core focus was the overall long-term picture.
A steady approach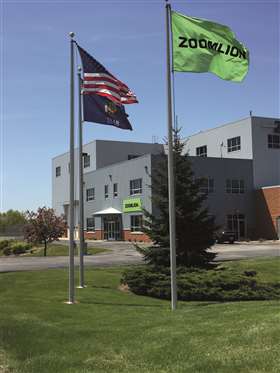 Fast-forward to July 2020. Zoomlion North America has been established in the U.S. for more than seven years now. Founded in 2013, the company's facility is located in Yorkville, WI, where a team of 55 employees works on R&D and sales and marketing.
The company used ConExpo 2020 to showcase its access products for the North American market, including the ZA14J articulating boom and ZT20J telescopic boom. Those booms, along with scissors in the 1530 and 1930 categories, will be the first products available to customers here, says Nicky Zhang, the company's North American sales and marketing regional manager, and Dan Schneider, Zoomlion's senior sales manager for North America.
While Zhang and Schneider are eager to get products into potential-customers' hands – the first shipment will be on its way from China in late August – they are acutely aware of the challenges overseas companies face when entering the North American access market.
"Our focus right now is awareness campaigns and setting up demos or road shows," Schneider explains. "We have a great footprint in North America and will kick off demo programs in the second half of the year."
Strategies
Zhang and Schneider said Zoomlion will use a regionalized approach to target independent rental companies. The company will also promote Zoomlion Capital finance which can provide North American customers with financial options to meet their needs.
The company will also push its long-term commitment to North America through its dedicated R&D and engineering team located in Wisconsin.
"We have engineers embedded in North America," explains Zhang. "They come from very good backgrounds, many having worked with heavy equipment. There are structural engineers, process engineers and more. It gives us an upper hand when looking at the North American market because we have the ability to conduct R&D here versus other locations. This will be a big differentiator for us."
However, Zhang says, Zoomlion's global reputation and reach will also help the local team gain leverage.
Background
Founded in 1992, Zoomlion Heavy Industry Science & Technology Co., Ltd. develops and manufactures heavy equipment in 10 categories.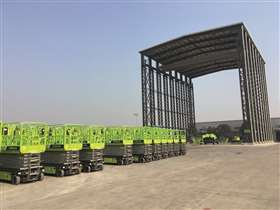 It has more than 55 lines that push out 460 products. Zoomlion is China's first construction machinery company to be listed on both Shenzhen and Hong Kong stock exchanges, with registered capital amounting to RMB 7.664 billion. At present, the company is actively promoting strategic transformation.
"Whether you're looking at our earth moving equipment, or the agricultural side, Zoomlion has a great reputation," Zhang says. "We will leverage all of that together."
The company's access products are either tailor-made for the U.S. market or based off existing Zoomlion models. For the latter, the company will tweak technical modifications for local requirements and then focus on preferences for operators.
"When we introduce something to the market, it is totally in line with the market standards," Schneider explains. "We're really in tune with the ANSI standards, which is a given, but then we focus on what I like to call creature comforts for the end users."
Those creature comforts include low entrance steps, USB ports for charging, safety beacons and more.
"We are going to make it easier for contractors to use our equipment," Schneider says. "We are very focused on a lot of safety features. It's all part of the overall package."
Zoomlion will have an inventory of parts and components at its Wisconsin facility and the company already has a service technician employed. It is looking into warehousing on the West Coast and East Coast in order to provide expedited shipping, as well.
"Generally speaking, we are taking this market really seriously, and we are not rushing at all," Zhang notes.
Products
The four products shown at ConExpo included the ZS0407DC and ZS0607DC scissor lifts, ZA14J articulating boom and ZT20J telescopic boom.
The Zoomlion ZS0407 scissor lift features a working height of 21 feet and platform capacity of 530 pounds. The ZSO407 is equipped with an efficient, electric DC drive system that offers power for indoor, low-level and tight access applications with quiet, zero-emissions operation. It can be equipped with lithium-ion battery as an option.
Standard features include GPS positioning and tracking, proportional controls, motion alarms, fold-down handrails, flashing safety beacons, on-board diagnostics, active pothole protection, tilt protection and Zoomlion's AWM remote monitoring and rental management telematics system.
It's larger sibling, the ZS0607DC scissor, features a working height of 25 feet and 507 pounds of platform capacity. The unit can be driven at full height and its standard features remain the same as the ZS0407.
The ZA14J articulating boom lift has a working height of 51 feet and platform capacity of 661 pounds. It features a built-in, multiple-pressure, control-leveling system to enhance stability and a deadweight lowering system for smooth operation and energy efficiency, Zoomlion says. It also has 4.3" LED display, auto-leveling system and oscillating axles.
The ZT20J telescopic boom has a 74-foot working height, 661-pound unrestricted platform capacity and 1,000-pound restricted platform capacity. It features a modularized design, light weight and commonality with other Zoomlion boom lifts. Four-wheel drive and oscillating axle systems improve off-road performance, along with the unit's gradeability of 45 percent. A lubrication-free boom system minimizes equipment holding costs and a swing-out engine tray makes regular maintenance more convenient.
At ConExpo, Zoomlion said it is currently working on a 137-foot telescopic boom, which is being tested and prototyped in China. The aim is to release it for full production by the beginning of 2021.n