IPAF estimates world AWP fleet
By Euan Youdale27 April 2015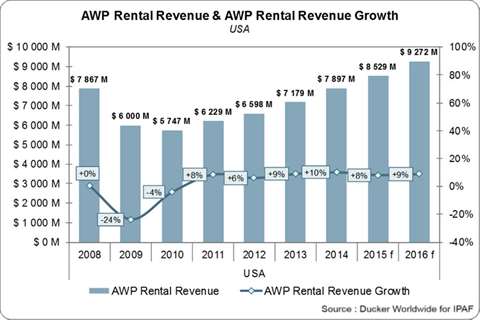 There are now 1,120,000 aerial work platforms in the worldwide rental fleet, according to the International Powered Access Federation's (IPAF) latest rental reports. This is up 8% from the previous year.
The US AWP rental market recorded strong growth of 10% in 2014 to reach about $7.9 billion, according to the IPAF US Powered Access Rental Market Report 2015. The US AWP rental fleet expanded by 7% in 2014 to exceed 500,000 units. Strong demand from the construction sector allowed for fleet expansion and rental rates improvement, while balancing the negative impact of decreasing oil prices.
The Chinese AWP rental market grew at a rate of 25% to 30% in the past two years to reach approximately 9,000 units.
The European AWP rental market grew slightly in 2014 (+1%) and is estimated at approximately €2.6 billion, according to the IPAF European Powered Access Rental Market Report 2015. Fleet expansion continued at a slow pace to reach 285,000 units. The 10 European countries surveyed were: Denmark, Finland, France, Germany, Italy, the Netherlands, Norway, Spain, Sweden and the UK.
Most European countries improved their situation in 2014. France and Finland were the only AWP rental markets where deterioration continued. Spain and Italy showed signs of recovery after several years of shrinking. The markets in the UK, Germany, Norway and Sweden grew at similar paces, driven mainly by fleet expansion.
The IPAF rental market reports are presented in an easy-to-read format, highlighting key facts and figures for senior management, such as fleet size, utilisation rate and retention period. They include an estimate of the size of the AWP rental fleet worldwide, with a breakdown by region and machine type.
New aspects covered in the 2015 reports include: average payback period by machine type (booms vs. scissors), most commonly requested machine features/options, and the impact and consequences of new AWP regulations and safety standards.
The US report includes Canada. The European report includes seven individual country/regional sections: France, Germany, Italy, the Netherlands, Nordic/Scandinavian countries (covering Denmark, Finland, Norway and Sweden), Spain and UK.
The IPAF US and European Powered Access Rental Market Reports 2015 are available in English and can be purchased at www.ipaf.org/reports