IPAF Rental Market Reports webinar
By Euan Youdale29 September 2020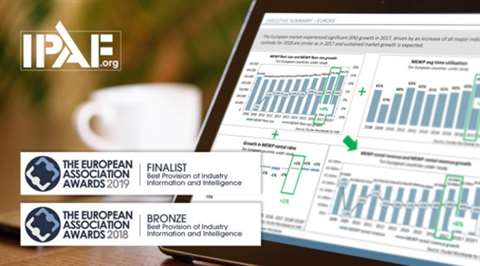 The latest webinar from IPAF will provide an insight into data from the federation's latest Rental Market Report.
Taking place on 20 October 2020, at 12:00 (GMT+1), the webinar will include lead consultants Audrey Courant and Anne Myon from DuckerFrontier, which produces IPAF's annual rental reports. They will explore the data presented in the new IPAF Rental market Report, which covers the global MEWP market data each year from 2008, with a particular focus on 2019. The presenters will also examine macro data trends and how the European market compares to the North American market and other regions.
Register for the free webinar here
The award-winning IPAF rental market reports are presented in an easy-to-read format and are the definitive guide to powered access rental markets, said IPAF. The reports include an estimate of the size of the MEWP rental fleet worldwide, with a breakdown by region and machine type.
The 2020 report is available to pre-order now at www.ipaf.org/reports, with a special discount for webinar registrants.
There will not be a live Q&A session for this webinar. If veiwers have a specific question, they should submit it during registration.