IPAF Rental Report: Key findings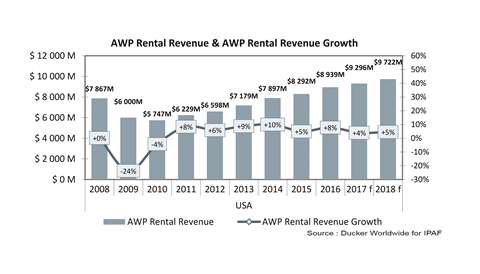 The annual Powered Access Rental Market report, exclusively compiled by leading global research intelligence company Ducker Worldwide for the International Powered Access Federation (IPAF), gives essential business insight and offers users a unique opportunity to drill down into certain key markets using a series of economic indicators and measurements not available anywhere else.
In recent years, the reports have tended to contain positive news leavened in most cases by some less positive, often with certain negative factors hampering one country's market or another. IPAF's Powered Access Rental Market Report for 2017, however, is generally very positive across the board, with Europe and the US in particular exceeding expectations and experiencing steady growth.
The UK's Mobile Elevating Work Platform (MEWP) rental market outstripped the wider construction sector in terms of growth by three to one, showing little sign of any cooling on Brexit fears as other parts of the economy seem to have experienced in the second half of 2016 in particular.
In Asia, too, market and fleet size growth were stellar in 2016, driven by Hong Kong, Japan and mainland China, and in the Middle East the market is also booming; the report for 2016 carries for the first time a focus on Dubai.
The only region that did not experience such favourable conditions was Latin America, where the MEWP rental market overall contracted slightly, mainly owing to the impact of a shrinking market in Brazil.
Consecutive growth
In Europe, all the countries under study found themselves with growing rental markets for the first time since the downturn in 2008. Among the stellar performers was Spain, where a resurgent construction sector helped the rental market grow by 7% over the year – a second consecutive year of growth at around that rate – while the next strongest growth was 5% in the German, Swedish and Finnish markets and Italy and the Netherlands on 4% growth.
The UK and France grew by 3%, which was the average growth for Europe as a whole over the year. Of the 10 countries under study in Europe, accounting for around 85% of the total current MEWP rental market, Norway and Denmark slightly underperformed in terms of growth on 1% and 2% respectively.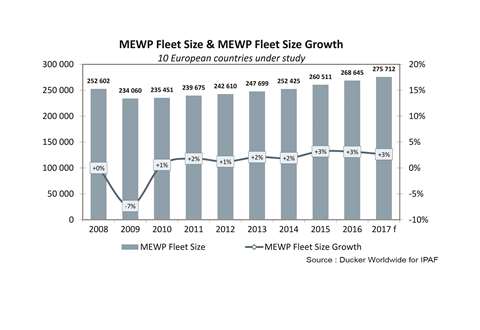 As a whole, key drivers in Europe were economic growth and falling unemployment, coupled with renewed construction activity in the years following the economic downturn. All countries in the study saw positive growth for the first time since the downturn, and those countries such as Spain that outperformed the European average did so on the back of a reinvigorated construction sector, which also grew by around 7% across the year.
While the construction sector in the UK did not fare so well, growing by around 1% as a whole, the MEWP rental market outperformed that figure by three to one. In more mature markets such as the UK, France and Germany, intense competition suppressed or drove rental rates down, though companies generally increased fleet size and utilisation to compensate. One sure sign of even the most mature global powered access markets still having much to offer was the entry during 2016 of construction plant specialist JCB into the sector with its new Access division.
A booming construction sector in the US was also credited with a stronger than expected year in which rental companies had previously priced in economic and legislative uncertainty and a change in presidency when giving their outlook forecasts in the closing months of 2015. In 2016 revenue growth was 8%, fleet size expanded by 6% and both utilisation and rental rates also grew by 1%.
The economy and in turn construction sector were comparatively strong in the US and this was the main driver for the positive indicators for the MEWP rental industry, which was once again characterised by mergers and acquisitions activity, including the deal for United Rentals to purchase NES Rentals, which at the time of takeover was valued as a $352 million business. In Canada by contrast the MEWP rental market remained flat, negatively impacted by unfavourable oil prices and exchange rates.
Acquisition trail
In terms of outlook, the North American market last year was weighing up the impact of the Donald Trump presidency – a promised $1 trillion investment in national infrastructure would certainly be welcome by the industry at large – as well as new safety standards being introduced in both Canada and the US and the impact these would have.
Mergers & acquisitions have also been a feature in Europe and that activity has continued into 2017 – earlier this year Loxam bought out the Lavendon Group and TVH acquired Gardemann – perhaps driven by a desire for European consolidation and no doubt with an eye to capturing a greater share of emerging markets and new growth on the fringes of the European access industry, in Eastern territories, the Nordic and Baltic states and in Turkey.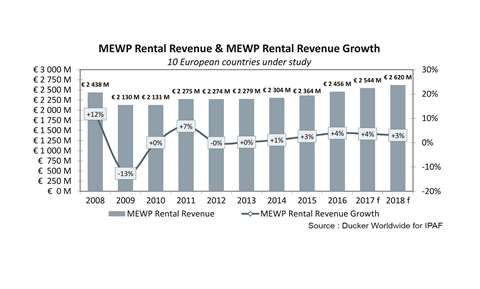 There is also growth potential in North Africa and particularly the Middle East, and this year's IPAF market overview includes for the first time a special focus on activity in the United Arab Emirates (UAE). Here the market is growing steadily, underpinned by major infrastructure projects such as Expo 2020 that will guarantee demand for at least the next three years.
Many of these projects are on tight schedules and it seems there is also a motivational shift in terms of regional authorities and main contractors to move to safer and more effective ways of working at height. Other macroeconomic indicators also indicate a positive outlook for the UAE over the next few years, with construction growth and output forecast to continue growing steadily, driving up demand and utilisation rates, though stiff competition is likely to suppress rental rates in the foreseeable future.
On a wider scale, the worldwide MEWP rental fleet size stood at 1.25 million units at the end of 2016. As in the US and Europe, the Asia-Pacific region showed very dynamic growth in terms of burgeoning fleet size, driven in the main by China, Hong Kong and Japan. Latin America, including Mexico, saw the total MEWP fleet size contract somewhat, though this was skewed by figures from Brazil. The fulfilment of key infrastructure delivery and maintenance projects in Brazil following the hosting of both the Rio Olympics and the FIFA 2016 World Cup may be one reason for this, while challenging economic conditions in many countries of South and Central America may also have affected the findings on a continental scale.
As well as the above headline indicators IPAF's annual Powered Access Rental Market Report also delves into other areas, including MEWP rental penetration, applications, power sources, value growth, investment over a ten-year period, including equipment purchases and typical payback periods. In Europe investment is expected to grow steadily in 2017 but is forecast to plateau in 2018. In the US rental companies significantly increased investment throughout 2016 following several years of no or limited investment.
Rates growth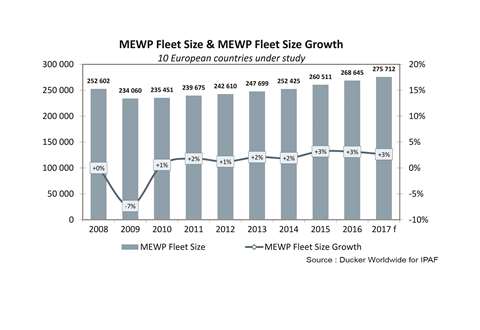 In both Europe and the US return on investment (ROI) improved slightly, with the average payback period on new equipment decreasing for booms in Europe and on both boom and scissor-type platforms in the US. In comparison, the US MEWP rental fleet showed a marginally better ROI than the European fleet.
Operational aspects over the same 10-year period also come under review, including utilisation rates, average retention periods and rental rates. In Europe utilisation rates were up on average by just under 1% and in the US by around 1% also. Rental rates were up in the US by around 1% but in Europe as whole were down by around the same amount, though some countries such as Spain, Italy and Sweden outperformed and did in fact experience positive rental rate increases of up to 2%.
The Powered Access Global Rental Market Report is compiled each year by Ducker Worldwide exclusively for IPAF and is available in English only. The report is compiled based on interviews with rental companies and other industry experts globally and the research for this year's report were conducted in April 2017. The report is available to purchase in full via www.ipaf.org/reports, while last year's version can be purchased at a 50% discount and older versions of the report can now be downloaded free.